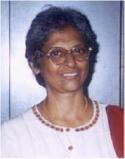 Janina Gomes is a freelance writer and works for chambers of commerce and other business organizations. She also contributes regularly to the "Speaking Tree," a column of philosophy and religion in the national daily, The Times of India.
---
Theologian engages scriptures as feminist, Indian
By Janina Gomes

Dear Reader of Global Perspective,
We need your help. We are pleased to make available -- at no charge -- Global Perspective. But we cannot do all we need to do without your financial assistance.
Please take a moment to consider contributing to our annual appeal and join the ranks of readers who give to the Friends of NCR campaign. National Catholic Reporter is a nonprofit organization. Contributions are tax-deductible in the United States.

Contributions may be sent to:
National Catholic Reporter
115 E. Armour Blvd.
Kansas City, MO 64111
USA
Make checks out to: NCR
If you wish, you may print a form for submitting your donation.
You may also use this form for credit card donations.
OR

P.S.: Everyone who donates will receive the fourth in a series of specially designed NCR Christmas ornaments connecting us in a special way to the gospel of peace on earth. Thank you.
MUMBAI, India -- Few people can claim a first in their field. Fewer still can claim more than one first, but Sr. Rekha Chennattu, a member of the Religious of the Assumption falls squarely into the latter category. Chennattu is not only the first Catholic woman in India to hold a doctorate in scripture, she is also the new head of scriptural studies at Jnana-Deepa Vidyapeeth, the leading Catholic Pontifical Institute for Philosophy and Religion, based in Pune, India.
Fr. Noel Sheth, former president of Jnana-Deepa Vidyapeeth, calls her a scholar of immense promise, for the Indian church in particular. She graduated from the Pontifical Biblical Institute in Rome with a licentiate in scripture and with distinction with a doctorate in scripture from the Catholic University of America.
Her doctoral thesis, "Johannine Discipleship as a Covenant Relationship," was released by Hendrickson, U.S.A in November 2005. She is the co-editor of the book, Transcending Boundaries: Contemporary Reading of the New Testament -- Essays in Honor of Francis J Moloney, published by LAS, Italy.
One of her scholarly articles "Women in the Mission of the Church: An Interpretation of John 4", which was first published in India, has been reprinted in Italy, the United States, the Philippines and Sri Lanka. She lectures in Italy, France, the United States and Jamaica. In Jnana-Deepa Vidyapeeth she has taught courses on the Gospel according to John, Letters of Paul, Women in the New Testament and Biblical Hebrew.
Describing her trajectory of growth, Chennattu says she had a great interest in scripture from her young days. Though she wanted to work at the grass-root level with the poor and the marginalized rather than work in an institution, she was recruited to Jnana-Deepa Vidyapeeth as the first Indian woman to teach full-time. When asked to specialize in John's Gospel, she felt like the Prophet Jeremiah -- inadequate and at the same time filled with the spirit of adventure and zeal to take risks.
Though her passion was for the poor and the downtrodden in India, she felt that by realizing her dream of unraveling the Word of God for hundreds of students and sharing God's mission, she would multiply her efforts several fold. She says: "The greatest challenge is not to teach theology but to be "taught by God" (John: 6:45).
The hermeneutical key for interpreting the Bible, Chennattu says, is employing the experience of the oppressed and the marginalized, especially of women. She says she tries to bring out the richness of the Word of God in a way that is not only rooted in the biblical tradition but also relevant to the contemporary context of the Indian church and of women.
Chennattu says she bases her teachings on grass-roots level experience and believes, "One needs to have creative and constructive dialogue among various groups -- biblical scholars, psychologists, sociologists and grass roots level people -- in order to arrive at meaningful paradigms that are mutually enriching."
E-mail Alerts
To receive an e-mail notice when Global Perspective is posted every week, sign up here.
Click on the link at the top right of this page to send the column to a friend or colleague.
As an Indian feminist, Chennattu has been reflecting on the unique and distinct way that Indian women respond creatively and constructively to cultural alienation, religious deprivation and male domination. She said that Indian women have been taught to "behave submissively" and "to cultivate a capacity to endure suffering and humiliation." They often shrink back from the rhetoric of feminism, she says, because some Indian women theologians have been tempted to imitate Western feminism, which is characterized by anger and animosity towards men and patriarchy. This does not speak to the hearts of Indian women and remains alien to their psyche and mental make-up, she said.
She feels greatly at ease in Jnana-Deepa Vidyapeeth. She says the institute has an atmosphere of intellectual freedom and allows her the opportunity to integrate contemporary concerns into interpreting scripture for the 21st century. Chennattu said that 95 percent of her students are men who make the journey with her. They are open to women's concerns, she said, only a few resist. Her congregation has also been a source of constant support for her.
Chennattu wants to encourage Indian women to steer clear of submissive withdrawal and surrender while at the same time avoiding the violent retaliation and revenge often reflected in Western feminism. She says that Indian women theologians need a vision that blends the Indian cultural heritage with the wealth of our Christian faith through critical reasoning, creative initiative and committed action.
She says: "A strategy of creative yet non-aggressive and non-threatening engagement in the ongoing process of bringing about an integral transformation among both women and men seems to me yet another challenge that Indian women theologians face."