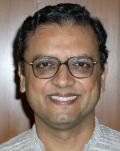 Fr. Francis Gonsalves is a Jesuit in the Gujarat Province, India. He lectures in systematic theology at Vidyajyoti College of Theology, Delhi, and has published many articles on theology, spirituality and social justice.
---
Meeting of religions reminiscent of rainbow covenant
By Francis Gonsalves, S.J.

Dear Reader of Global Perspective,
We need your help. We are pleased to make available -- at no charge -- Global Perspective. But we cannot do all we need to do without your financial assistance.
Please take a moment to consider contributing to the Friends of NCR campaign. National Catholic Reporter is a nonprofit organization. Contributions are tax-deductible in the United States.

Contributions may be sent to:
National Catholic Reporter
115 E. Armour Blvd.
Kansas City, MO 64111
USA
Make checks out to: NCR
If you wish, you may print a form for submitting your donation. You may also use this form for credit card donations.

OR
NEW DELHI, India -- We sat around a massive semicircular table. Sadhvi Maa Purnandaji was in saffron sari and shawl, Bishop Jayapaul David was in a pink cassock, Maulana Hasan Sani Nizami had a long yellow kaftan and fez, Nirmal Singh Raipuri was in a red Sikh turban, Bishop Sahu wore clerical white with a broad maroon belt, and Maulana Mahmood Madani had a green shawl over his shoulders. My mauve khadi kurta added color to that inauguration of the World Council of Religions (India Chapter). We religionists -- donning red, yellow, blue, pink, saffron, green and mauve – seemed locked in an ethereal embrace reminiscent of God's covenantal rainbow (Gen 9:13).
Amidst global Islamic outrage against blasphemous cartoons of Prophet Muhammad, Hindutva fanaticism in India, and what is termed "American Messianist Nationalism" -- namely, Imperialist Christendom through U.S. global interventions -- it was apt that some representatives of the world's major religions met to reflect upon "Promoting Commonalities among Religions for World Peace and Justice."
What's in a Name? Collating Commonalities
In the inaugural address, Rajindar Sachar, ex-chief justice of the Delhi High Court said, "It's heartening to see religious representatives together discussing about peace; but the very need to assemble proves that religions have failed to promote peace." He added, "Religions have much to contribute, but India must retain its character as a democracy and resist all attempts to convert it into a theocracy."
Rejecting the appellation Hindu, Maa Purnandaji said that she practiced sanatana dharma (eternal religion), not Hinduism. The word "Hinduism" was concocted by colonialists who used it to designate those dwelling on the other side of the Sindhu River. "We can all relate at the level of spirituality, not religion," she said, "for the former is timeless, the latter changes." She also explained her efforts to marry religion and science.
Contesting the sanatana dharma concept, Maulana Hasan Sani Nizami, an adherent of Sufism, felt that religion really originated with three Abrahamic faiths: Judaism, Christianity and Islam. I wondered: Why can't we go back still further and construct our commonality within that Covenant with Noah that included all of humanity?
E-mail Alerts
To receive an e-mail notice when Global Perspective is posted every week, sign up here.
Click on the link at the top right of this page to send the column to a friend or colleague.
Ezekiel Isaac Malekar asserted that his innate Indianness was infinitely more important than his consciousness of being a Jew. "According to Rabbi Hillel," he explained, "the Torah can be capsulated into only one commandment: 'What is hurtful and hateful to you, do not do to another.' Everything else is footnote."
Delighting in Difference: Rainbow-Religious Responses
During our discussions, I felt that many were keen on asserting commonalities. What about our differences? Can we naïvely ignore them? Are they not also important? Maulana Mahmood Madani said, "If I go to a church or temple to pray, I'd create a scandal and be debarred from entering any mosque. Let's realize that we're different, but must work together." I agreed.
The Hindu Renaissance leader, Swami Vivekananda once wrote: "Religious pluralism is India's gift to the world." Indeed, India is mother to myriad world religions. Maulana Wahiduddin Khan, whose Center for Peace and Spirituality draws people of all faiths by the hundreds, said, "It's important to follow one religion but respect all. One must learn the art of management of difference." It wasn't easy to master this art, for in-between sessions, some religionists were eagerly peddling their pet theologies rather than learning from alternative opinions and lifestyles.
Religions for Social Change
In translating theory into praxis, social workers and committed commoners often fare better than religionists. Ex-chancellor of Jamia Milia University, F.T. Khorakiwala, stressed the need not for dialogue but for action. He proposed that a common interfaith program be introduced in the national educational curriculum, and that all religions pay a percentage of their zakat, daan or church-collections to a National Religious Fund to be used for the poorest of poor Indians.
India has weathered the tsunami, earthquakes, floods, and bomb blasts in recent times.
I suggested that, if religionists get involved with concrete interfaith programs and social problems, and exhort their followers to do likewise, religions could catalyze global transformation. I feel it's not enough for religions to seek some common creed or worship, since these necessarily involve symbols -- sacred places, scriptural texts, religious objects and fixed prayers -- that accord sparse space for dialogue and change. But, isn't concerted transformative action possible?
Deus Caritas Est: Core of Covenantal Action?
The Christian participants spoke of the primacy and potency of love to unite peoples. Unaware that Benedict the XVI would soon issue his first encyclical, Deus Caritas Est, "God is Love," the Catholics nonetheless seemed to echo the pope's words: "Those who practice charity in the church's name will never seek to impose the church's faith upon others. They realize that a pure and generous love is the best witness to God. A Christian knows when it is time to speak of God and when it is better to say nothing and to let love alone speak."
In a moment of silence I realized that, minus Maa Purnandaji, no other woman was invited to "officially" express her opinion; they were "observers." Across the world, religious practices proliferate due to the enthusiasm of women, but religious power is monopolized by men. While drawing up guidelines for action, I proposed that the beneficiaries of all our programs be the marginalized: aboriginals, dalits (former untouchables), child laborers, minorities. And women.