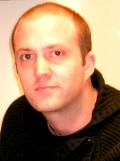 Malcolm Beith is a general editor at Newsweek International. He lives in New York City.
---
Sister Dori epitomizes what faith can do in a place long forgotten by everyone -- God included. Sister Dori runs La Casa Exodo, a home for abandoned and exploited children and women.
Finding Faith in Tijuana
By Malcolm Beith
Tijuana, Mexico -- I don't believe in Jesus Christ. Or religion, for that matter. But recently I finally discovered faith in faith, in perhaps the most unlikely of places. "Welcome to Tijuana, tequila, sexo, marijuana -- and God," as the famous song goes. (I added the last one; the rest is all Manu Chao.)
College kids and Navy cadets from California aren't the only Americans who invade Tijuana, Mexico. Another breed of habitual border crossers, nuns, are there in force. I met one of them, Eudist Sister Dori Valin, a 70-year-old San Diego transplant. While she's not the most famous nun south of the border (that would be 77-year-old Antonia Brenner, who lives by choice in a cell in Tijuana's La Mesa state penitentiary), Sister Dori epitomizes what faith can do in a place long forgotten by everyone -- God included. Sister Dori runs La Casa Exodo, a home for abandoned and exploited children and women.
According to Jorge Bedoya, director of the San Diego-based Bilateral Safety Corridor Coalition which works with exploited women and children in Tijuana, the Mexican border town is one of the six worst places for human exploitation in the world. A stroll down Avenida de la Constitucion, lined with teen prostitutes batting their eyelids and hiking up their mini-skirts at 11:30 on a weekday morning, sheds no doubt on Bedoya's claim.
That's where Sister Dori comes in. Her shelter, a long two-story house, is just blocks away from Avenida de la Constitucion. Through the green metal gates, sanctitude awaits. A colorful mural of Our Lady of Guadalupe gazes down adoringly in the driveway. In the half-dozen bedrooms, six to eight bunk beds (covered with stuffed animals bigger than some of the kids themselves) sit next to desks with computers. How did PCs find their way to a Tijuana shelter? A few months ago Sister Dori asked the Mexican government for 10 computers; she received 17. "I finally stuck it to them," she says, grinning.
Sister Dori is a testament to humanity. Born in Portugal's Madeira Islands in 1934, she moved to San Diego as a child. In her 20s she married a ship captain, only to have him leave her for what she calls a "younger model" 26 years later. To get over her bad breakup, she turned closer to the church. And about 13 years ago, she says she received a calling from Mary, who spoke to her and displayed a vision of Sister Antonia Brenner, whom Sister Dori had met a month before. "She said, 'Go see [Sister Antonia] my child,'" recalls Sister Dori. Scared, Dori blessed herself with holy water and said "Go away, this is not normal."
Eventually, she threw aside what agnostics like myself might call reason, and moved to Tijuana to work with Sister Antonia. Thirteen years later, hundreds of kids and women have found homes, jobs and new lives because of that choice. But what's most amazing about Sister Dori's story is that so many expats in Tijuana share similar ones.
Missions abound, as do non-denominational groups.
Not far from Casa Exodo, 56-year-old Connie Youngkin and her husband Tyler from Arizona, co-run a shelter called El Pozo. Twenty-eight children, whose parents are either prostitutes, drug addicts, convicts or just plain abusers, live in the home -- a converted warehouse -- with their adopted family. Recently, they received a check for $25,000 from the Bilateral Safety Corridor Coalition. The donation will help the home's administrators continue with bible classes, but more importantly, it will give the kids shelter, stability and a life they won't find elsewhere. "We're blessed," says Youngkin. "They get to be just like normal American -- I mean, Mexican -- kids."
I've always been skeptical of philanthropy, especially when it's cloaked in religion. (I often fear people are just doing good out of guilt or to guarantee a ticket to heaven.) As for Sister Dori's vision, I'm still skeptical, but I am in no position to disprove it.
But faith, that's now another matter. Seven years ago, when I was undergoing chemotherapy for cancer at age 23, I was told that friends of my family held Masses for me as far away as Peru and Spain. While I was grateful, I dismissed their beliefs. I didn't see the value of their faith. But after seeing the look on eight-year-old Maya's face when it dawned on her that the huge check being handed over to the Youngkins would keep a roof over her head and food in her mouth, I can no longer dismiss faith. Maya was beaten by her grandfather; her mother is a prostitute who works the streets nearby. If it weren't for people like the Youngkins and Sister Dori, girls like her wouldn't have a chance.
I no longer care if these do-gooding Christians are doing it just to get into heaven -- as long as they keep getting these kids out of hell.