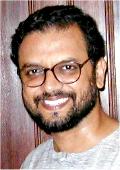 Fr. Francis Gonsalves is a Jesuit in the Gujarat Province, India. He lectures in systematic theology at Vidyajyoti College of Theology, Delhi, and has published many articles on theology, spirituality and social justice.
---
While interacting with students practicing different religions, I was impressed by the spiritual synergy stemming from an interfaith sharing of prayers, scriptural readings, religious insights and symbols.
Harnessing hatred through 'harmony'
By Francis Gonsalves, S.J.

CHENNAI, India -- Sangamam (meaning "harmony" or "confluence") is an interfaith forum engaging university youth of different religions who responsibly reflect upon and retaliate against the forces of religious fanaticism that often disturb the ethos of peace and pluralism inherent in India's cultures and traditions.

Ever since communal violence erupted last December in Hyderabad, in the south Indian state of Andhra Pradesh, the Sangamam students have intensified their efforts to harness the hatred engulfing Hyderabad.

The students' inspiration to combat communalism in the so-called "twin cities" of Hyderabad and Secunderabad springs from two dynamic women lecturers of the Jesuit-run Loyola Academy, Agna Joseph, a Catholic, and Vasupriya Viswanath, a Hindu.

E-mail Alerts
To receive an e-mail notice when Global Perspective is posted every week, sign up here.
Click on the link at the top right of this page to send the column to a friend or colleague.

Vasupriya explains, "All religious communities live peacefully although there have been occasional clashes. Communal violence is always politically motivated since political parties vie with each other to garner votes by polarizing people on the basis of caste and creed."

The youth inspired by the Sangamam ideals are distressed by the destruction due to communal violence. Abhay Kumar bemoans the fact that unemployed youth are often employed to create riots.

"Since the flames of fundamentalism are fanned by youth," he muses, "I believe that it is we, youth, who must light the torch for a better future."

Likewise, Neha Saxena feels that, "At an age when we, youth, are molding our life's principles, we must continue building interreligious relationships and conducting awareness programs that foster unity." She points out that the St. Francis College for Women successfully conducts such programs.

Last year, I coordinated a Sangamam seminar. Close to a hundred students -- devout Hindus, Sikhs, Buddhists, Jains, Christians and Parsees -- from 13 colleges of the "twin cities" discussed religion and delineated interfaith strategies. Saffron-robed Swami Srikantananda of the Vivekananda Mutt (monastery), the keynote speaker, warned about the dangers of fundamentalism and exhorted the students "to build up a strong India animated by the values common to all religions: love, truth, justice, service, and a respect for all beings."

While interacting with Sangamam students practicing different religions, I was impressed by the spiritual synergy stemming from an interfaith sharing of prayers, scriptural readings, religious insights and symbols. "Sangamam is symbolic of India," said Tejeswi Pratima, "for, though we are so different, we share common goals and ideals."

Sangamam brings students together to analyze the root causes of violence and to evolve strategies to curb it. Students organize dharnas (protest rallies) to denounce the power play of politicians. "Such initiatives are trivial," admits Santosh Kumar, "compared to the magnitude of violence." He adds, "There is need to evolve more effective strategies to spread the message of peace."

Ilyas Syed, a devout Muslim, is hopeful for the future. "How can people kill in the name of God?" he queries. "I believe that God is One, The Eternal, although human beings preach God by different names."

"The Jesuits of Loyola Academy support us fully," asserts Agna Joseph, whose infectious interest in interreligious dialogue impels her students toward increased involvement. Yet, some students, Christians included, do not perceive the need of dialoging with other religions. "I cannot understand how you can continue to be the brain behind an interfaith forum when you know that Christianity is the only true religion!" comments a Christian girl student. Agna is unruffled by such criticism.

Communal violence in India often irrupts during religious celebrations that, ironically, aim at uniting people. Like a hydra-headed monster, violence rears its hideous head frequently during religious celebrations. The Muslim Muharram processions or Ganesha idol immersions by the Hindus ignite passions and unleash violence. Vasupriya is deeply disturbed about the degeneration of religious festivals into communal combats.

In this context, Sangamam strives to foster harmony by celebrating all religious festivals. "We celebrate all religious festivals with a spirit of camaraderie," says Neha, "and our Monday interfaith prayers make us feel one with students of other religions."

Sangamam students conducted a Music for Harmony program at the end of January and visited slums where poor people of different faiths live in close proximity to each other. These ventures, they hope, will enable them to spread the message of peace and harmony among all sections of society. Sangamam and other interfaith initiatives challenge us to reflect upon our attitudes toward other religions.

When fanatics murder and maim in God's name, I suggest we recall the words of the revered Indian saint Kabir: "If Allah be within the mosque, then to whom does this world belong? If Ram be within the image that you carry on your pilgrimage, then who is there to know what happens without? Look within your heart, for there you will find both Allah and Ram; all the men and women of the world are God's living forms."