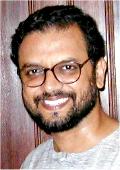 Fr. Francis Gonsalves is a Jesuit in the Gujarat Province, India. He lectures in systematic theology at Vidyajyoti College of Theology, Delhi, and has published many articles on theology, spirituality and social justice.
---
"Democracy can only be preserved at a price. We must be ready to make sacrifices."
-- Dr. Ram Puniyani co-coordinator of the Coalition for Secular Democracy
The price of defending democracy
By Francis Gonsalves, S.J.

MUMBAI, India -- Defending democracy is an arduous enterprise in India, the world's largest democracy.

Last May, a secular, democratic coalition, the United Progressive Alliance -- mainly comprising Congress and leftist parties -- was elected to Parliament, replacing the National Democratic Alliance led by the Bharatiya Janata Party, a political party of the Hindu Right. During the latter's rule, fundamentalist forces posed grave threats to India's secular, democratic traditions. Yet, democracy triumphed, thanks to extraordinary efforts of ordinary citizens and peoples' groups who dourly defended it.

The Mumbai-based Coalition for Secular Democracy is one such platform of peoples' groups daringly defending democracy.

The Coalition is an open forum that is kaleidoscopic in composition. University students, professors, professionals, intellectuals, social activists, religionists, journalists and trade unionists of many cultural, regional, religious, and linguistic backgrounds come together to plan activities, execute, and evaluate programs. The activities of the Coalition can be categorized into four vital spheres: training, raising awareness, organizing protests and networking.

Training trainers
An Intercontinental Youth Camp took place contemporaneously with the World Social Forum in Mumbai Jan. 16-21. Youth camp members decided to delve into the issue of communal politics and its threat to Indian democracy. From this grew a training of trainers program that has been training youth to spread the message of communal harmony primarily among students, factory workers and slum dwellers.

Social activist Shweta Tambe is confident that the training program will achieve its objectives. "We get a deeper understanding about the complex issues involved in communalism from experienced personnel whose diversity in approaches and activities makes for effective training," Tambe said. The training program is expected to have a snowball effect in sensitizing sections of society that are prone to manipulation by fundamentalists.

Awareness Campaigns
The Coalition for Secular Democracy conducts awareness campaigns to unmask the devious designs of fundamentalist forces. "An awareness campaign is a cultural package comprising films, street plays and other media that seeks to make people aware of the dangers to Indian democracy," explains Suma, a filmmaker, who, together with Dr. Ram Puniyani, a professor of engineering, coordinates the Coalition. Suma's films highlight social issues. Her films, available on CD for easy distribution, about the Ayodhya mandir-masjid (temple/mosque) controversy* and the 2002 Gujarat carnage** poignantly portray the perils of fundamentalism and communalism.

Organizing Protests
Fundamentalist and fascist forces often succeed in destroying democracy by surreptitiously subverting people's rights, restricting freedoms, and initiating hate-campaigns against minorities through manipulation of the media. To counter this, the dharna (demonstration or protest campaign) is an effective tool to mobilize masses and rally for rights.

Recently, the Coalition for Secular Democracy organized a Demonstration for Democracy simultaneously in seven major Indian cities -- Ahmedabad, Bangalore, Chennai, Delhi, Hyderabad, Mumbai, and Ranchi -- to protest against draconian legislation proposed by the National Democratic Alliance. The Prevention of Terrorism Act is being employed arbitrarily to arrest "suspected terrorists" who, in most cases, belong to the minority Muslim community.

Special Networking
Since its inception, the many groups and individuals comprising the Coalition for Secular Democracy decided that to combat communalism concertedly it would be a "non-hierarchical, flexible, and decentralized platform" that would seek to pool the efforts of as many concerned citizens and groups as possible. Such flexibility fosters further networking among various groups. Moreover, emergencies necessitate "special networking."

E-mail Alerts
To receive an e-mail notice when Global Perspective is posted every week, sign up here.
Click on the link at the top right of this page to send the column to a friend or colleague.

Come Oct. 13, the state of Maharashtra -- with Mumbai as its industrial and political capital -- will go to the polls for 288 state assembly seats. Coalition member Priyanka Josson points out that in the wake of political parties "resorting to communal tactics for gaining leverage for their respective political parties, it is important for secular forces to play a proactive role to ensure that electoral democracy stays fully functional."

To achieve this, the Coalition for Secular Democracy is printing and distributing thousands of pamphlets and posters that will warn voters of the hideous and hidden agenda of communal parties. Moreover, street plays, essay competitions, TV debates, music programs, CDs, video, and film screenings will mobilize the masses state wide. Such electoral emergencies depend on the time, talents, and energies of thousands of ordinary citizens.

Wedding the secular and the sacred
Attending two Coalition for Secular Democracy meetings in Mumbai recently, I was struck by the concern and commitment of common citizens who wage war against communalism and fundamentalism. A young social worker casually commented that fighting fundamentalism is risky since violence is used to silence resisters. In reply, Dr. Ram Puniyani, co-coordinator of the Coalition for Secular Democracy gently reminded the group, "Democracy can only be preserved at a price. We must be ready to make sacrifices."

A Mumbai-based religious sister who wishes to remain anonymous confessed, "I collaborate with [coalition] programs since I feel that the church does not involve itself sufficiently in civil society swamped by inequality, exploitation and violence." Being a 2.5% minority, the Indian church is often wary of getting involved in anything remotely "political." Yet, in India, where dharma (religion) plays a prominent role in public life, the church can ill afford to remain a silent spectator.

In Pune city, I met nonagenarian Jesuit Joseph Neuner, a theologian and peritus at Vatican Council II. "Decades ago, the Vatican Council stressed that the church must serve the world," he said. "But we have forgotten our responsibility toward society!"

Groups like the Coalition for Secular Democracy challenge the Indian church to serve society in the so-called "secular sphere" or else see the sacredness of democracy shattered by its own sanctimonious silence.
---
* On Dec. 6, 1992, Hindu nationalists, working with leaders of the the Bharatiya Janata party, led a cadre of about 100,000 Hindu fanatics and destroyed Babar's Mosque in the small town of Ayodhya. At the same time, armed Hindu groups launched anti-Muslim riots in about a dozen of India's largest cities.
** In 2002, months of violence and killing between Hindu and Muslim Indians in Gujarat, was sparked off by the torching of a train traveling towards Ayodhya.