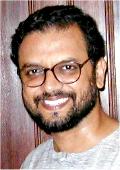 Fr. Francis Gonsalves is a Jesuit in the Gujarat Province, India. He lectures in systematic theology at Vidyajyoti College of Theology, Delhi, and has published many articles on theology, spirituality and social justice.
---
Indian theology is "faith seeking dialogue" (fides quaerens dialogum) … modifying St. Anselm's classical definition of theology being "faith seeking understanding." Dialogue is threefold: with cultures, with religions, with diverse disciplines.
Theology outside the temple
By Francis Gonsalves, S.J.
CHENNAI, India -- Millions of bhaktas (believers) in India encounter God in temples. However, students of contextual theology at the Vidyajyoti College of Theology, Delhi, North India, and at the Department of Christian Studies, University of Madras, South India, discover divinity far from the temple precincts.
2003 Friends of NCR Annual Appeal
(October 2003-December 2003)
Dear Reader of Global Perspective,
We need your help. We are pleased to make available -- at no charge -- Global Perspective. But we cannot do all we need to do without your financial assistance.
Please take a moment to consider contributing to our annual appeal and join the ranks of readers who give to the Friends of NCR campaign. National Catholic Reporter is a nonprofit organization. Contributions are tax-deductible in the United States.

Let's build the future together.

Contributions may be sent to:

National Catholic Reporter
115 E. Armour Blvd.
Kansas City, MO 64111
USA

Make checks out to: NCR
If you wish, you may print a form for submitting your donation.
You may also use this form for credit card donations.

P.S. Everyone who donates will receive the fourth in a series of specially designed NCR Christmas ornaments connecting us in a special way to the gospel of peace on earth. Thank you.

The new locus theologicus is, to quote Rabindranath Tagore, wherever God "keeps company with the companionless among the poorest, the lowliest, and the lost."* Contextual theology currently emerging from Indian soil prioritizes three foci: context, perspective, and dialogal methodology.

Context as crucial as content
Western theology is overly concerned with content. Dogmatic theology defines divine doctrine, unalterable whether one theologizes in Rio, Rome, Rwanda or Rameshwaram. In contrast, "Indian contextual theology partly draws its very content or substance from the context in which it is born," explains Jesuit Leonard Fernando, Dean of Studies at Vidyajyoti. He adds, "This is possible only when people dialogue with contextual realities in the light of their faith experiences."

Dazzling diversity being endemic to India, contexts vary. Thus, Vidyajyoti manages four regional theology centers (RTCs) at Patna, Ranchi, Kolkata, and Chennai, each providing students with a concrete context as substratum for theologizing. It is mandatory that staff and students be immersed in the struggles of people in bastis (slums), hospitals, jails and villages. Jesuit Anselm Kujur, Director of Fieldwork, stresses the centrality of anubhava (experience), since "contextual theology is a cyclical process of experience, analysis, reflection, action."

Students find contextual theology rewarding. "The socio-economic, political and religious contexts challenge my faith," opines Salesian Sr. Margaret Devadoss, "necessitating an integrated commitment to transform myself and Indian society." Says Nishant Surya of the Indian Missionary Society, "Contextual theology helped me discover the Indian face of Jesus Christ."

Perspectival privileging of the poor
Indian theology purposefully privileges society's underprivileged or "subalterns" in its faith-reflection. Paralleling Yahweh's anawim, the groups accorded special attention are Dalits (former untouchables), Adivasis (tribals), and women.

At the undergraduate level, the RTCs at Chennai and Patna develop Dalit theology, while the Ranchi RTC deals with tribal theology. Joseph Thayil, Director of the Patna RTC, believes that "By doing theology from a Dalit perspective, students develop deeper interest to work for the marginalized, poor and Dalits, whatever be their future ministry." On the threshold of priesthood, Raj Kumar feels that theology helps him to "identify with the struggles of the poor. God has come closer to me than ever before. I hope to participate in the spiritual and liberative movements of people I'll serve."

At the postgraduate and doctoral levels, the Department of Christian Studies, Madras, is a front-runner in researching subaltern themes. Salesian Jose Maliekal, who studied the impact of Catholicism on a Madiga (Dalit) community, says, "The dominant theological discourse, informed by the polarities of matter/spirit and transcendence/immanence, must evolve into a 'primordial theology' - that recognizes transcendence in the everyday subaltern struggles for identity, survival, and autonomy."

Theology often recognizes the "Big Tradition" but overlooks "little traditions." "Feminist theology is largely confined to issues of the so-called high-caste women or the educated urban women," says Presentation Sr. Shalini Mulackal, who is researching the religious practices of rural Dalit Christian women. "I hope to show that their God-concepts and religious practices enable them to be active agents of their own liberation."

No dialogue, no theology
Eminent Indian theologian Felix Wilfred, who heads Chennai's Department of Christian Studies, emphasizes the indispensability of dialogue in contextual theology. Indian theology is "faith seeking dialogue" (fides quaerens dialogum), stresses he, modifying St. Anselm's classical definition of theology being "faith seeking understanding." Dialogue is threefold: with cultures, with religions, with diverse disciplines.

"The cultural context of West Bengal," says George Pattery, Director of the Kolkata RTC, "blends the best of goddess Kali and Marx, Tagore and Subhas Bose (nationalist), the minstrel Bauls and the aboriginal Santals who harmonize in a rare mixture of revelation and faith." Likewise, Vidyajyoti's cross-cultural celebrations of Karam, Onam and Pongal become wellsprings for theologising, since people's songs and symbols, dances and dramas mirror that Mystery that every Indian soul savors.

At the Department of Christian Studies, interfaith dialogues continue ceaselessly. Wilfred explains, "Our Department is part of a larger whole, namely, the School of Philosophy and Religious Thought, which embraces five sister departments: Philosophy, Vaisnavism, Saivism, Jainism, and Islamic Studies." A common program of comparative religion and philosophy facilitates learning about religions from "insiders" (professors-religionists) of other religions during theological education.

In the dialogue with religions, the subaltern perspective is not compromised. Gnana Patrick recently published his doctoral thesis on a subaltern religious phenomenon termed Ayya Vali, while James Ponniah is researching a folk cult called Sudalaimadan.

The Second Vatican Council's clarion call to dialogue with the "isms" impelled Indian theology to incorporate transdisciplinary approaches in its method. Wilfred points out that "Our researches rigorously follow the method of two or more disciplines which are harmonized." Consequently, theology draws insights from other disciplines and dynamically dialogues with academicians and ideologues committed to bettering India.

Theology's tomorrow?
In a land of a billion bhaktas plagued by poverty, yet reverberating with unrivalled religiosity, Indian Christians - comprising innumerable Dalits and Adivasis - form a 2.35 % minority. Theology must consolidate its contextual rooting, treading terrain perhaps far from temples, yet tendentious toward little traditions of poor peoples that touch transcendence, too. Hopefully, enriched by dialogues with cultures, religions and diverse disciplines, we shall encounter Christ anew "outside the camp" (Hebrews 13:13), making Christianity markedly more accessible and acceptable to India.
---
1. See Rabindranath Tagore's famous collection of poems, Gitanjali, no. 10.

2. Vatican Council II's Gaudium et Spes, no. 62, reads, "… In pastoral care, appropriate use must be made not only of theological principles, but also of the findings of the secular sciences, especially of psychology and sociology."