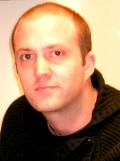 Malcolm Beith is a general editor at Newsweek International. He lives in New York City.
---
Joining his two index fingers in front of his eyes, 77-year-old Mamoudé Baldé, a Muslim from Joal, smiles. "Here, we are like this," he says.
Joal, Fadiouth: Twin towns symbol of hope in Senegal

Dear Reader of Global Perspective,
We need your help. We are pleased to make available -- at no charge -- Global Perspective. But we cannot do all we need to do without your financial assistance.
Please take a moment to consider contributing to our annual appeal and join the ranks of readers who give to the Friends of NCR campaign. National Catholic Reporter is a nonprofit organization. Contributions are tax-deductible in the United States.

Contributions may be sent to:
National Catholic Reporter
115 E. Armour Blvd.
Kansas City, MO 64111
USA
Make checks out to: NCR
If you wish, you may print a form for submitting your donation.
You may also use this form for credit card donations.
OR

P.S.: Everyone who donates will receive the fourth in a series of specially designed NCR Christmas ornaments connecting us in a special way to the gospel of peace on earth. Thank you.
By Malcolm Beith
Harmony between Muslims and Christians is hard to come by these days. Agree with them or not, strict immigration controls, hate crimes, and wars in the name of prophets and politics are tarnishing both Islam and Christianity's reputations for tolerance. In a tiny corner of the West African nation of Senegal, however, the Catholic and Muslim residents of the twin towns of Joal-Fadiouth live by their books -- together. Joal is 90 percent Muslim and 10 percent Christian, Fadiouth the inverse in proportion. Joining his two index fingers in front of his eyes, 77-year-old Mamoudé Baldé, a Muslim from Joal, smiles. "Here, we are like this," he says.
Recent history seems to back him up. In 1989, a storm destroyed the church in Fadiouth, and the village's inhabitants -- Christians and Muslims alike -- rallied to rebuild it, according to Abbé Etienne, the town's 36-year-old priest. Today, the new church stands proud, just a few hundred yards away from the mosque at the far eastern end of the island, where it faces Mecca. In the one-storey houses that separate the two houses of worship, families -- many of mixed-faith marriages -- eke out an existence primarily through fishing and agriculture. They are poor by Western standards, but one might argue that their prosperity lies in their peace. And, as Etienne puts it, "they know poverty, but it's not misery. There's not a person here who dies of hunger."
Joal-Fadiouth is a symbol of Senegal, which in turn is regarded by many as a beacon of hope for Africa. A predominantly Muslim nation, Senegal has endured a Christian separatist conflict in the South for more than 20 years. But today, peace is being negotiated and a ceasefire is holding. Senegal is one of the Muslim world's few democracies; and the secular government has also kept HIV levels to below 3 percent thanks to controls on prostitution and aggressive awareness programs. (In Joal, for instance, a roadside medical center is adorned with colorful murals and motifs that read "AIDS is a killer disease" and "Abstinence, Fidelity, Contraceptives" -- messages that are impossible for any driver or passerby to miss).
Senegal is officially a secular nation, but religion still plays a big role. Muslim brotherhoods, headed by local spiritual leaders called marabouts, wield significant influence in daily life, even commanding young children to scour the streets in search of alms for the mosque. Every Senegalese I met puzzled over my agnosticism. "There are so many religions," pondered 48-year-old Mamadouh Fall, a Muslim musician I encountered in the northern town of St. Louis. "Why did you not catch the wave?"
In a country so poor, it's no surprise faith plays such a significant role. One 23-year-old prostitute who I spoke with in a Dakar nightclub told me that she prayed every day "for God to give me a good man." After salsa dancing with her and bringing an innocent smile to both our faces, I half-jokingly asked her to pray that God would give me "a good woman too," and gave her a big hug goodbye.
Despite the odd Osama bin Laden T-shirt on sale in the market, Senegal's religions truly rest together in peace. On an island separated from Joal by just a short footbridge lies a cemetery in which Muslims and Christians are actually buried together. Crosses line one side of the hill for the Christians, small tablets dot the other side for the Muslims. Buried on the hilltop are three people: the town's first missionary, a black American woman who asked to be buried there in 1990, and a local -- "a good woman, well-respected in the village," I was told.
Joal-Fadiouth is proud of its tolerance-and so it should be. As I wandered through the streets under the blistering mid-afternoon sun, I turned a corner to find myself a few feet behind a little girl of about 8, walking hand in hand with her father. Looking back at me and smiling, she let go of his hand, and extended hers to mine. Her father chuckled as she led me through the maze. As we walked a few hundred paces hand in hand, the seashells that cover the town's alleyways crunching beneath our bare feet, it dawned on me that not only Muslims and Christians are welcome in Joal-Fadiouth. Agnostics like myself are too.