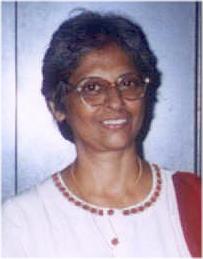 Janina Gomes is a freelance contributer to an Italian news agency and works for chambers of commerce and other business organizations. She also contributes regularly to the "Speaking Tree", a column of philosophy and religion in the national daily, The Times of India.
---
A commitment to civic and public causes, and a proactive public life, are essential to one's Christian identity in a multicultural and pluralistic society like India, says George Menezes.
A Christian in public life
By Janina Gomes
MUMBAI, India -- Not many Christians in India are active in public life. When they are, they are often outstanding Christians and their personal testimony very interesting. George Menezes is one such public figure in India who says that he does not buy the argument that one is a Christian because one is born into a Christian family. Rather, he sees his Christian commitment as a daily choice that arises from his fascination with the personality of Jesus.
2003 Friends of NCR Annual Appeal
(October 2003-December 2003)
Dear Reader of Global Perspective,
We need your help. We are pleased to make available -- at no charge -- Global Perspective. But we cannot do all we need to do without your financial assistance.
Please take a moment to consider contributing to our annual appeal and join the ranks of readers who give to the Friends of NCR campaign. National Catholic Reporter is a nonprofit organization. Contributions are tax-deductible in the United States.

Let's build a better world together.

Contributions may be sent to:

National Catholic Reporter
115 E. Armour Blvd.
Kansas City, MO 64111
USA

Make checks out to: NCR
If you wish, you may print a form for submitting your donation.
You may also use this form for credit card donations.

P.S. Everyone who donates will receive the fourth in a series of specially designed NCR Christmas ornaments connecting us in a special way to the gospel of peace on earth. Thank you.

A squadron leader in the Indian Air Force; a diplomat in Paris; a greatly respected and successful human resources manager and trainer for Hoechst, the multinational pharmaceuticals company; and now, at age 74, working as a consultant in management training -- Menezes is seen as a Christian leader of significance in India. Says Fr. Benny Aguiar, former editor of The Examiner, the archdiocesan weekly of Mumbai, and a regular contributor to The Tablet, "George played a significant role in the early years when Christians were being persecuted and missionaries expelled from India."

Lionel Fernandes, a former reader in politics at the University of Mumbai, believes that Menezes showed great courage in the 1980s when he joined the Bharatiya Janata Party (BJP), a right-wing Hindu majority party, even though the move was controversial and attracted much criticism from the Christian community. Menezes believed he could influence the BJP from within. Fernandes says he followed the courage of his convictions again when he resigned from the party because he did not succeed in his objectives.

Louis D'Silva, former professor in the Department of Civics and Politics at the University of Mumbai, calls Menezes a talented, effective and charismatic Christian leader who has given Catholics a presence in the political arena.

Menezes says that Christian involvement in the world must address issues of justice. Jesus was proactive and set people free. He could not see injustice being meted out to others. This is what inspires and motivates Menezes.

He recalls working for the Society of St. Vincent De Paul in a northeastern suburb of Mumbai, where he pushed people to shift their focus from works of charity to rehabilitation. In his 25 years at Hoechst, he was responsible for training people in nine countries in South and Southeast Asia. He used his position to help people -- not just Christians -- with employment and other ways of rehabilitating themselves.

India is a multicultural and pluralistic religious society, but Christians have been largely absent from political life. Menezes took the plunge when he joined the BJP. Atal Bihari Vajpayee, the present prime minister of India and the most influential leader in the BJP party, appointed Menezes to the national executive committee. Menezes, who was on the Pontifical Commission of the Laity, says Rome approved of his involvement with the BJP as a means for Christians to build bridges rather than walls between communities.

Menezes says he joined the BJP after being disillusioned by the Congress Party. Though Congress had ruled India virtually uninterrupted from the time of India's independence in 1947 until 1994, Menezes says it had done little to improve the lot of the marginalized. The party institutionalized corruption and showed its fascist face when Indira Ghandi declared a state of emergency (1975-1977), he says.

His move to the BJP polarized the Christian community. He described the detractors as belonging to three groups: congressmen, Christian fundamentalists and individuals who wanted to establish themselves as leaders of the community. Menezes says, "Fundamentalist Christian groups, which were pro-Congress, carried out a hate campaign against me. This was a rich Christian experience for me because I realized the criticism was not directed against me as a person but because of a political decision I had taken."

Even today, Fr. Aguiar sees Menezes joining the BJP as a minus given the origins, antecedents and agenda of the religiously divisive party.

Menezes says he resigned from the party when he realized that a small group of moderates like him could not influence hardliners in the party. Advani went on with his Rath Yatra ("chariot tour" around the country mobilizing people) that led finally to the demolition of the Babri Mosque in northern India. The party has led the national ruling coalition since 1999.

Menezes recalls another effective step he took in political life, when he and a group of people organized a morcha (protest march) against the Tyagi bill, which sought to introduce a ban on conversions as central legislation in the 1980s. More than 100,000 people participated in the morcha in Mumbai. As a result, Morarji Desai, who was prime minister at that time, called a small delegation of Christians to Delhi, including Menezes, and the bill was subsequently withdrawn.

This commitment to civic and public causes, and a proactive public life, are essential to one's Christian identity in a multicultural and pluralistic society like India, according to Menezes. Whether talking of municipal elections or environmental issues, all are finally justice issues and related to giving voice to the voiceless, he says.

In February 2002 in the state of Gujarat, 58 Hindu devotees and kar sevaks (religious volunteers for construction of religious sites) were burned alive in a railway compartment by people believed to be Muslim extremists. This touched off two months of rioting and what has been reported as widespread state-backed violence against the Muslim minority. Menezes was among those who toured the state, wrote extensively in the national press about the pogroms and brought these human rights issues to the attention of national and international groups.

Not many Christians in India have aspired to use their positions in power to help the powerless, but George Menezes has. His testimony is therefore one of authentic Christian witness, and his life and Christian identity are closely tied up with promoting God's reign in this complex country that is India.