The fall and fall of Zimbabwe
By Marko Phiri

Dear Reader of Global Perspective,

We need your help. We are pleased to make available -- at no charge -- Global Perspective. But we cannot do all we need to do without your financial assistance.

Please take a moment to consider contributing to our annual appeal and join the ranks of readers who give to the Friends of NCR campaign. National Catholic Reporter is a nonprofit organization. Contributions are tax-deductible in the United States.


Contributions may be sent to:
National Catholic Reporter
115 E. Armour Blvd.
Kansas City, MO 64111
USA

Make checks out to: NCR

If you wish, you may print a form for submitting your donation.
You may also use this form for credit card donations.

OR


P.S.: Everyone who donates will receive the fourth in a series of specially designed NCR Christmas ornaments connecting us in a special way to the gospel of peace on earth. Thank you.

BULAWAYO, Zimbabwe -- In 1980, at the end of a civil war, Zimbabwe was relatively prosperous. This southern African state - formerly Rhodesia - was the breadbasket of the region. Robert Mugabe, the guerrilla leader turned prime minister, had won independence from Britain, and presided over a nation of promise. Mugabe was celebrated in the country and by other African leaders as an African David fighting international Goliaths.

Today the country is in economic chaos. Critics say political chaos must soon follow.

The country is now a net food importer. Rampaging inflation and chronic shortages of foreign currency, fuel and food are the most visible signs of an economy in its sixth year of recession.

The government's own Central Statistical Office put the official annualized inflation rate at 411 percent at the end of October. In a nation of more than 12 million, as much as 70 percent of the workforce is unemployed.

Today's crisis situation grew from a ploy Mugabe used in 2000 to buoy his sagging political fortunes. After 20 years of dominance, Mugabe's Zanu PF party faced its first formidable opposition, a coalition called the Movement for Democratic Change. Zanu PF had rewritten the constitution, but the Movement for Democratic Change defeated it in parliament - Zanu PF's first public defeat since independence.

Mugabe turned to his political base, the veterans who served under him in the war of independence. In what he called the Third Uprising, Mugabe began to confiscate commercial farms owned by whites. Though he claimed to be redistributing the farms to landless peasants, in truth the land went to the war veterans and cronies. Commercial farming, the life blood of Zimbabwe's economy, virtually stopped.

Meanwhile, Mugabe expelled the foreign media and clamped down tight on domestic journalists, at one point closing the leading English language newspaper The Daily News in the country because it didn't back him.

Nothing has been the same since. What the future holds is not clear.

In May, Mugabe unveiled Operation Restore Order. Ostensibly a move to clean up slums and dens of crime, Operation Restore Order displaced at least 700,000 people, primarily from urban areas that strongly backed the Movement for Democratic Change.

Religious groups expressed concern - but mostly from outside the country. Religious leaders inside Zimbabwe are divided. Mugabe, a Catholic educated by Jesuit missionaries, regularly attends Mass in the capital Harare. Zimbabwe's bishops conference, the county has nine Catholic bishops, has been largely quiet on bad governance, economic mismanagement, graft and human rights violations, and has not organized to apply much pressure on Mugabe.

One exception is Pius Alick Vundla Ncube, the Catholic archbishop of Bulawayo, Zimbabwe's second largest city.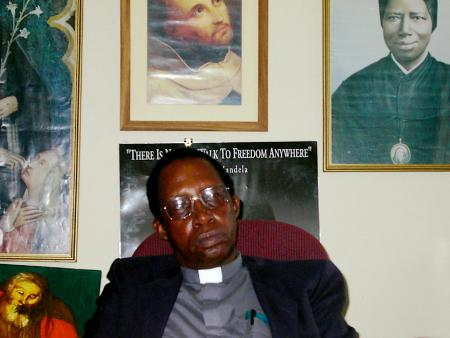 (Marko Phiri)

Pius Alick Vundla Ncube, the Catholic archbishop of Bulawayo, Zimbabwe

From his modest office lined with posters of Pope John Paul II, Mahatma Gandhi, Martin Luther King Jr. and Nelson Mandela, Ncube told NCR, that while many of Zimbabwe's religious leaders sit on the fence, he is prepared to die for the country's poor and disenfranchised.

He doesn't hesitate to call Mugabe "arrogant" and a "dictator." He has charged the president and his political party are using food as a political weapon.

Ncube has been threatened, and he told NCR he is under constant surveillance by government spies in the Central Intelligence Organization.

During parliamentary elections in 2002, the Zanu PF targeted Ncube in a booklet titled "Traitors Do Much Damage to National Goals." People close to the archbishop fear that a recently passed constitutional amendment that allows the confiscation of passports of government critics, could end Ncube's international travel, which he uses to tell the story of human rights abuses to world audiences. Domestic media has stopped talking to the archbishop.

In interview with the South African Catholic weekly, The Southern Cross, before March elections, Ncube said Mugabe's Zanu-PF party was "going up and down the country telling people, 'If you don't vote for us, you don't get any food, and then we're going to come back and burn your houses.' "

Noting that large areas of Zimbabwe were experiencing a drought, Ncube said that the government had obstructed international agencies from distributing food. The Zanu PF won the parliamentary elections.

In June while visiting the Vatican, Ncube told Catholic News Service that Mugabe should be arrested and prosecuted by an international court for ordering Operation Restore Order. Ncube said the plan sought to drive Mugabe's opposition back to the famine-hit countryside for political re-education, as the Pol Pot regime did in Cambodia in the 1970s.

E-mail Alerts
To receive an e-mail notice when Global Perspective is posted every week, sign up here.
Click on the link at the top right of this page to send the column to a friend or colleague.

Mugabe told a British TV station that Ncube was an "unholy liar" for making claims of extreme food shortages and famine.

The archbishop rebutted: "But we know. We have a church hospital, we have clinics, and we know that people have died of malnutrition."

Godfrey Magwenzi, the charge d'affairs and deputy head of the Zimbabwean Consulate in London, told Channel 4 News that nobody in Zimbabwe took Ncube seriously.

"The sewage and filth that spills out of that man's mouth should shame and embarrass all men of the cloth," he said.

Ncube's opposition began some 15 years ago when he was involved with rescuing ethnic Ndebele villagers from massacre at the hands of Mugabe's notorious army unit, the Fifth Brigade. The president said he was putting down an insurgency, but human rights groups in the country are calling it genocide. As many as 25,000 Ndebele died in what is called the Gukurahundi tragedies.

For Ncube's episcopal ordination in 1994, Mugabe joined the crowd witnessing the installation of Bulawayo's first black bishop. Five years later, the president vowed not to attend the funeral of Zimbabwe's vice president and nationalist hero Joshua Nkomo if the Bulawayo archbishop was presiding. Ncube stood aside, and newspapers the next day ran photos of Mugabe proudly receiving Communion from a white missionary priest.

In May when Operation Restore Order began, Ncube said one his brother bishops told him, "This is a small thing. It will end soon." After Christian development agencies and outside religious groups and the United Nations condemned the home demolitions, the Catholic bishops finally issued a pastoral letter in June calling for a halt, but they have done little else as a group.

"The Zanu PF plays on ethnic loyalties," Ncube told NCR. "If you are [ethnic] Shona you are not expected to criticize Mugabe, and this has found its way into the conference."

"There were some local [clergy] - and also missionary priests actually - who initially supported Mugabe," Ncube said. "But when he plunged the country into economic difficulties, they changed their opinion about him."

"Some of my colleagues sympathize with Mugabe," he added. "Mugabe is very cunning. He has given some church leaders farms to silence them."

Asked if the church could excommunicate Mugabe, Ncube said it is possible, saying the archbishop of Harare, where Mugabe resides and attends Mass, has such power. But Ncube questioned the wisdom of such a move.

"It depends on what is expected to be derived from excommunicating him. But Mugabe is a very arrogant man. He could do worse harm to the people and hit back if he were excommunicated," the archbishop said.

Many believed that newly installed Archbishop Robert Ndlovu of Harare would be a strong critic of the president, but this has yet to happen. Ncube defends his Harare counterpart for trying to balance the politically volatile center of government.

"He has pursued a policy of neutralism and does not want to be seen as alienating Zanu PF officials and supporters who belong to the church. He wants to be there for both the [Movement for Democratic Change], which virtually controls the capital, and for the Zanu PF who occupy the seat of power," Ncube said.

Does Ncube see an end Zimbabwe's trials? "It is difficult to see how these hardships will end," he said. "It must end, because if it doesn't, many more people will die."