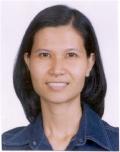 Gemma Tulud Cruz, a lay educator from the Philippines, is a doctoral student in feminist theology at the University of Nijmegen, the Netherlands. Her e-mail address is serenity3_99@yahoo.com
---
Born out of the reality of oppression and rooted in the yearning for home, the situation of the Filipina migrant church in Hong Kong teaches us a lesson: the church cannot but be a church of the stranger.
No strangers in this church
By Gemma Tulud Cruz
HONG KONG -- Like most rich cities, Hong Kong is "home" to thousands of economic migrants. Of these economic migrants, domestic workers dominate the landscape of this highly industrialized Asian city that used to be a British colony. And when one talks about the domestic worker in Hong Kong, one cannot help but mention what some consider as Hong Kong's modern-day amah -- the Filipina.
Filipina migration to Hong Kong started in the '70s, when Hong Kong was experiencing an economic boom and the Philippine economy was beginning to hit rock bottom. Because housewives had more opportunities to work -- or were forced to work to meet increasing economic demands -- and Chinese amahs were expensive, the demand for cheap domestic workers arose. Filipinas filled this demand. Hong Kong's further industrialization lured local workers, including local women workers, to jobs that paid higher than the expanding service sector, and heightened the demand for the English-speaking Filipinas. They then came in droves, making Hong Kong today the host city of about 153,000 Filipina amahs.
But Hong Kong life has never been easy for these migrant Filipinas. The complications of migration, with its concomitant feelings of loneliness and isolation, already test their strength and determination. The travails of gendered domestic work -- its vulnerability to physical, emotional and sexual abuse -- also contribute to their denigration. These, exacerbated by discrimination against domestic workers, compel the Filipinas to cling to their faith and to each other for much-needed consolation and a solution to their various experiences of oppression.
Sunday is "freedom day" for most of these pilgrim workers. It is the day when they come out of their invisibility and lay claim to the heart of Hong Kong society by invading the Central District of Hong Kong, from its roads to its parks to its commercial and even financial centers. It is the day when each sheds her maid's uniform and moves out of the shadows of her employer's domination to try to be her own person. It is the day when thousands of them engage in a re-creation of "home," congregating by region and buying, selling, eating or doing anything that reminds them of the real home, in the two places which have been the site of Filipina-Chinese tensions: Statue Square and Chater Road.
Sunday, for the mostly Catholic Filipinas in Hong Kong, is also truly a Sabbath day. It is the day when they flock to church and pack it from morning until evening. In St. Joseph's Church, for instance, I was confronted with the unfamiliar scene of people queuing up just to get inside a church and hear Mass on a Sunday. Hundreds more attend almost hourly Masses in other churches. And this palpable presence is echoed in a number of gyms and auditoriums in Hong Kong that are transformed once a week into places of worship for the itinerant Filipinas.
The centrality of religion in the Filipina migrant domestic workers' lives doesn't end with the Eucharistic celebration. One can see it in their weekly or monthly meetings with their numerous faith groups … in those who attend the theology class sessions at the Diocesan Pastoral Center for Filipinos … in those who spend even their much-awaited day off doing outreach activities, not only for their fellow migrants but also for the local community … and in those who, fueled and nurtured by their faith, have become sources, instruments and inspirations in the fight for justice and liberation within the migrant community. And yet their struggle goes on. Many stories of abuse, contract violations and exploitation still happen. Feelings of alienation are still a force to reckon with.
How do you speak about God in a situation that is fraught with multiple forms of oppression? How do you make the encounter with the sacred consistently happen when these very forms of oppression, given the fast, complex changes brought by globalization, undergo mutations just when we think we have the solution?
Born out of the reality of oppression and rooted in the yearning for home, the situation of the Filipina migrant church in Hong Kong teaches us a lesson: the church cannot but be a church of the stranger. At the heart of the biblical tradition and Jesus' missionary vision is the gift of a "home": a space where there is justice and compassion. We, too, are a people of the exodus, a people of faith, a people on the move. May the migrant in our midst not only say, "I was a stranger and you welcomed me." May our fellow pilgrim also be able to say, "I was a migrant and you helped me in my misery, you nurtured me in my spirituality."
The church of the stranger derives its angst from the pangs of oppression. It manifests its power in the spiritual hunger of the outsider.

2003 Friends of NCR Annual Appeal (October 2003-December 2003)
Dear Reader of Global Perspective,
Please consider contributing to our annual appeal and join the ranks of readers who give to the Friends of NCR campaign. Contributions are tax-deductible in the United States.

Together through stormy times.
Send Contributions to:

National Catholic Reporter
115 E. Armour Blvd.
Kansas City, MO 64111 USA

Make checks out to: NCR
P.S. Contributers receive a specially designed NCR Christmas ornament as a thank you gift.
Copyright © 2003 The National Catholic Reporter Publishing Company, 115 E. Armour Blvd., Kansas City, MO 64111
TEL: 1-816-531-0538 FAX: 1-816-968-2280