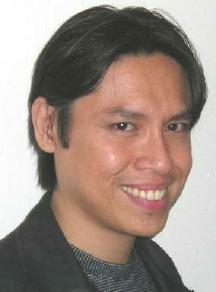 Antonio David Sison is a Filipino theologian who works in the interdisciplinary area of Theology and Cinema. His doctoral research was on the confluence of Edward Schillebeeckx's Eschatology and Third Cinema. He is also a screenwriter and independent filmmaker. He is currently in the initial formation program of the Missionaries of the Precious Blood in Dayton, Ohio. His e-mail is ton_sison@yahoo.com.
---
"The liberation of human beings is the golden thread of my theology."

-- Edward Schillebeeckx
The happy theologian: Edward Schillebeeckx
By Antonio D. Sison
My furrowed brow reflects the intellectual wrestling in my brain as I read the voluminous trilogy. This is not J.R.R. Tolkien's now cinematically memorialized Lord of the Rings, mind you. This is the trilogy with the forthright titles Jesus, Christ, and Church, the magnum opus of eminent Dutch theologian Edward Schillebeeckx. As researchers on Schillebeeckx would attest, he is no easy read. The prose depends on a careful, almost pained accumulation of detail. The frames of reference are wide-ranging and eclectic. Sentences are uncharacteristically long and complex, as challenging as the spelling and pronunciation of the author's last name. But over a couple of weeks, a breakthrough ensues and the texts begin to "speak." I hear the voice of someone who is trying to initiate a conversation about God because he is in conversation with God.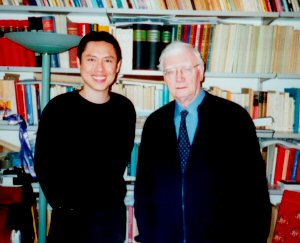 Antonio Sison and Fr. Edward Schillebeeckx

And importantly so, I hear the voice of a western theologian preaching the good news of the poor in the Third World to rich people in the First.

I spent the last four years of my life doing doctoral research in Nijmegen, the Netherlands. Academic base for me was the Catholic University of Nijmegen, the very campus where Schillebeeckx served as Chair for Dogmatics and the History of Theology from 1958 to 1983. My doctoral project explores the creative crossings between the liberative stream of Schillebeeckx's theology and Third Cinema, a research category of film angled towards an authentic representation of Third World liberation.

In an interview I conducted in 2003, Schillebeeckx himself offers the concept of "human liberation" as the interpretive key to understanding his later work. "The liberation of human beings is the golden thread of my theology," he said. I also believe it to be an important conceptual bridge between Schillebeeckx's thought and the plight of the Third World.

Dear Reader of Global Perspective,

We need your help. We are pleased to make available -- at no charge -- Global Perspective. But we cannot do all we need to do without your financial assistance.

Please take a moment to consider contributing to our annual appeal and join the ranks of readers who give to the Friends of NCR campaign. National Catholic Reporter is a nonprofit organization. Contributions are tax-deductible in the United States.


Contributions may be sent to:

National Catholic Reporter
115 E. Armour Blvd.
Kansas City, MO 64111
USA

Make checks out to: NCR

If you wish, you may print a form for submitting your donation.
You may also use this form for credit card donations.

OR



P.S. Everyone who donates will receive the fourth in a series of specially designed NCR Christmas ornaments connecting us in a special way to the gospel of peace on earth. Thank you.

Calling for a form of liberative spirituality, which he terms as "Political Holiness," Schillebeeckx underscores the importance of social engagement in the light of the principles of the Kingdom of God. Political Holiness, he emphasizes, is the new and relevant form of love of neighbor in the face of the manifold inequalities and social injustices in the global community. An alternative future reality where the various asymmetries in the world would be equalized is the in-breaking promise looming in the horizon. This vision is attributed to the initiatives of "the God who is mindful of humanity."

Ironically, Political Holiness is the stream of Schillebeeckxian thought that had been overlooked in theological circles in the west. Schillebeeckx points out that examining the structural injustices brought about by globalization is something affluent nations avoid because "America and the rich states of Europe have great economic interests in globalization." In the book Christ, his prophetic-liberating project is razor-edged:

While two-thirds of the world's population is crying out for justice and love, a powerful block made up of the remaining third, in the East and West, is concentrating all its knowledge and its science, its power, its diplomacy and its tactics and means of subjugation, on keeping what it has.

Though necessarily strident in tone, Schillebeeckx's liberative thought is optimistic and human-centered. He insists that God's honor lies in the happiness and wholeness of his people. My research supervisor, friend and mentor, Precious Blood Fr. Robert J. Schreiter, a Schillebeeckx protégé and editor of the anthology The Schillebeeckx Reader, rightfully affirms: "Indeed, for Schillebeeckx, it is the human that is the royal road to God."

I have had the distinct privilege of meeting with Edward Schillebeeckx a number of times in the course of my research. I remember the extraordinary experience of our first meeting. I found myself in a surreal moment of talking about Schillebeeckx's theology… with Schillebeeckx himself! With measureless patience, Schillebeeckx listened to this fledgling researcher who had the hubris to echo his theology back to him. I mentioned that my first tentative exposure to his work was his small semi-autobiographical book I Am a Happy Theologian. When he indulged my request for an autograph, I was moved to read an inspiring personal message- "To Antonio, be also a happy theologian.

E-mail Alerts
To receive an e-mail notice when Global Perspective is posted every week, sign up here.
Click on the link at the top right of this page to send the column to a friend or colleague.

A "happy theologian" is exactly how I would describe Fr. Edward. Despite the ravages of cancer and the aches of a man nearly in his nineties, he looks years younger than his age and there is always a glint of youthful enthusiasm in his eyes. Though scholars have noted that the formidable Schillebeeckxian corpus had already reached its ceiling, Schillebeeckx himself would often speak of having a new book on sacraments published.

The modest, shared room at the Catholic University of Nijmegen's St. Radboud hospital was the venue of what apparently may be my last meeting with Edward Schillebeeckx. It was a few days from my Ph.D. defense, an event Fr. Edward committed to attend. Cancer, however, has taken its toll. From his hospital bed, Fr. Edward looks thin and frail, but he is typically clear-eyed and lucid. He apologized profusely for being unable to make it to my upcoming public defense. He reassured me that he finds my research very interesting and that he had viewed my case study film -- three times, to be exact -- with keen interest. He adds that cinema, which speaks of human life, is very necessary for theologians to study.

I express my gratitude to Fr. Edward for his theology, which has had signal impact on my work as an incipient theologian from the Third World. I hasten to add that it also continues to be a rich vein of wisdom in my personal search for soul and meaning.

A certain wounded happiness in his eyes, Fr. Edward extended a handshake and said: "So, Antonio… I will see you in the future."

Editor's Note: Edward Schillebeeckx celebrated his 90th birthday in Nijmegen Nov. 12.