Jeff Guntzel and Mahasen Nasser-Eldin are in Iraq for National Catholic Reporter.
Their reports will be posted to NCRonline.org as they become available. Check the Web site regularly for updates.

---
Since 1998, Guntzel has helped coordinate Voices in the Wilderness, a campaign to end the sanctions against Iraq. He has led seven fact-finding missions to Iraq.
Nasser-Eldin, fluent in English and Arabic, has traveled to Iraq with Voices in the Wilderness, has studied the Iraqi educational system for UNICEF and as a researcher for Human Rights Watch studied the Kurds.

NCRonline Iraq Photo Gallery
By Jeff Guntzel and Mahasen Nasser-Eldin
Photos will be posted here as we receive them from Iraq. Check back for updates.
May 13, 2003: Pratical Steps to Rebuild
The Najeen (survivors) Group, an artists collective, has taken over the center of Firdos Square, setting of the much televised toppling of the bronze statue of Saddam Hussein April 9.

The Najeen Group is building a sculpture to replace the torn down statue of Saddam Hussein.

The sign reads: "The Najeen Group starts its practical steps to build a new Iraqi civilization."
May 13, 2003: Defacing Saddam
Most of Saddam Hussein's many potraits and statues in Iraq have been defaced or destroyed. Right, an unexploded RPG lies in front of a destroyed statue in the al-Mansour neighborhood of Baghdad.

Above, a particularily creative celebrant carved devil horns out of a portrait.
May 12, 2003: Former officers march
Former Iraqi officers march to demand a role in re-establishing security in Iraq. The signs say things like: "We need to bilt (sic) a new Iraqi military service" and "The situation of family, officers & others is very bad."
May 9, 2003: Wavering Optimism
Chaldean Bishop Emmanuel Deli was alone in his office talking on the telephone when an explosion blew out his office windows and sent him tumbling. It was the first night of the bombing campaign. Read an interview with the bishop posted May 9.
May 7, 2003:
Political Parties Proliferate
A friend took a driving tour around Baghdad and counted 35 new parties. "All you need is five people and you have a party," he told us. Some people worry that the parties have no agendas. Read the full report on May 7.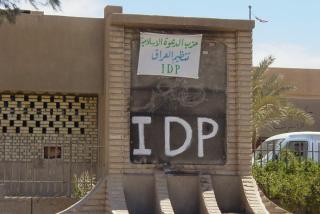 May 5, 2003: Public services are in shambles
Looters ransacked the Ministry of Health. The building is pictured above. Patients records were destroyed and left to the elements (below). A patient's records with the cancer registry (left).
May 5, 2003: Gas lines

Fuel lines stretch around corners and over bridges. Some people wait in the relentless sun for six hours to fill their tanks.
May 5, 2003: The Ministry of Oil and the Ministry of Agriculture
The Ministry of Oil has been protected by U.S. armored vehicles and razor wire since the Americans first entered the city. Behind it, a towering white Ministry of Agriculture building is burned black.
May 2, 2003: A fateful trip to the market
U.S. soldiers fired on Ra'id's (top left) orange and white Mercedes school bus as it headed for a market. One passenger was killed and 19-year-old Jihad (top right) was seriously wounded.

The driver, Jihad and his parents want to know why they were targets two weeks after the fall of Baghdad.

Read more of the story in Notes from Iraq No. 3, posted May 2.