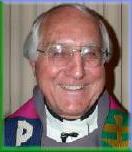 Thomas J. Gumbleton
Auxiliary Bishop of the Archdiocese
of Detroit, Michigan *
Numbers 6:22-27

Then the LORD spoke to Moses, saying, "Speak to Aaron and to his sons, saying, 'Thus you shall bless the sons of Israel. You shall say to them: The LORD bless you, and keep you; the LORD make His face shine on you, and be gracious to you; the LORD lift up His countenance on you, and give you peace.' So they shall invoke My name on the sons of Israel, and I then will bless them."
Galatians 4:4-7

But when the fullness of the time came, God sent forth His Son, born of a woman, born under the Law, so that He might redeem those who were under the Law, that we might receive the adoption as sons. Because you are sons, God has sent forth the Spirit of His Son into our hearts, crying, "Abba! Father!" Therefore you are no longer a slave, but a son; and if a son, then an heir through God.
Luke 2:16-21
So they came in a hurry and found their way to Mary and Joseph, and the baby as He lay in the manger. When they had seen this, they made known the statement which had been told them about this Child. And all who heard it wondered at the things which were told them by the shepherds. But Mary treasured all these things, pondering them in her heart. The shepherds went back, glorifying and praising God for all that they had heard and seen, just as had been told them. And when eight days had passed, before His circumcision, His name was then called Jesus, the name given by the angel before He was conceived in the womb.


* A longtime national and international activist in the peace movement, Bishop Gumbleton is a founding member of Pax Christi USA and an outspoken critic of the sanctions against Iraq.
He has appeared on numerous radio and television programs, and has published numerous articles and reports.
* Scripture texts in this work are in modified form from the American Standard Version of the Bible and are available as part of the public domain.
For your convenience, the Scripture texts, as they appear in the Lectionary for Mass for Use in the Dioceses of the United States, second typical edition, Copyright ©1998, 1997, 1970 Confraternity of Christian Doctrine, Washington, D.C., may be found at the website of the United States Conference of Catholic Bishops (USCC).
http://www.usccb.org/nab/
**The Web link to Pax Christi is provided as a service to our readers.
Most of us, I think, have heard of Dorothy Day who was the founder of the Catholic Worker movement in this country, a movement that is flourishing very much at the present time. Dorothy was an extraordinary person who lived a life of authentic Christianity probably in a way that most of us can only dream of doing. Often she would be told by people, "You're holy, you're a saint." She always rejected that. She refused to let anyone think of her as a saint because, she said, we put saints on a pedestal. We think saints are very different from us and so then we don't have to try to live as they did. We can kind of escape from the demands of our Christian calling.
Well, I think something like that happens or has happened in the church in regard to our devotion to Mary, the Mother of God. Today we celebrate the feast of Mary as mother of God. Look at what we've done to Mary. We have feasts throughout our church year: The Feast of the Immaculate Conception -- Mary was conceived without sin -- that's something that couldn't happen to any of us. Or the Feast of the Assumption of Mary -- Mary was taken into heaven without her body becoming corrupt, she was glorified immediately-- again something we would think beyond us. Or we talk constantly of the virginity of Mary. A mother and yet a virgin. Impossible for any of us. And Mary crowned queen of heaven. Something we could never aspire to.
We put Mary out of our reach, in a sense, and we don't really think of her as the human being that she was. And she was a very ordinary human being. In fact, she was very much like the majority of the women in the world right now because Mary was a peasant, from a village of about 1,600 people. She was illiterate, never had a chance to learn to read or write. She was poor, exploited by the rich, had to pay taxes to Caesar, to Herod, to the temple. Money taken from the poor to make other's lives richer. So she was exploited. She was persecuted. She was like many, many people in our world today, especially women in Asia, in Africa, in Latin America and all those tiny villages where women work maybe 10 hours a day on domestic chores -- fetching water, gathering wood for fires, preparing meals. Mary was an ordinary peasant woman living a life that is clearly the life, again, of the majority of women in our world. Maybe we're not so aware because we live in a very wealthy country and most of us are not among the poor, the exploited and the persecuted, those suffering violence every day in our lives like so many people in so many parts of the world.

Dear Reader of The Peace Pulpit,
We need your help. We are pleased to make available -- at no charge -- The Peace Pulpit. But we cannot do all we need to do without your financial assistance.
Please take a moment to consider contributing to our annual appeal and join the ranks of readers who give to the Friends of NCR campaign. National Catholic Reporter is a nonprofit organization. Contributions are tax-deductible in the United States.

Contributions may be sent to:
National Catholic Reporter
115 E. Armour Blvd.
Kansas City, MO 64111
USA
Make checks out to: NCR
If you wish, you may print a form for submitting your donation.
You may also use this form for credit card donations.
OR

P.S.: Everyone who donates will receive the fourth in a series of specially designed NCR Christmas ornaments connecting us in a special way to the gospel of peace on earth. Thank you.
So Mary was someone who was like other people of her time, the majority of people, and of all time. But there was something very significant about Mary, and this is what we really need to focus on most of all. It's what Luke tells us in today's Gospel when he says the shepherds came, told the extraordinary message that they had received from angels and then left. Luke says about Mary: "As for Mary she treasured all these messages and continually pondered over them." What Luke is telling us is that Mary was someone who listened deeply to God in her life. She listened deeply to God and pondered, trying to discover how God was present to her in the events that were happening. At that moment of the birth of Jesus, but also throughout her life, she was listening, pondering, reflecting, trying to hear God speaking to her in her prayer, in the events of her life. She was so quick to say then, "Be it done to me according to your will." She listened to God and then was ready to act on what God spoke to her.
Now, that's something every one of us can do! If we really want to show reverence, admiration, praise for Mary, if we want to praise her as the Mother of God but also Mother of our Church, the first disciple as Pope Paul VI described her. The first disciple, the model disciple, the one who learned most of all. We can imitate Mary in this. We don't have to have her up on a pedestal. We don't have to praise her only for the things that make her so different. We should listen to God's word as Mary did and also then be willing to say yes to that word as Mary did.
There are different ways for us to listen, to reflect, to ponder. Even the name given to Jesus in today's scriptures, Jesus or [Jesu-a] -- "Yahweh saves," reveals to us so much about God. God is a loving God. God is a compassionate God. God is a God who heals, who makes whole. All this is reflected in Jesus as he came into this world and was revealed to us. If we listen deeply we discover who God really is -- not a God to be feared, not a God who is a terrible judge, not a God ready to throw us into hell, but a God who loves, a God who is compassionate, a God who is a healing God, a saving God. If we listen deeply we come to know God as Mary did.
Don't miss a homily
To receive an e-mail notice when The Peace Pulpit is posted every week, sign up here.
Click on the link at the top right of this page to send the column to a friend or colleague.
Sometimes it is difficult to discover God in things that happen to us, in the events of our lives. Just yesterday I was talking to one of the people who has been a volunteer at our soup kitchen for a number of years now, and she told be about her son, a young man, who has a very aggressive form of cancer of the esophagus. It's very difficult to deal with that, to pray, to reflect and to somehow, even with something as terrible as that, discover God is present, God is there, God is still with us. Somehow we have to discern what is God's will for us in such a situation.
Just before Mass this morning, friends told me about the death of a friend of mine and others of you, Jeanie Wylie-Kellerman. She died yesterday afternoon. She's been struggling with brain cancer for four or five years. She passed yesterday. It's very difficult for her husband Bill and her two children, but somehow they too have to listen and discover God is present even in that powerful and terrible event. They've already begun to celebrate all that she means to them.
This is how you listen and you enter deeply into what God is speaking to you in any circumstance of your life and somehow pray that you can say yes to God as Mary did. "Be it done to me according to your will."
Today, besides being the Feast of Mary, Mother of God, it is also the World Day of Peace, and Pope Benedict has provided us a message. This has been going on now for 30 or 40 years. Paul the VI started it. Every Jan. 1, there's a special message from our holy father about peace and how to make peace happen in the world. We live in a world where there is constant war, a place where there is terrorism and violence and killing. But Jesus came to be peace for us. A beautiful passage from Micah, the prophet, says Jesus is our peace. But how do we find that peace and make it happen? Well, maybe we need to listen deeply to Pope Benedict and his message and hear God speaking to us in the events around us, in the Peace Day message. He starts off by telling us:
In this traditional message for the World Day of Peace at the beginning of the New Year I offer cordial greetings and good wishes to men and women everywhere, especially those who are suffering as a result of violence and armed conflict. My greeting is one filled with hope for a more serene world, a world in which more and more individuals and communities are committed to the path of justice and peace.
It's a rather long statement so obviously we can't share the whole thing this morning, but there's a couple parts of it that I think are especially pertinent to us who live in the United States, the most heavily armed nation in the world, a nation engaged in war even at the present moment. What do we hear God saying to us if we ponder deeply? Listen to this message:
In view of the risks which humanity is facing in our time all Catholics in every part of the world have a duty to proclaim and embody ever more fully the Gospel of peace and to show acknowledgment that the full truth of God is the first indispensable condition for consolidating the truth of peace. God is love, a love which saves. A loving God who wants the sons and daughters of God to look upon one another as brothers and sisters working responsibly to place their various talents at the service of the common good of the whole human family.
Are we doing that as a nation or as an individual or are we trying to become more and more the richest, most powerful nation in the world? The final passage which I think is most important:
What can be said about those governments which count on nuclear arms as a means of ensuring the security of their country?
What can be said about them? What can be said about our country?
Along the countless persons of goodwill one can state that this point of view is not only painful but also completely fallacious."
In other words, that you can protect yourselves with nuclear arms.
In a nuclear war there would be no victors, only victims. The truth of peace requires all, whether those governments would openly or secretly possess nuclear arms or those planning to acquire them agree to change their course by clear and firm decision and work for progressive and concerted nuclear disarmament.
Isn't God speaking to us through these words of Pope Benedict? Isn't it time for us to really work to end the threat to our whole planet by the 20,000 nuclear weapons that are presently deployed and ready to be used at any moment? Must we not begin to hear God speaking to us in what is going on around us? God's pleading with us even: "End the commitment to war. End your commitment to fighting. End your commitment to weapons. Work only for peace according to the way of Jesus."
Perhaps on this first day of the New Year we will commit ourselves to try to listen as Mary did, deeply, and hear God speaking to us through the scriptures, through the events of our everyday life, hear God speaking to us through a message like this from Pope Benedict. But not only must we listen, we must also commit ourselves to act. Like Mary after we listen, hear God leading, guiding, directing us, we must say each day and each event at each moment, "Be it done to me according to your will."
When we do that perhaps we really begin to find peace in our heart, peace in our homes, peace in our world. If we really listen to God speaking to us we will commit ourselves to work that God's peace will come upon all of us and upon our world.
In the name of the Father and of the Son and of the Holy Spirit. Amen.