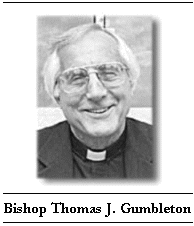 Auxiliary Bishop of the Archdiocese
of Detroit, Michigan *
Isaiah 60:1-6
Arise, shine; for thy light is come, and the glory of the Lord shines upon you. For, behold, darkness covers the earth, and thick clouds cover the peoples; but the Lord will arise upon you, and his glory shall be seen upon you. Nations shall come to your light, and kings to the brightness of your rising. Lift up your eyes round about, and see. They all gather themselves together, they come to you; your sons shall come from far, and your daughters shall be carried in the arms of their nurses.
Then you shalt see and be radiant, and your heart shall thrill and be enlarged; because the abundance of the sea shall be turned unto you, the wealth of the nations shall come unto you. The multitude of camels shall cover you, the dromedaries of Midian and Ephah; all they from Sheba shall come; they shall bring gold and frankincense, and shall proclaim the praises of the Lord.

Ephesians 3:2-3a,5-6
Brothers and sisters: You have heard of the stewardship of God's grace that was given to me for your benefit, namely, that the mystery was made known to me by revelation. It was not made known to people in other generations as it has now been revealed to his holy apostles and prophets by the Spirit: that the Gentiles are coheirs, members of the same body, and copartners in the promise in Christ Jesus through the gospel.

Matthew 2:1-12
Now when Jesus was born in Bethlehem of Judaea in the days of Herod the king, behold, wise men from the east came to Jerusalem, saying, "Where is he that is born King of the Jews? For we saw his star in the east, and have come to worship him." And when Herod the king heard it, he was troubled, and all Jerusalem with him. And gathering together all the chief priests and scribes of the people, he inquired of them where the Christ should be born. And they said unto him, "In Bethlehem of Judaea; for thus it is written through the prophet, 'And thou Bethlehem, land of Judah, Art in no wise least among the princes of Judah: For out of thee shall come forth a governor, who shall be shepherd of my people Israel.'" Then Herod privately called the wise men, and learned of them exactly what time the star appeared. And he sent them to Bethlehem and said, "Go and search out exactly concerning the young child; and when you have found him, bring me word, that I also may come and worship him." And they, having heard the king, went their way; and lo, the star, which they saw in the east, went before them, till it came and stood over where the young child was. And when they saw the star, they rejoiced with exceeding great joy. And they came into the house and saw the young child with Mary his mother; and they fell down and worshipped him; and opening their treasures they offered unto him gifts, gold and frankincense and myrrh. And being warned of God in a dream that they should not return to Herod, they departed into their own country another way.



* A longtime national and international activist in the peace movement, Bishop Gumbleton is a founding member of Pax Christi USA and an outspoken critic of the sanctions against Iraq.
He has appeared on numerous radio and television programs, and has published numerous articles and reports.


** Scripture texts in this work are in modified form from the American Standard Version of the Bible and are available as part of the public domain.
For your convenience, the Scripture texts, as they appear in the Lectionary for Mass for Use in the Dioceses of the United States, second typical edition, Copyright © 1998, 1997, 1970 Confraternity of Christian Doctrine, Washington, D.C., may be found at the website of the United States Conference of Catholic Bishops (USCC).
http://www.nccbuscc.org/nab/index.htm
[Editorial Note: Bishop Gumbleton is traveling to Peru this week and was unable to preach at St. Leo Parish Church in Detroit this past Sunday, January 6, 2002. He is visiting with Lori Berenson and will be pursuing efforts with government officials for her release. The homily presented today is one that Bishop Gumbleton preached a year ago on the Feast of the Epiphany just before he traveled to Iraq, his sixth visit there.]

There are three ways in which we might reflect on todayís scripture.

The first is that Matthew is trying to make us more aware of who Jesus really is and what Jesus means for all people. Matthew was very aware of the words of the prophet Isaiah, those we hear in the first lesson taken from the sixtieth chapter. When you read those words that Isaiah proclaimed about the chosen people, you easily recognize that people might well have laughed at him because it was so absurd.

Here they were a people driven out of their own land. They were homeless refugees living in foreign territory. They were suffering from hunger and every other kind of need. They were totally dispersed and not a nation at all. Yet Isaiah could proclaim, ďLift up your eyes round about and see. They are all gathered and come to you, your sons from afar, your daughters tenderly carried. This sight will make your face radiant, your heart throbbing and full. The riches of the sea will turn to you. The wealth of the nations will come to you.Ē

At the time he proclaimed those words, anyone who heard him would have said, ďThatís impossible. It could never happen. These people have been destroyed. Thereíll never be a time when other nations will be coming to praise them, to glorify them, to bring them gifts from all over the world. It would never happen.Ē

But what Matthew does is tell the story about Jesus.

When Matthew composed the story, he had in mind these words of Isaiah. He sees Jesus as fulfilling that word, the promise of Isaiah. Matthew has wise people from the east coming to Jesus, bringing their gifts to dramatize that from all over the world people would come and acknowledge Jesus as Son of God: God coming into our midst, God with us.

In a way that went very far beyond anything Isaiah could have glimpsed -- the words of Isaiah are fulfilled.

But Jesus is the one in whom they are fulfilled. Jesus is the one to whom all the nations will bring their gifts, their worship, their homage. Jesus is the one who brings together all of the chosen people. It is in him that the chosen people have been restored to a glory that they could never have dreamed of -- that the Son of God would come to be in their midst and then to be in the midst of all people forever.

And so Matthew is really helping us to understand the importance of Jesus.

As Saint Paul tells us in the second lesson, Jesus comes to bring to fulfillment a mystery. Paul has grasped a part of the good news that was a mystery before, something that was not made known to past generations. He says, ďTo him it has been revealed, the non-Jewish people share the inheritance in Christ, the non-Jews are to enjoy the promise.Ē

Paul is telling us that every person on the planet, all of us, everyone in all of history is incorporated into Jesus and shares in the very life of God. That is the mystery Paul tells us has been kept secret for so long but is now revealed in Jesus.

We really are brothers and sisters and there is one God who is the God of us all.

Tremendous truth, beautiful truth, one we celebrate today as Jesus is revealed to these wise people from the east.

But even as we reflect on this and rejoice in the beautiful truth that all of us share in the life of God without exception, that God looks upon every one of us as a son or daughter of God, we also must understand that, in spite of the love of God poured forth upon us so abundantly in Jesus, there will be those who oppose that love of God. There will be some among us who learn to hate instead of to love.

There will be some among us like Herod. If you go a little bit further in the Gospel, when Herod found out he had been tricked by the wise magi, they had gone home by a another route. Herod was furious and gave orders to kill all the children, all the boys in Bethlehem and its neighborhood who were two years old and younger. This was done in line with what he had learned from the wise magi about the time when the star appeared.

What would prompt anyone to such hatred?

Herod wanted his power. He wanted his wealth and prestige as king. This was a threat to him that there was supposedly a newborn king that might be a threat to his power, his wealth, his prestige. So he lashes out in hatred and violence and kills every child in the area of Bethlehem. You can hardly think of an action that is more cruel. Just take a moment and think about the mothers having their children torn from their arms and murdered.

Yet, as we reflect upon that, we have to recognize that that kind of hatred and violence is still present in our world. As you may have noticed in the bulletin, if you were glancing at it before Mass, I am going to be traveling to Iraq this evening (Note: January 2001). That reminds me and makes very clear to me of where those magi came from. If you look at your map, it was the area of Iraq and Iran, from the east.

So Iraq is very present in our gospel lesson.

Also, as you know, because Iíve spoken of this before, that whatís happening to the children of Iraq is that five thousand of them die every month because of sanctions that have been imposed against that country. By whom? By us.

Itís so easy to look back and say what a cruel tyrant Herod was. How could he ever have done that?

I can never forget the doctor who said to me one time when I was there, ďThe mothers come to me with their little children and they want me to take care of those children. They want me to say, ĎYour child will be ok.íĒ But, he said, with tears in his eyes, ďI can never say that. I know that child will die.Ē

You know that there are only two nations in the world that insist that these sanctions be kept, the United States and Great Britain. If there was a vote in the U.N. assembly right now, overwhelmingly those sanctions would be ended. Anybody in the world, who understands what is going on over there, knows that itís a cruel destruction of children.

Just as Herod did it for his power, his prestige, and his wealth, itís the only reason weíre doing it. Itís a tragedy that is almost beyond description.

So as we reflect on this event that Matthew describes in his gospel, we must put it in terms of what is happening in our world today. We have to try to make others aware that this is wrong. We have to try to get a message to the new administration in Washington that it must end and we must stop the children from dying.

Thirdly today, and finally, I ask us to reflect on this feast and these scriptures in the light of another experience of a person who went into the desert to find God. This is a man whose name was Carlo Carretto. He was a successful teacher, renowned writer and social activist in Italy, who went to live in the Sahara Desert as a Little Brother of Jesus. He wrote this in his diary (itís very beautiful and very appropriate for today). He said, ďThe first night I spent here made me send off for books on astronomy and maps of the sky. For months afterwards, I spent my free time learning a little of what was passing over my head up there in the universe. Finding oneís way in the desert is much easier by night than in the day. In the years which I spent in the open desert, I never once got lost, thanks to the stars. Many times I lost my way because the sun was too high in the sky. But I waited for night and found the road again, guided by the stars. How dear they were to me, those stars. How close to them the desert had brought me. Through spending my nights in the open, I had come to know them by their names, then to study them, and to get to know them one by one. Now I could distinguish their color, their size, their position, their beauty. I knew my way around them and from them. I could calculate the time without a watch. Kneeling on the sand, I sank my eyes for hours and hours at those wonders, writing down my discoveries in an exercise book like a child.Ē

Heís telling us that through the stars, gazing on those stars night after night after night, he began to understand the wonders of God and came very close to God because of them.

Thatís an invitation to us to be like the magi in the gospel lesson. Perhaps, itís harder for us, living in an urban environment, to contemplate the stars, the wonders of the whole universe and to find God. But we can do it -- like Carlo Carretto did.

Also, this is a kind of adaptation of this idea of the stars leading us to God, but people can be stars in our life also. They can be the light that leads us to God.

We use the term star about people in the movies, about athletes and so on. They enlighten us in a certain way and can be guides for us. But itís usually only to material things, to wealth, or to be important to the press.

But there other people who can be stars in a different way, people like Ollie Delaney, a member of our parish that Iím sure many of us remember, but some of us perhaps did not know her. Mrs. Delaney was a very quiet person; she lived a very simple life. But she was fiercely dedicated to her family. She had tremendous love for her granddaughter Jocelyn, whom she raised from her early years. And in the neighborhood, she was known as one who would reach out and care for other people. She was always ready to assist and help, to enter into the cares and concerns of her neighbors and her family, and her parish family was here. And so in a very quiet way, and if you werenít watching you might not notice, she was a star for us that would lead us to God.

And thatís something that I think we must do more often -- look around to one another and see how each of us can be a star by our goodness, by our love, by our generosity, by our reaching out to others -- and be lead by those who are stars.

Mrs. Delaney served that purpose in our community and so we will miss her. Yet, the way she lived, the way she was a star, is certainly a way that every one of us can be a star. It doesnít take a lot of special effort; you donít have to be an important person in the world. All you have to do is try to live according to the way of Jesus, the way of love, and come to understand that everybody is my brother and sister, that the Christ who came into the world came to share the life of God with all, and have that in the forefront of your mind as you reach out in love.

Thatís how all of us can be a star to one another. Like Mrs. Delaney who was a star in our midst. We pray for her today, but mostly in thanksgiving for what she has done within our parish community, the way in which she enriched us and continues to enrich us even now as she lives as a true star, a light for the world in heaven with Jesus who came to be the light for all of us. We thank God for her life and we continue to pray that Godís blessings will come upon her family as they mourn but also rejoice in this family member of ours who truly was a star for all of us.

In the name of the Father, and of the Son, and of the Holy Spirit. Amen.