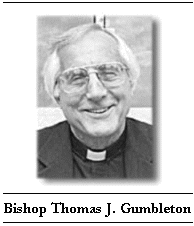 Auxiliary Bishop of the Archdiocese
of Detroit, Michigan *
Isaish 58:7-10
Thus says the Lord: Share your bread with the hungry, bring the poor who are homeless to your house, when you see the naked, clothe them; and do not turn your back on your own. Then shall your light break forth as the morning, and your healing shall spring forth speedily; and your righteousness shall go before you; the glory of the Lord shall by your rear guard. Then shall you call, and the Lord will answer; you shall cry for help, and he will say: Here I am. If you take away from your midst the oppression, the putting forth of the finger, and speaking wickedly; and if you bestow your bread on the hungry, and satisfy the afflicted soul, then shall your light rise in darkness, and your obscurity be as the noonday.

1 Corinthians 2:1-5
When I came to you, brothers and sisters, I did not come with excellence of speech or of wisdom, proclaiming to you the mystery of God. For I resolved not to know anything among you, except Jesus Christ, and him crucified. I was with you in weakness, in fear, and in much trembling. My speech and my preaching were not in persuasive words of human wisdom, but in demonstration of the Spirit and of power, that your faith would not stand in the wisdom of men, but in the power of God.

Matthew 5:13-16
Jesus said to his disciples, "You are the salt of the earth. But if the salt has lost its flavor, with what will it be salted? It is then good for nothing, but to be cast out and trodden under the feet of men. You are the light of the world. A city located on a hill cannot be hidden. Neither do you light a lamp, and put it under a bushel basket, but on a stand; and it shines to all who are in the house. Even so, let your light shine before others, that they may see your good works, and glorify your Father who is in heaven.


* A longtime national and international activist in the peace movement, Bishop Gumbleton is a founding member of Pax Christi USA and an outspoken critic of the sanctions against Iraq.
He has appeared on numerous radio and television programs, and has published numerous articles and reports.


** Scripture texts in this work are in modified form from the American Standard Version of the Bible and are available as part of the public domain.
For your convenience, the Scripture texts, as they appear in the Lectionary for Mass for Use in the Dioceses of the United States, second typical edition, Copyright © 1998, 1997, 1970 Confraternity of Christian Doctrine, Washington, D.C., may be found at the website of the United States Conference of Catholic Bishops (USCC).
http://www.nccbuscc.org/nab/index.htm
Jesus spoke those words two thousand years ago on that beautiful hillside in Galilee. But we have to hear them this morning, listen to them and know that Jesus is saying those words to each one of us here. You, I, and every one of us are the salt of the earth. "You are the light of the world." It's an extraordinary gift that Jesus presents to us, to be for him salt and light. It's a very important responsibility that we have. Jesus was speaking to his disciples, those who were ready to follow him, and he's speaking to us this morning saying, "You are the salt of the earth, the light of the world."

As we reflect on what Jesus is saying, we need to ask ourselves, "Am I salt for the world? Am I a light to all other people?"

To help us with our reflection, the first thing that's important is to get a sense of what it would mean to be the salt of the earth.

When Jesus lived, it was before they had refrigerators, obviously. Salt was very important because it preserved food, it preserved that which gave life to people. It also added a kind of zest to the food that people ate, as it does now. It gives taste and enhances what otherwise could be bland or tasteless.

So if we're the salt of the earth, we are the ones who are preserving the message of Jesus, making it real in the world in which we live right now, making it a message that brings life to people and enhances their lives.

For us, probably, the symbolism is not as striking as it would have been for the people who heard Jesus say this for the first time. They lived in a world where, when the sun went down, it was dark. It's not like us where we are used to having light 24 hours a day.

And so to be a light, to push back darkness, we need to be like the sun that pushes back the darkness of night and then brings people into the daylight, shows them how to go, where to go, and how to live.

I read about an image of being the light of the world that I found very helpful. In large cities, they used to have lamps that they would light. A person would have the responsibility of being the lamplighter, going around lighting one lamp after another, going down one street and up another. And people were watching the lamplighter doing his work. They could watch him go until the sun went down and couldn't see him anymore. But they could see a new light come forth. And one said to the other, "There is what it means to be a Christian. Those who are Christians continue to light new lights and you can follow their path by the lights they leave behind. They become a light in the darkness."

And so Jesus is asking each of us to become that kind of light.

When Jesus said those words that we hear today, it's right after he had already proclaimed: Blessed are the poor in spirit, blessed are those who hunger and thirst for justice sake, blessed are the peacemakers and so on. Following this, he added, "You have heard that it was said of old, 'Thou shall not kill.' I say to you, not even to have anger in your heart for your brother or sister. You have heard it was said of old, 'Thou shall love your neighbor and hate your enemy.' I say love your enemy, do good to the one who hurts you."

That's a very hard message.

It's not hard to draw from today's scriptures specific ways in which we are meant to be salt and light. Think back to what Jesus said last week: Blessed are those who hunger and thirst for justice. More specifically, listen today to the reading from the book of the prophet Isaiah where Jesus drew his own commitment to hunger and thirst for justice: See the fast that pleases me, breaking the fetters of injustice, setting the oppressed free. Fast by sharing your food with the hungry. Bring to your house the homeless. Clothe the one you see naked. Do not turn away from your own kin.

Obviously, Jesus is saying to us -- if you're going to be a light to the world, these are the kinds of things you are going to have to do."

Here at St. Leo's, we can say that in many ways we are a light to the world around us. People come to us everyday. Through your efforts, we are able to provide meals for up to 300 people everyday of the week. We provide clothing and enable people to find shelter. We even have a parish in Haiti that's our twin. So we reach beyond.

In many ways, we are being a light to the world. But then, maybe, some of us have to ask ourselves: How much do I participate in those efforts or do I just leave it for others to do it? Am I really being a part of the light that St. Leo's is to the world around us? Or do we have to do some other things besides just sharing our bread with the hungry or sheltering the homeless poor and so on? We have to work to break those unjust fetters too.

We're in a situation in our country where our president is proposing a budget that is filled with hundreds of billions of dollars to build weapons, an arsenal of destruction. This will cut back on services to the poor. Are we going to stand by and just let that happen or will we do something about it? Demand to talk to our senator or representative, ask for real opposition to what President Bush is suggesting.

I think of Pope Paul VI, back in 1976, when he wrote a statement to the United Nations at the time they were having their first session on disarmament. He wrote: The arms race itself is an act of aggression against the poor, causing them to starve, even if the weapons are never used.

When you expand, as we're going to do this year, $400 billion for weapons, you're robbing the poor, causing them to starve. It's an act of aggression.

Now if we're really going to be a light to the world, don't we have to try to do something about that?

In Haiti, this week, our government once more denied a loan from the Inter-Development Bank for Latin America. It wouldn't even come from us, but we have veto power over this. So even though President Aristide and the people of Haiti had done everything necessary to get the loan from the Inter-Development Bank of Latin America, we vetoed it because we don't like President Aristide. And that's what it really comes down to -- President Aristide is too much for the poor and not for the elite.

We have to protest that. We can send lots of money or food or medicine to our parish in Haiti, but if we don't allow the people of Haiti to build their own economy and to come out of poverty through their own efforts, all that we give will not be all that significant. So to be a light to the world around us, we have to do more than what we are doing.

The other area, it seems clear to me, where we have to stand up against the world in which we live and the political structures in our own country is in the continuing war against Afghanistan and all that is still happening over there.

Today, I read an article in the paper where our government is finally addressing the problem of discovering how many civilians have been killed in Afghanistan because of the bombing. I was surprised to see this on the front page of The New York Times because we have been so careful to deny this -- we have these smart weapons and they don't kill anybody other than the soldiers we are targeting.

Well, finally, they are beginning to examine whether we have killed civilians. Yet, as you read the article, you discover we're not really going to find out very much. Our government and military forces don't really care that much about the number of civilians killed. While they are asking how many have been killed directly by the bombing, there's nothing in the article that is asking about those people in the refugee camp that I spoke about a few weeks ago where 100 people die everyday because they have had to flee their homes and don't have access to food and are freezing to death as well as starving. And that's only one refugee camp. The country is filled with refugees who are dying because of the war.

There are those who have been a light in this regard and I've mentioned before one person who was so clearly opposed to the war even though her brother was killed on September 11. But today I thought I might share with you something from another person, who has also been very active in the effort to get our country to take the approach of Jesus, where you don't return evil for evil, hate for hate; where you love your enemies and do good to those who hurt you.

This young woman, whose name is Amber Amundson, has two young children and her husband Craig was killed on September 11. From the very beginning, Amber has been working to end the violence. In a public letter she wrote to our national leaders, she explains from where she draws her own inspiration. Amber was formed in the thinking of Dr. Martin Luther King, Jr. and I think this is very appropriate for us to be aware of during Black History month. She wrote to our national leaders, quoting his words: "Darkness cannot drive out darkness, only light can do that. Hate cannot drive out hate, only love can do that. Hate multiplies hate, violence multiplies violence, and toughness multiplies toughness in a descending spiral of destruction."

Amber read those words a long time ago as she was formed by that spirit of Dr. King and she's trying to teach it to her own two children. She says she does not want her children to grow up thinking that anyone was killed because their father was killed on September 11. She doesn't want her children to think that our country was going to bring peace into the world by killing other people, just as their father was killed. She wants her children to grow up knowing that you don't overcome violence through violence, hate through hate, or darkness through darkness. You have to transform hate into love, darkness into light, violence into nonviolence.

Amber has not only written to the president and to our national leaders, but about a month ago she joined in a march with a large number of people that was formed by the group known as Voices in the Wilderness. They marched from Washington DC to ground zero. It was a long walk and they prayed and had rallies along the way and so on. It was to protest the sanctions against Iraq because she understands that that's another form of violence. It's not bringing freedom, not bringing life to the people of Iraq, but is bringing violence, suffering and death.

And something happened on that journey that I think is also a way of understanding today's scripture and seeing how sometimes that scripture is truly fulfilled. Remember the part of the first lesson today where Isaiah said: When you break unjust fetters, undo the thong of the yoke, share your bread with the hungry, shelter the homeless poor, give clothing to the naked -- when you do all these things, what will happen? Your light will shine like the dawn and your wound will be quickly healed over.

For Amber, that really happened during that march to New York. Along the way, they stopped in Baltimore, near a place called Jonah House that is built right next to a cemetery. Amber stopped and walked through the cemetery on her own, quietly praying. She was missing her husband very much and then she shared this. She said, "For the first time, I really felt I had a powerful connection to the presence of God and that I had Craig's spirit with me. Deep in my own spirit, I realized that death, which is so final for us when we are grieving and deeply saddened and wanting Craig back here so badly, on that day, I understood that he is still here with us. There is more to our existence than our physical world."

So, in a very beautiful way, she found healing for her wounds and the loss of her husband whom she loved so very much. And I'm sure that what God promises can be true for any of us.

All of us are wounded in one way or another and very often it is because we are too selfish. We want too much for ourselves. We give in too easily to hate, to vengeance, to retaliation and so on. If we really tried to follow the way of Jesus and stopped to pray and reflect on what we are doing and why we are doing it, I'm sure that for each of us our own wounds would be healed. For us, the light would shine like the dawn and it would make us better able to continue to be for the world around us a light and the salt of the earth.

Today, then, especially as we prepare to begin the season of Lent, a time that should be deep renewal for every one of us, I hope we'll find how 'I' can respond to the message Jesus gives me this morning. You are the light of the world, the salt of the earth. How will I find, during the season of Lent, the ways to be that, knowing then at the end of Lent, once more, I will be deeply renewed, my wounds will be healed over, and for me the light of Jesus will be a reality more deeply and more clearly than it's every been before?

Each of us, I hope, will heed the words of Jesus: You are the salt of the earth, light of the world.

In the name of the Father, and of the Son, and of the Holy Spirit. Amen.