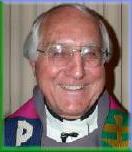 Thomas J. Gumbleton
Auxiliary Bishop of the Archdiocese
of Detroit, Michigan *



Jeremiah 17:5-8
Thus says the LORD: Cursed is the one who trusts in human beings, who seeks his strength in flesh, whose heart turns away from the LORD. He is like a barren bush in the desert that enjoys no change of season, but stands in a lava waste, a salt and empty earth. Blessed is the one who trusts in the LORD, whose hope is the LORD. He is like a tree planted beside the waters that stretches out its roots to the stream: it fears not the heat when it comes; its leaves stay green; in the year of drought it shows no distress, but still bears fruit.

1 Corinthians 15:12, 16-20
Brothers and sisters: If Christ is preached as raised from the dead, how can some among you say there is no resurrection of the dead? If the dead are not raised, neither has Christ been raised, and if Christ has not been raised, your faith is vain; you are still in your sins. Then those who have fallen asleep in Christ have perished. If for this life only we have hoped in Christ, we are the most pitiable people of all. But now Christ has been raised from the dead, the firstfruits of those who have fallen asleep.

Luke 6:17, 20-26
Jesus came down with the twelve and stood on a stretch of level ground with a great crowd of his disciples and a large number of the people from all Judea and Jerusalem and the coastal region of Tyre and Sidon. And raising his eyes toward his disciples he said: "Blessed are you who are poor, for the kingdom of God is yours. Blessed are you who are now hungry, for you will be satisfied. Blessed are you who are now weeping, for you will laugh. Blessed are you when people hate you, and when they exclude and insult you, and denounce your name as evil on account of the Son of Man. Rejoice and leap for joy on that day! Behold, your reward will be great in heaven. For their ancestors treated the prophets in the same way. But woe to you who are rich, for you have received your consolation. Woe to you who are filled now, for you will be hungry. Woe to you who laugh now, for you will grieve and weep. Woe to you when all speak well of you, for their ancestors treated the false prophets in this way."


* A longtime national and international activist in the peace movement, Bishop Gumbleton is a founding member of Pax Christi USA and an outspoken critic of the sanctions against Iraq.
He has appeared on numerous radio and television programs, and has published numerous articles and reports.

* Scripture texts in this work are in modified form from the American Standard Version of the Bible and are available as part of the public domain.

For your convenience, the Scripture texts, as they appear in the Lectionary for Mass for Use in the Dioceses of the United States, second typical edition, Copyright © 1998, 1997, 1970 Confraternity of Christian Doctrine, Washington, D.C., may be found at the website of the United States Conference of Catholic Bishops (USCC).
http://www.usccb.org/nab/

** The Web link to Pax Christi is provided as a service to our readers.

As we reflect on today's scriptures, I think it is helpful if we remind ourselves of the readings that we have heard over the last couple of weeks. Three weeks ago, we heard of the prophet Jeremiah and how he didn't want to respond to God's call; he said, "I'm too young." God responded, "No, you can't say that. You have to be my prophet."

Then we heard about the prophet Isaiah, who said, "I can't be your prophet. I am too sinful." God healed his sinfulness, and Isaiah was then ready to respond to God's call. He said, "Here I am. Send me!"

Last Sunday, Peter, James and John were hard at work fishing when Jesus came upon them and called them. They left everything to follow Jesus and became the first disciples. As we reflected on the reading last Sunday, I hope you left the church as I suggested, ready to be a disciple of Jesus, saying to God, "Here I am. Send me!"

We can renew that commitment today, especially as we celebrate the baptism of our newest, youngest parish family member. We can all renew this commitment to say, "Yes, I will follow Jesus."

Today's lessons, especially the Gospel lesson, remind us of what it means to follow Jesus. He has a whole new way. He proclaims that the Reign of God is at hand -- and it is. In the Reign of God, justice and peace will be everywhere, and everybody will have the fullness of life and joy. The Reign of God is at hand, now, but we have to live in a certain way so that Reign of God breaks forth in its fullness.

In the Gospel today, I think it is really important to notice that St. Luke mentions the huge crowds of people who came to hear him, people from all over. But when Jesus began to speak, Luke says, "Jesus lifted his eyes to his disciples." So, he was addressing these words especially to his disciples -- and by extension to us -- because his disciples were the ones who would carry on his work, the work of proclaiming the Reign of God. God makes the Reign come about through the efforts of the disciples, who proclaim the Reign and live out the way of Jesus.

We have been given our assignment today. If we are going to be disciples of Jesus, we will have to begin God's work of making the Reign of God break forth. We have to be like those first disciples, who had left everything. They were willing to share whatever they had with others.

And that's really what Jesus is talking about when he says, "Blessed are you who are poor." He's talking about how we never hang on to anything just for ourselves. He taught this lesson most dramatically that time in the desert when the thousands were fed. A few people shared what they had, and then there was enough for everybody. Everybody was willing to let go. Instead of saying, "No, this is just mine," people said, "What I have is for all." It was an extraordinary spirit, that spirit of sharing.

Here are the other blessings that Jesus spoke about today:

My disciples will never be alone, because they will always have others who will share with them, strengthen them and bring them a sense of solidarity and comfort in their grieving. "Blessed are those who sorrow. You will have joy." You will have joy even now, because others in the community will be with you. That's the spirit that can spread in the world when we live as disciples of Jesus. We can eliminate hunger the same way. No one will be hungry when we share what we have.

"If someone speaks ill of you, insults you, rejects you, do not respond in kind." This is what Jesus taught his disciples. Jesus' disciples reach out in reconciliation and forgiveness. They spread his spirit so that no one is ever rejected, insulted or excluded. In the community of the disciples of Jesus, everyone is welcome. That is how the Reign of God begins to happen, and the more faithfully we live this, the more the Reign of God will break forth in our midst, in our community and throughout the world.

We must take seriously what Jesus asks of us today. Those blessings we know as the Beatitudes are spelled out in greater detail in Matthew's Gospel. They are the basic values Jesus says all of his disciples must accept and live by so that the work of Jesus can go on, so that the reign of God can break forth.

I have to tell you that I found it difficult to reflect on these scriptures during this past week, because I had to reflect in the context of a movie that I saw last Sunday afternoon called "The Fog of War." Perhaps you've heard of it. It's a documentary about Robert McNamara, who was the secretary of defense during the administrations of President Kennedy and President Johnson. He was one of the greatest proponents of the Vietnam War and helped to lead us through many years of that war -- in fact, up until 1967. By that time, Secretary McNamara had determined that the war was hopeless. It was wrong, and it should have been ended. But McNamara never spoke out.

Now, in this movie, he recounts all of that and sort of makes a public confession of terrible things that he witnessed, and not only in the Vietnam War. He had been in World War II, and so the film shows scenes from World War II where war crimes were committed, such as the bombing of cities. Direct bombing killed hundreds of thousands of civilians, especially in the cities of Japan that were firebombed. It's horrendous when you see it all. Out of all this, McNamara draws what he calls "11 things I learned."

The first item on the list of 11 is hopeful. McNamara says the first lesson he learned as he looked back and realized he was wrong is: Empathize with your enemies. That's a marvelous thing to learn, because if we empathized, tried to put ourselves in the place of our enemies, we wouldn't remain enemies very long. We would begin to understand and have compassion and love.

Then he goes on to others, but it is the last one that I found most disturbing and difficult as I reflected on the Gospel for today. The last lesson, he says, is: "I learned you can't change human nature so there is always going to be war and violence and destruction." If that is true, then there is really no hope for us, because as John F. Kennedy said, "If we don't end war, war will end us." That's really true.

So, if we can't change things, then we have no hope. But today's Gospel says there is another way. That's what we have to understand. Jesus says there is another way, and if we would grasp that way and live it, we would not be hopeless. That other way is the way of the Beatitudes.

Furthermore, we don't have to change human nature. Jesus was human. Human nature is good. Jesus took on our human nature so we could enter into God's nature, be like God who is always loving, always giving, always sharing and always forgiving. That's what can happen. We take on God's nature and enter into God's spirit, and then we can change the world. The Reign of God can happen.

I have to say, ultimately, Mr. McNamara is wrong. We don't have to change human nature and there do not have to be wars. We can end violence, but only in one way: the way of Jesus -- the way of love. That's what Jesus is inviting us into today.

Luke says, "He looked upon his disciples and he said to them: Blessed are you who are poor. Blessed are you who hunger. Blessed are you who grieve. Blessed are you who are rejected and excluded and hated at times because of me." You are blessed. You are truly blessed because all of that will change as you begin to share what you have, as you begin to live in solidarity, compassion and love with those who are excluded and hated. As you begin to act according to the way of Jesus, the way of God, truly you will be blessed.

Each of us is blessed as long as we respond to God's call to be a disciple of Jesus. Knowing that now we live according to the way of Jesus, we are blessed, and we will be able to bring these blessings into our world and help to bring about God's work, the Reign of God.

The invitation is given to us today, once more. I hope we accept it. We have the opportunity to do it as we celebrate this baptism. Each of us can recommit ourselves to be a disciple of Jesus, to reject the way of hatred and selfishness and to accept the way of forgiveness and love. The way of Jesus.

In the name of the Father and of the Son and of the Holy Spirit. Amen.
---
Editor's Note: NCR film critic Joseph Cunneen reviewed "The Fog of War" in the Jan. 30 issue of National Catholic Reporter.