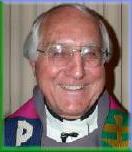 Thomas J. Gumbleton
Auxiliary Bishop of the Archdiocese
of Detroit, Michigan *



Joel 2:12-18
"Yet even now," declares the LORD, "Return to Me with all your heart, and with fasting, weeping and mourning;

a

nd rend your heart and not your garments " Now return to the LORD your God, for He is gracious and compassionate, slow to anger, abounding in loving kindness and relenting of evil. Who knows whether He will not turn and relent and leave a blessing behind Him, even a grain offering and a drink offering for the LORD your God? Blow a trumpet in Zion, consecrate a fast, proclaim a solemn assembly, gather the people, sanctify the congregation, assemble the elders, gather the children and the nursing infants let the bridegroom come out of his room and the bride out of her bridal chamber. Let the priests, the LORD'S ministers, weep between the porch and the altar, and let them say, "Spare Your people, O LORD, and do not make Your inheritance a reproach, a byword among the nations why should they among the peoples say, 'Where is their God?'" Then the LORD will be zealous for His land and will have pity on His people.

2 Corinthians 5:20-6:2
Therefore, we are ambassadors for Christ, as though God were making an appeal through us; we beg you on behalf of Christ, be reconciled to God. He made Him who knew no sin to be sin on our behalf, so that we might become the righteousness of God in Him. And working together with Him, we also urge you not to receive the grace of God in vain -- for He says, "AT THE ACCEPTABLE TIME I LISTENED TO YOU, AND ON THE DAY OF SALVATION I HELPED YOU." Behold, now is "THE ACCEPTABLE TIME," behold, now is "THE DAY OF SALVATION."

Matthew 6:1-6, 16-18
"Beware of practicing your righteousness before men to be noticed by them; otherwise you have no reward with your Father who is in heaven. "So when you give to the poor, do not sound a trumpet before you, as the hypocrites do in the synagogues and in the streets, so that they may be honored by men Truly I say to you, they have their reward in full. "But when you give to the poor, do not let your left hand know what your right hand is doing, so that your giving will be in secret; and your Father who sees what is done in secret will reward you. "When you pray, you are not to be like the hypocrites; for they love to stand and pray in the synagogues and on the street corners so that they may be seen by men Truly I say to you, they have their reward in full. "But you, when you pray, go into your inner room, close your door and pray to your Father who is in secret, and your Father who sees what is done in secret will reward you.
"Whenever you fast, do not put on a gloomy face as the hypocrites do, for they neglect their appearance so that they will be noticed by men when they are fasting Truly I say to you, they have their reward in full. "But you, when you fast, anoint your head and wash your face so that your fasting will not be noticed by men, but by your Father who is in secret; and your Father who sees what is done in secret will reward you.


* A longtime national and international activist in the peace movement, Bishop Gumbleton is a founding member of Pax Christi USA and an outspoken critic of the sanctions against Iraq.
He has appeared on numerous radio and television programs, and has published numerous articles and reports.
* Scripture texts in this work are in modified form from the American Standard Version of the Bible and are available as part of the public domain.
For your convenience, the Scripture texts, as they appear in the Lectionary for Mass for Use in the Dioceses of the United States, second typical edition, Copyright ©1998, 1997, 1970 Confraternity of Christian Doctrine, Washington, D.C., may be found at the website of the United States Conference of Catholic Bishops (USCC).
http://www.usccb.org/nab/
**The Web link to Pax Christi is provided as a service to our readers.
Editor's Note: Bishop Gumbleton was not in his usual pulpit Sunday March 5. As a substitute, we will post the homily he delivered March 1, Ash Wednesday, at St. Leo's, his parish in Detroit.

Dear Reader of Peace Pulpit,
We need your help. We are pleased to make available -- at no charge -- Peace Pulpit. But we cannot do all we need to do without your financial assistance.
Please take a moment to consider contributing to the Friends of NCR campaign. National Catholic Reporter is a nonprofit organization. Contributions are tax-deductible in the United States.

Contributions may be sent to:
National Catholic Reporter
115 E. Armour Blvd.
Kansas City, MO 64111
USA
Make checks out to: NCR
If you wish, you may print a form for submitting your donation. You may also use this form for credit card donations.

OR
I have a couple of props here with me tonight, which will become clear as we go along. But first of all I want to see everybody smiling. You heard the gospel -- you can't have a gloomy face during Lent. You have to wash your face, look cheerful, smile, have a happy day, whatever it takes, but be joyful. And that's the way we should celebrate the season of Lent.
You know I'm sure most of us grew up thinking of Lent as a very somber time, probably kind of a negative thing, giving up things you like. You know how as a little kid you gave up your chocolate candy or ice cream or something during Lent. So it always had that negative connotation, but if we listen carefully, especially to the gospel lesson tonight, it's all very clear.
Lent is time for positive growth for every one of us. Becoming more and more conformed to Jesus. That's what Lent will do for us: help us to reach the end of the season, to celebrate Easter with a deep renewal of the life of Jesus within us. Each of us more closely conformed to Jesus.
And that will happen through the three things that are very connected with Lent that you hear about in the gospel. You hear one thing in the first lesson today -- Joel called the people to fast. We are called to fast, but we're also called to pray. Jesus made that very clear. And our fasting isn't just giving up. It's so we can give over to others -- almsgiving. And if we do each of these three things in a very special way during the season of Lent we'll truly grow into the likeness of Jesus.
First of all, prayer. Jesus was very clear in the gospel tonight. He said don't pray like so many people do. And he was talking about how people in his time, and it still happens, had certain prayers, formulas, words that they would say over and over again thinking that if I just get this right, if I say the prayer exactly the way God wants, God will have to answer my prayer. It's like we're trying to manipulate God. Like God is just waiting to do whatever we ask for at any moment, especially if we ask for it over and over again, and if we ask for it in just the right way, use exactly the right words, or something like that. He says "No, that's not prayer. Just go into your room, be quiet." More than repeating a lot of words -- listen. That's how we pray, by listening.
Don't miss a homily
To receive an e-mail notice when The Peace Pulpit is posted every week, sign up here.
Click on the link at the top right of this page to send the column to a friend or colleague.
We have those little black books, and if you don't have one get one tonight, but get one. And each day spend those six minutes with what we call Lectio Divina -- divine reading, divine lesson. You read the scripture very briefly, read the commentary, but most of all just let the words of the scripture enter into your awareness. You're listening, trying to have God's word penetrate your spirit, your heart. And God's word is a powerful word that will change us. Transform us. And so we must really try to listen during Lent, make that our prayer. Even when we come to celebrate the Eucharist together, and we sing together and we pray together out loud, we still want to most of all be ready to listen to the lessons. Listen to them deeply, hear God speaking in the depths of my heart. That's the kind of prayer we need to try to do every day, but now especially during Lent.
Fasting is a very important part of the Lenten season. Usually we associate fasting with a change in our eating habits of some sort. Giving up certain kinds of food perhaps, or cutting down on the amount of food we eat. Some people even spend a whole day without eating anything. You can do different ways of fasting. Always being prudent, being careful of your health, but most of us probably do eat more than we need in any particular day, and so it won't hurt us to fast. But fasting isn't just for itself. When we fast we're supposed to let ourselves be aware of people who don't have food. If we experience a feeling of hunger, you know, for a few hours say, because we skipped lunch or something, that can help remind us of the majority of the people in the world who feel hunger every day. And some who have practically no food -- they're dying of starvation. And so our fasting is to give up something, but it's so that we become aware of those who are in need. And then we move toward almsgiving, giving over what we have in excess or, if we're really generous, giving out of our substance, to those who have so much less.
Today I heard on the radio a program -- I'd never heard it before I can't even remember the name of it, it was on NPR this afternoon -- and it was an interview with a film maker who had made a documentary about photographer Kevin Carter. This documentary is nominated for the Academy Award for documentary so I suppose there'll be excerpts of it next Sunday night, but it's about the photographer who took this picture. You may not be able to see this from out there, but I'm going to put it up here [on the altar], because it's one of the most dramatic pictures of what is happening in our world that you'll ever see. It shows a tiny little girl, this is in Sudan, and obviously she was in a line walking forward to get food, and she fell by the side. There's a vulture behind her, waiting for her to die.
It's a powerful picture, and the documentary is about the photographer who took the picture. Because it had a tragic effect on him. He won the Pulitzer Prize for it, because it's such an extraordinary picture, but he began to have terrible feelings of guilt. In fact he got a lot of hate mail because people said, "Why didn't you do something instead of just taking a picture?! Why didn't you pick that little girl up and take her and give her some food?!" And he began to think maybe that's what he should have done. But he was there as a photographer. He was there doing a job and the job was to try to make this kind of thing known to millions of people throughout the world who might care enough so that something really could be done.
At the moment he took this picture it was too late for this little girl, and of course there would have been thousands of other children just like her dying at the same time, so he really could not have done anything. But that guilt built up in him so much that a few months later he committed suicide. He just couldn't bear the fact that -- at least he felt this -- that he had failed. Even though he was praised among his co-workers, other photographers and so on, he won a prize for it, but he felt he was getting money for something that he had done badly in fact.
We need to be aware of the fact that in our world between 30,000 and 40,000 children like this die every day because they don't have food or access to clean water. That's a tragic -- it should be an unbelievable -- statistic, because we have a world where there is enough for everybody. But we don't share enough.
And that's the other thing that I want us to continue to be aware of. I invite you to come up afterwards and take a look at this picture closely and see the tragedy of it, but Sunday we passed out those rice bowls and this calendar that goes with it. If you take one of these, if you haven't got one already, I urge you not just to collect the money. That'll be important -- as you go through the season of Lent the idea is you give up something every day and what you would have spent for that you put in your rice bowl and you bring it back at the end of Lent. The calendar reminds you every day of some place in the world where someone is experiencing some terrible tragedy. It's happening all over our world. And there are six particular countries that are focused upon in this piece of material that goes with the rice bowl. Here's just an example: Afghanistan -- the country which we invaded a few years ago.
The village of Rabatak:PlaceName is tucked away at the end of an unpaved track that winds for miles through the mountains of central Afghanistan. My name is Ghul Ahmad and I have lived in Rabatak all of my life. Our lives and fortunes are entwined with the small mountain stream that runs down the center of our village. Without this water, there would be no almond or apricot trees in the orchards I tend for a living, and the village would be lifeless and grey. Without this water, there would be no Rabatak.
But the water that gives life to Rabatak also has a dark side. Farm animals wade in the stream, and in summer months it becomes a muddy trickle. We have always known that drinking the dirty stream water causes illness among the people in our village, but there was no other water source and we could not afford the materials needed to protect the water.
Catholic Relief Services provided our village with cement, pipes, and tools so that we could build a protected drinking water system. The whole village worked together on the project. Every man in Rabatak dug 20 meters of trench for pipes, and we connected the pipes to the spring that is the source of the stream. We now have four public taps and get clean drinking water straight from the spring. There is enough water for everyone, and our health has improved, because we now have clean water for cooking, washing, and drinking.
That's what can happen through this program. Not just that we give something for the moment so people have a glass of water, but that they continue to have that water by helping them to do something like this. So that's the spirit with which we should enter the season of Lent. Thinking of it as something very positive.
We pray to listen to God, we fast to remind ourselves of those who suffer because they don't have enough, and we give our alms so that we can make life better for every person on our planet. When each of us enters into the season of Lent in this way, and takes it as a very positive thing, not only will we help to make our world a better place, but clearly we'll be growing more and more into the likeness of Jesus whose heart always went out to the poor and the suffering.
When you come forward to receive your ashes tonight, that's a sign of your repentance for your sins, a sign that you're ready to die to your former life in order to rise to a new life in Jesus and prayer, fasting and almsgiving will make that new life happen for you during this season of Lent. In the name of the Father and of the Son and of the Holy Spirit. Amen.
(Editor's Note: Here is a link the NPR story, Bishop Gumbleton spoke about: The Death of Kevin Carter.)