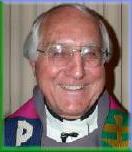 Thomas J. Gumbleton
Auxiliary Bishop of the Archdiocese
of Detroit, Michigan *



Genesis 22:1-2, 9a, 10-13, 15-18
Now it came about after these things, that God tested Abraham, and said to him, "Abraham!" And he said, "Here I am." He said, "Take now your son, your only son, whom you love, Isaac, and go to the land of Moriah, and offer him there as a burnt offering on one of the mountains of which I will tell you."
Then they came to the place of which God had told him; and Abraham built the altar there and arranged the wood, and bound his son Isaac and laid him on the altar, on top of the wood.
Abraham stretched out his hand and took the knife to slay his son. But the angel of the LORD called to him from heaven and said, "Abraham, Abraham!" And he said, "Here I am." He said, "Do not stretch out your hand against the lad, and do nothing to him; for now I know that you fear God, since you have not withheld your son, your only son, from Me." Then Abraham raised his eyes and looked, and behold, behind him a ram caught in the thicket by his horns; and Abraham went and took the ram and offered him up for a burnt offering in the place of his son.
Then the angel of the LORD called to Abraham a second time from heaven, and said, "By Myself I have sworn, declares the LORD, because you have done this thing and have not withheld your son, your only son, indeed I will greatly bless you, and I will greatly multiply your seed as the stars of the heavens and as the sand which is on the seashore; and your seed shall possess the gate of their enemies. In your seed all the nations of the earth shall be blessed, because you have obeyed My voice."

Romans 8:31-34
What then shall we say to these things? If God is for us, who is against us? He who did not spare His own Son, but delivered Him over for us all, how will He not also with Him freely give us all things? Who will bring a charge against God's elect? God is the one who justifies; who is the one who condemns? Christ Jesus is He who died, yes, rather who was raised, who is at the right hand of God, who also intercedes for us.

Mark 9:2-10
Six days later, Jesus took with Him Peter and James and John, and brought them up on a high mountain by themselves. And He was transfigured before them; and His garments became radiant and exceedingly white, as no launderer on earth can whiten them. Elijah appeared to them along with Moses; and they were talking with Jesus. Peter said to Jesus, "Rabbi, it is good for us to be here; let us make three tabernacles, one for You, and one for Moses, and one for Elijah." For he did not know what to answer; for they became terrified. Then a cloud formed, overshadowing them, and a voice came out of the cloud, "This is My beloved Son, listen to Him!" All at once they looked around and saw no one with them anymore, except Jesus alone. As they were coming down from the mountain, He gave them orders not to relate to anyone what they had seen, until the Son of Man rose from the dead. They seized upon that statement, discussing with one another what rising from the dead meant.


* A longtime national and international activist in the peace movement, Bishop Gumbleton is a founding member of Pax Christi USA and an outspoken critic of the sanctions against Iraq.
He has appeared on numerous radio and television programs, and has published numerous articles and reports.
* Scripture texts in this work are in modified form from the American Standard Version of the Bible and are available as part of the public domain.
For your convenience, the Scripture texts, as they appear in the Lectionary for Mass for Use in the Dioceses of the United States, second typical edition, Copyright ©1998, 1997, 1970 Confraternity of Christian Doctrine, Washington, D.C., may be found at the website of the United States Conference of Catholic Bishops (USCC).
http://www.usccb.org/nab/
**The Web link to Pax Christi is provided as a service to our readers.
As I mentioned in introducing the first reading this morning, there's probably hardly any other passage in the scriptures that presents such a troubling picture of God. A God who could be so cruel as to demand that a parent kill his or her own child, and somehow that would be giving worship to God. I'm sure none of us can really accept that -- that God could be so cruel. What kind of a God could ever demand that of any parent? Most you are parents. You know that would be the most cruel thing you could ever be asked to do -- harm your own child. And so how do we understand this passage?

Dear Reader of Peace Pulpit,
We need your help. We are pleased to make available -- at no charge -- Peace Pulpit. But we cannot do all we need to do without your financial assistance.
Please take a moment to consider contributing to the Friends of NCR campaign. National Catholic Reporter is a nonprofit organization. Contributions are tax-deductible in the United States.

Contributions may be sent to:
National Catholic Reporter
115 E. Armour Blvd.
Kansas City, MO 64111
USA
Make checks out to: NCR
If you wish, you may print a form for submitting your donation. You may also use this form for credit card donations.

OR
Well, first of all, we need to know that this happened at a time about 700 and some years before Christ when the chosen people, or the people of Abraham at the time, in the northern part of what became the holy land, were mixed in with many, many other peoples, tribes and individual groups of people, where the practice of child sacrifice was very common. There were other religions where this was the situation. Where a god, according to the people's insights, would demand child sacrifice. Abraham was living among them and must have begun to wonder if God would be asking that of him and Sarah.
And there probably were people who were saying, "Well, if you really loved your God, you would give up anything for your God. And we're willing to give up our children because we love our God." Abraham had to be challenged by that. Did he truly love God? The God who had been revealed to him? Who had called him to found the new people? Did he really love that God enough to be willing to give up anything? As he was reflecting upon this, probably, he began to think that yes, God was asking this of him.
One of the things that we should notice or remind ourselves of is the way it's written, it's almost as though God is speaking right out loud to Abraham. Wouldn't that be good if God really did speak? Just say, "You must do this" or "You must do that" or "Don't do this" and we could hear God's words. But that isn't true for us, and it wasn't true for Abraham. He had to discern within his own heart, his own spirit, what God was asking of him. So for a while he thought, "This is what God is asking. All these other peoples are doing it. If I really love God perhaps I must do it."
So he begins that very difficult trek up the mountain with Isaac, telling Isaac they're going to go offer a sacrifice. And even when Isaac says, "Well, where's the victim?" He answers very ambiguously, "Well, God will provide." They go on. But as Abraham gets close to doing it, as the story is told, with his hand uplifted, ready to strike Isaac, he stops. In his heart he knows that this cannot be right. And so he won't kill Isaac.
As I was reflecting upon this, I was wondering to myself, "What changed in Abraham? Where did he get the insight that "No, God could not be asking this.' " He probably remembered how gracious God had been to him when God first called Abraham. When God said to Abraham, "Leave your country, your family, your father's house for the land I will show you. I will make you a great nation. I will bless you and make your name great and you will be a blessing." God was generous to him. God was loving to him. He must have been remembering that. That's how God is -- generous and loving. It's articulated much later, the kind of God that Abraham might come to know is the God described by Isaiah. Isaiah tells us, "Sing oh heavens and rejoice oh earth, break forth into song oh mountains, for Yahweh has comforted his people. Taken pity on those who are afflicted." But Zion said, "Yahweh has forsaken me my lord and forgotten me." And then God says, "Can a woman forget the baby at her breast and have no compassion on the child of her womb? Yet those she forgets I will never forget."
That's the kind of God Abraham knew. And he began to think about God as this loving, totally compassionate, generous God. But I think probably what finally convinced him, "I must not kill my son" -- what convinced him was that he probably looked directly into the eyes of Isaac and saw this beautiful child so vulnerable, so lovable, and he knew he could not kill that child. Maybe as he was walking up the mountainside, he had refused to look at Isaac, but then when he was about to strike he looked at him, and he knew he couldn't do it. This lovable, beautiful, vulnerable child. Abraham stopped and then found a ram and offered the sacrifice.
Don't miss a homily
To receive an e-mail notice when The Peace Pulpit is posted every week, sign up here.
Click on the link at the top right of this page to send the column to a friend or colleague.
This is the kind of God, then, that we worship. A God who is love. A God who showers us with love and asks us to be loving also. That's probably the most important thing we should learn from the Gospel.
That's an interesting incident in the life of Jesus -- where he takes Peter, James and John and goes up the mountainside and then the Gospels say Jesus was transfigured or transformed in their presence. And they had this experience somehow of Jesus discussing with Moses and Elijah. Mark is very careful in the people that he puts into the scene. Moses would have represented all the laws -- the Torah of the Jewish people. Elijah -- the prophet. And then they disappear and it's Jesus who's left. Mark is telling us that everything we've learned from Moses and Elijah, from the law and the prophets is now come to its fullness in Jesus. We turn to Jesus now to learn the full revelation of who God is.
In their discussion, what were they talking about? They were talking about the passing of Jesus. His torture, his execution and how he would act throughout that terrible ordeal. Of course, as we know, Jesus showed us an extraordinary kind of love when he was tortured and executed. No vengeance, no violence in response. Nothing but love and forgiveness. This is the message that Jesus shows us.
Sometimes I think we talk about Jesus as being a sacrifice that God demanded as the price for our sin, but that's wrong, anymore than God would have demanded the life of Isaac. God doesn't demand that Jesus pay a price for our sins. No, Jesus puts himself into the situation of being in the midst of evil, and then he shows us how we change evil, transform it into good, it's through love, compassion, and forgiveness. God says, "listen to him." That's what we must try to do this morning. Listen to Jesus who in this incident of the transfiguration tells us ahead of time, in a way, of what was going to happen to him and how he would respond.
If we truly listen to Jesus, one of the first things, it seems to me, we would begin to understand is that we do have to abolish the death penalty. The program that I spoke to you about before Mass that we're going to begin to try to complete or develop our understanding that this is wrong. To kill someone out of vengeance, out of vindictiveness, out of hate, even if that someone has wounded us or harmed us in a terrible way, it's wrong. Listen to Jesus, who while he was dying prayed forgiveness. He loved those who were putting him to death. That's a difficult message. It's an important message, one that we must begin to try to hear.
It also seems to me that if we listen to Jesus, we'll be very careful during the next few weeks and perhaps months as our government once more prepares us to go to war. Maybe you haven't noticed, but the same kind of statements that President Bush was making and Vice President Cheney before we went to war on Iraq, they're making now. Some political analysts say it's going to happen before the end of this month. That we will be bombing sites in Iran.
What's going to happen is that we'll begin to hear all the terrible things about these "crazy" people. "They're not to be trusted with nuclear weapons. We can be trusted with them even though we have used them, but they can't be." So we have to destroy them, and as we bomb these sites where they are building these weapons, we will be killing people. But it'll be OK, because we will learn to consider them as terrorists, as fanatics, as evil people. We have to resist that.
I really believe that what changed Abraham's heart and conviction about killing his son, was looking into his son's eyes, seeing him as a lovable person. If we being to do the same thing with the Iranian people, we won't let our government deceive us into thinking that they are fanatics, that they are crazy people and that they will use these weapons to destroy the world. Again we must listen to Jesus, reject the use of violence, find the creative, loving way to resolve the problems that we face in the world not just because Iran will be getting nuclear weapons, but because eight other nations already have them. We will begin to find a way to resolve this terrible problem, not by using violence, but by trying to find the loving way, out of our terrible situation of danger to our whole planet. Again, we must listen to Jesus. His way is the way that can show us how to avoid violence and killing and destruction and to bring peace both within our own hearts, if we abolish something like the death penalty, and within our world, if we can prevent another war.
Listen to Jesus. But it'll take great trust. And so the words of St. Paul today are very important. "If God is for us, who can be against? What do we have to fear? If we are following the way of God, then we will be finding the way to peace." That's what Paul is telling us, and it's true. God is for us, God's love is with us. We have nothing to fear. And so we must listen to Jesus and follow his way.
In the name of the Father and of the Son and of the Holy Spirit. Amen.