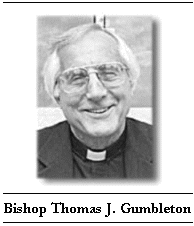 Auxiliary Bishop of the Archdiocese
of Detroit, Michigan *
Ezekiel 37: 12-14
Thus says the Lord God: Behold, I will open your graves, and cause you to rise from them, my people; and I will bring you into the land of Israel. You shall know that I am the Lord, when I have opened your graves, and caused you to rise from them, my people. I will put my Spirit in you, and you shall live, and I will place you in your own land; and you shall know that I, the Lord, have spoken it and performed it, says the Lord.

Romans 8:8-11
Those who are in the flesh cannot please God. But you are not in the flesh, but in the Spirit, if it is so that the Spirit of God dwells in you. But if one does not have the Spirit of Christ, then he is not his. If Christ is in you, though the body is dead because of sin, the spirit is alive because of righteousness. But if the Spirit of him who raised up Jesus from the dead dwells in you, he who raised up Christ Jesus from the dead will also give life to your mortal bodies through his Spirit who dwells in you.

John 11:3-7, 17, 20-27, 33b-45
The sisters of Lazarus sent word to Jesus, saying, "Master, the one you love is ill." When Jesus heard this he said, "This illness is not to end in death, but is for the glory of God, that the Son of God may be glorified through it." Now Jesus loved Martha and her sister and Lazarus. So when he heard that he was ill, he remained for two days in the place where he was. Then after this he said to his disciples, "Let us go back to Judea."
When Jesus arrived, he found that Lazarus had already been in the tomb for four days. When Martha heard that Jesus was coming, she went to meet him; but Mary sat at home. Martha said to Jesus, "Lord, if you had been here, my brother would not have died. But even now I know that whatever you ask of God, God will give you." Jesus said to her, "Your brother will rise."
Martha said, "I know he will rise,
in the resurrection on the last day."
Jesus told her, "I am the resurrection and the life; whoever believes in me, even if he dies, will live, and everyone who lives and believes in me will never die. Do you believe this?" She said to him, "Yes, Lord. I have come to believe that you are the Christ, the Son of God, the one who is coming into the world."
He became perturbed and deeply troubled, and said, "Where have you laid him?" They said to him, "Sir, come and see." And Jesus wept. So the Jews said, "See how he loved him." But some of them said, "Could not the one who opened the eyes of the blind man
have done something so that this man would not have died?"
So Jesus, perturbed again, came to the tomb. It was a cave, and a stone lay across it. Jesus said, "Take away the stone." Martha, the dead man's sister, said to him,
"Lord, by now there will be a stench; he has been dead for four days." Jesus said to her, "Did I not tell you that if you believe you will see the glory of God?" So they took away the stone. And Jesus raised his eyes and said, "Father, I thank you for hearing me. I know that you always hear me; but because of the crowd here I have said this, that they may believe that you sent me." And when he had said this, he cried out in a loud voice, "Lazarus, come out!" The dead man came out, tied hand and foot with burial bands, and his face was wrapped in a cloth. So Jesus said to them, "Untie him and let him go."
Now many of the Jews who had come to Mary and seen what he had done began to believe in him.

* A longtime national and international activist in the peace movement, Bishop Gumbleton is a founding member of Pax Christi USA and an outspoken critic of the sanctions against Iraq.
He has appeared on numerous radio and television programs, and has published numerous articles and reports.


** Scripture texts in this work are in modified form from the American Standard Version of the Bible and are available as part of the public domain.
For your convenience, the Scripture texts, as they appear in the Lectionary for Mass for Use in the Dioceses of the United States, second typical edition, Copyright © 1998, 1997, 1970 Confraternity of Christian Doctrine, Washington, D.C., may be found at the website of the United States Conference of Catholic Bishops (USCC).
http://www.nccbuscc.org/nab/index.htm
Perhaps, we are aware that in Johnís gospel the events of Jesusí life are described in what are called the seven signs; special events that become very important signs about who Jesus is. The first sign thatís recorded in the second chapter of Johnís gospel is that beautiful event of the wedding feast at Canaan in Galilee. Todayís gospel is the last - the seventh - of the signs and the most important and most revealing about who Jesus really is. So it will be important for us to reflect carefully and deeply on this sign that we see in this event about Lazarus, Martha and Mary, and their friend Jesus.

This sign, perhaps, is the most profound because it shows us Jesus in the two very special ways that Jesus is - that Jesus is truly and fully human. Heís one like us in every way except sin; that heís fully a human being. He has all of the characteristics that any human being has, physical body and emotions. He has a mind. He has a heart. He loves, cries and laughs. Today, we see Jesus being fully human in relation to his friends. Jesus was able to love these people and be loved by them. They were very special to him and his relationship to them made him a more fully human being. He could reach out and love and be loved.

In light of what is happening in our country and in the church today, though itís not really the point of what we need to reflect on today, it seems to me that it might be just as important to at least mention all the terrible things that are happening within the church - the scandal with the priests and pedophilia. Itís because we havenít learned how to be really, fully human in our relationships with one another.

People sometimes try to exploit other people. Thatís what a person whoís a pedophile does - exploits a little child, doesnít know how to relate in real love and to be loved.

So we must pray for our church and for our priests in our church, those few who donít have this capacity as Jesus did to really love and be loved in a healthy and good way - not to be afraid of loving and being loved, but to do it in a way that is life giving and not destructive. Surely, thatís what Jesus shows us today if we reflect on how he related to Martha, Mary, and Lazarus, and those who were his deepest and closest friends.

Maybe what is even more important for us though, as we think about this humanness of Jesus, is how he had such deep compassion. Lazarus was somebody Jesus loved. Martha and Mary, he loved. So when Jesus stood there at the tomb and he was fully aware, as we become aware when we are burying someone close to us, that theyíre gone, theyíre dead, Jesus wept. He sobbed because he was in love with Lazarus and Martha and Mary, and he couldnít bear their suffering. He couldnít bear to accept it without breaking forth and he cried with compassion.

I think thatís important to know about Jesus, because there are those times where we have had to face the loss of someone very close to us; sometimes in cruel and unexpected ways when someone is killed or murdered. Even when someone dies after a long, slow illness, itís still hard to accept. But we can always know that Jesus is there to comfort us; that he shares our suffering and our sorrow and he weeps with us.

I think sometimes about all the terrible suffering that goes on in our world, the extreme numbers of people who suffer and die every day. I was reading a report again this week about the number of poor people who die in the world - 11 or almost 12 million each year. Thatís a million a month, 250 thousand every week, little children. Yet, even though thatís a disaster and a tragedy, somehow, we know that God is suffering with every one of those parents. The heart of God is broken in Jesus as he weeps for them. And I think thatís important for us to know about Jesus, that heís there to weep for every person who is taken from our midst in death. This can be a comfort to us at a time when we need that kind of comfort.

But the other part of this sign today that is so important about telling us who Jesus is what Martha says about Jesus, ďYes, I know you are the Christ, the son of the living God. Youíre the messiah, the anointed one, the one who is filled with the divinity of God.Ē

So we have the mystery of Jesus, fully human, one like us in every way except sin and yet also fully God. And what Martha hears from Jesus, because Jesus is there not just as one like us, one who loves her in a human way, but because Jesus is there with the power of God. He tells Martha, ďLazarus will rise again.Ē And Martha says, ďWell I know thatís what will happen.Ē But she misunderstands Jesus. She thinks of a time in the far distant future, the end of time, that Lazarus will rise. Thatís when Jesus says to us the most important thing for us to hear today: I am the resurrection and the life, not just at the end of time but right now. Anyone who believes in me will live. If you believe in me now, you will never die. You have the life of God in you. The spirit of Jesus lives within you now.

Saint Paul was trying to remind us of that in the second lesson today - that the spirit of God is within us.

But how many of us really take the time to be in touch with that spirit of God who lives in my heart. Isnít it true that we let ourselves be distracted very much? Weíre so busy about so many things, that we hardly ever take the time just to be quiet and to be in touch with the spirit of God who is in my heart.

I am the resurrection; I am alive in you now. And you will never die, really, because you have the spirit of Jesus in you.

Isnít that the reason why some people we know can face death and not be afraid, but always be at peace? Someone like Oscar Romero, whom we have spoken about so many times: ďIíve been threatened with death many times, but I donít believe in death without resurrection.Ē He knew Jesus was alive in his heart and he had no fear. He was confident and at peace, even in the midst of the most terrible violence. Or Dr. King on the night before he died: ďIíve been to the mountain top, Iíve seen and I know God is alive in my heart. I want to live a long life, but I wonít. But Iím not afraid any longer, it makes no difference.Ē He knew that Jesus was in his heart. Thatís something that you and I have to try to nurture within ourselves.

In these last two weeks of Lent, maybe we havenít been as faithful to the spirit of Lent as we wanted to be when we started at the beginning. Maybe weíve let a lot of things interfere with our efforts to fast, to do penance, to gather alms for the poor, to pray extra each day. Maybe we havenít done that. But now in these last two weeks of Lent, we can make a special effort to be in touch with that spirit of Jesus thatís in our hearts: ďI am the resurrection and the life. Anyone who believes in me will never die. And if you live and believe in me, you will have life forever.Ē Jesus assures us, we must be in touch with that spirit of Jesus who is within us.

This will help us then to do what Thomas suggests in the gospel today. Heís convinced that when Jesus goes to Lazarus, heís going right back into Judea where people hate him and want to kill him. Thomas says, ďYouíre going to be killed.Ē And yet he says to the other disciples, ďLetís go with him.Ē Thomas wasnít fully aware of what he was saying, but he was saying, ďWeíre going to go and weíre going to be like Jesus.Ē And thatís what each of us has to do in these last two weeks of Lent - go with Jesus, go with Jesus even to his death on the cross. Not that we will be nailed to a cross, but that we need to try to have that spirit of Jesus who really shows us then what God is like.

So often, we think of God as someone who has power. We wonder why God doesnít destroy all the evil in the world. Why does God let little children be killed? Why doesnít God do something about poverty and about violence and about war?

That isnít the kind of God Jesus reveals to us on the cross. God is a god of love, a god of light, and a god of life. God is a god who draws all people to himself by reaching out and extending his arms in love for everyone; forgiveness and love, nonviolence, returning good for evil. Thatís what Jesus shows as he is nailed to the cross. Not to try to destroy evil with evil, not to bring violence for violence, hate for hate, but to transform each of us and our world through his love for us. Thatís what Jesus shows us on the cross.

So when Thomas says, ďLetís go with him,Ē thatís what each of us I hope will say these last two weeks of Lent: Letís go with Jesus and follow his way, the way of forgiveness, the way of love, the way of compassion, the way of goodness. Thatís the way we will transform the evil thatís in our hearts and in the world around us. Let us then go with Jesus these last two weeks of Lent to discover the real love and life that can come to us through being joined to him by following his way - the way of nonviolence, compassion and love.

In the name of the Father, and of the Son, and of the Holy Spirit. Amen.