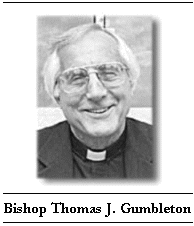 Auxiliary Bishop of the Archdiocese
of Detroit, Michigan *
1st Gospel
Matthew 21:1-11
When they drew near to Jerusalem, and came to Bethsphage, to the Mount of Olives, then Jesus sent two disciples, saying to them, "Go into the village that is opposite you, and immediately you will find a donkey tied, and a colt with her. Untie them, and bring them to me. If anyone says anything to you, you shall say, 'The Lord needs them,' and immediately he will send them." All this was done, that it might be fulfilled which was spoken through the prophet, saying,
"Tell the daughter of Zion,
Behold, your King comes to you,
Humble, and riding on a donkey,
On a colt, the foal of a donkey."
The disciples went, and did just as Jesus commanded them, and brought the donkey and the colt, and laid their clothes on them; and he sat on them. A very great multitude spread their clothes on the road. Others cut branches from the trees, and spread them on the road. The multitudes who went before him, and who followed kept shouting, "Hosanna to the son of David! Blessed is he who comes in the name of the Lord! Hosanna in the highest!" When he had come into Jerusalem, all the city was stirred up, saying, "Who is this?" The multitudes said, "This is the prophet, Jesus, from Nazareth of
Galilee."

Isaiah 50:4-7
The Lord Yahweh has given me the tongue of those who are taught, that I may know how to sustain with words him who is weary. He wakens morning by morning, he wakens my ear to hear as those who are taught. The Lord Yahweh has opened my ear, and I was not rebellious, neither turned away backward. I gave my back to the strikers, and my cheeks to those who plucked off the hair; I didn't hide my face from shame and spitting. For the Lord Yahweh will help me; therefore I have not been confounded: therefore have I set my face like a flint, and I know that I shall not be disappointed.

Philippians 2:6-11
Christ Jesus, though he was in the form of God, did not regard equality with God something to be grasped at, but emptied himself, taking the form of a servant, being made in the likeness of men. And being found in human form, he humbled himself, becoming obedient to death, even the death of the cross. Therefore God also highly exalted him, and gave to him the name which is above every name; that at the name of Jesus every knee should bend, of those in heaven, those on earth, and those under the earth, and that every tongue should confess that Jesus Christ is Lord, to the glory of God the Father.

Matthew 27:11-54
Now Jesus stood before the governor, Pontius Pilate, and the governor asked him, saying, "Are you the King of the Jews?" Jesus said to him, "So you say." When he was accused by the chief priests and elders, he answered nothing. Then Pilate said to him, "Don't you hear how many things they testify against you?" He gave him no answer, not even one word, so that the governor marveled greatly. Now at the feast the governor was accustomed to release to the multitude one prisoner, whom they desired. They had then a notable prisoner, called Barabbas. When therefore they were gathered together, Pilate said to them, "Whom do you want me to release to you? Barabbas, or Jesus, who is called Christ?" For he knew that because of envy they had delivered him up. While he was sitting on the judgment seat, his wife sent to him, saying, "Have nothing to do with that righteous man, for I have suffered many things this day in a dream because of him." Now the chief priests and the elders persuaded the multitudes to ask for Barabbas, and destroy Jesus. But the governor answered them, "Which of the two do you want me to release to you?" They said, "Barabbas!" Pilate said to them, "What then shall I do to Jesus, who is called Christ?" They all said to him, "Let him be crucified!" But the governor said, "Why? What evil has he done?" But they cried out exceedingly, saying, "Let him be crucified!" So when Pilate saw that nothing was being gained, but rather that a disturbance was starting, he took water, and washed his hands before the multitude, saying, "I am innocent of the blood of this righteous person. You see to it." All the people answered, "May his blood be on us, and on our children!" Then he released to them Barabbas, but Jesus he flogged and delivered to be crucified. Then the governor's soldiers took Jesus into the Praetorium, and gathered the whole garrison together against him. They stripped him, and put a scarlet robe on him. They braided a crown of thorns and put it on his head, and a reed in his right hand; and they kneeled down before him, and mocked him, saying, "Hail, King of the Jews!" They spat on him, and took the reed and struck him on the head. When they had mocked him, they took the robe off of him, and put his clothes on him, and led him away to crucify him. As they came out, they found a man of Cyrene, Simon by name, and they compelled him to go with them, that he might carry his cross. They came to a place called "Golgotha," that is to say, "The place of a skull." They gave him sour wine to drink mixed with gall. When he had tasted it, he would not drink. When they had crucified him, they divided his clothing among them, casting lots, and they sat and watched him there. They set up over his head the accusation against him written, "THIS IS JESUS, THE KING OF THE JEWS." Then there were two robbers crucified with him, one on his right hand and one on the left. Those who passed by blasphemed him, wagging their heads, and saying, "You who destroy the temple, and build it in three days, save yourself! If you are the Son of God, come down from the cross!" Likewise the chief priests also mocking, with the scribes, the Pharisees, and the elders, said, "He saved others, but he can't save himself. If he is the King of Israel, let him come down from the cross now, and we will believe in him. He trusts in God. Let God deliver him now, if he wants him; for he said, 'I am the Son of God.'" The robbers also who were crucified with him cast on him the same reproach. Now from the sixth hour there was darkness over all the land until the ninth hour. About the ninth hour Jesus cried with a loud voice, saying, "Eli, Eli, lima sabachthani?" That is, "My God, my God, why have you forsaken me?" Some of them who stood there, when they heard it, said, "This man is calling Elijah." Immediately one of them ran, and took a sponge, and filled it with vinegar, and put it on a reed, and gave him a drink. The rest said, "Let him be. Let's see
whether Elijah comes to save him." Jesus cried again with a loud voice, and yielded up his spirit. Behold, the veil of the temple was torn in two from the top to the bottom. The earth quaked and the rocks were split. The tombs were opened, and many bodies of the saints who had fallen asleep were raised; and coming out of the tombs after his resurrection, they entered into the holy city and appeared to many. Now the centurion, and those who were with him watching Jesus, when they saw the earthquake, and the things that were done, feared exceedingly, saying, "Truly this was the Son of God."

* A longtime national and international activist in the peace movement, Bishop Gumbleton is a founding member of Pax Christi USA and an outspoken critic of the sanctions against Iraq.
He has appeared on numerous radio and television programs, and has published numerous articles and reports.


** Scripture texts in this work are in modified form from the American Standard Version of the Bible and are available as part of the public domain.
For your convenience, the Scripture texts, as they appear in the Lectionary for Mass for Use in the Dioceses of the United States, second typical edition, Copyright © 1998, 1997, 1970 Confraternity of Christian Doctrine, Washington, D.C., may be found at the website of the United States Conference of Catholic Bishops (USCC).
http://www.nccbuscc.org/nab/index.htm
The most important reflections on today's scriptures will come throughout this week as we take the time to be quiet for some moment each day and reread, reflect, and pray on all that happened to Jesus and what that means for us in our own lives.

But this morning, perhaps, I can suggest a couple of things that might guide us in our reflections.

The first thing we must be aware of is: Why do we want to do this? Why is it so important to reflect on the words of Jesus during his passion, suffering, and death, and the way he acted? Why is that important to do?

And the answer to that is very, very clear. It's what Saint Paul said in the second reading today, "Have this mind in you which was in Christ Jesus." We need to try to deepen within ourselves the mind, i.e., the thinking, the understanding, the wisdom, the attitude, and the way of Jesus. We have to have this mind in us that we be transformed in our way of thinking and then transformed in our way of acting. Have this mind in you, become more and more like Jesus.

God is asking us to try to enter into a deep and radical kind of change. Paul tells us, "Jesus, though he was God, did not think his divinity something to be clung to, but emptied himself." This is a dramatic change, a total emptying of himself of his God-ness so that he became fully and truly human. As Paul said, "He became one like us, even to the point that, though he is God, he is subject to death, even the ignominious, shameful, and violent death of the cross."

So we need to think about how much we need to empty ourselves and allow God to fill us with the understanding, the heart, the mind, and the attitude of Jesus.

As we prepared earlier to have our procession into church, we read from Matthew's gospel where Matthew describes how Jesus told his disciples to go and get a donkey so that he could use it on his way into Jerusalem. Matthew then suggested the reason why Jesus did this - it was in fulfillment of what the prophet Zechariah said: "Rejoice greatly, daughter of Zion. Shout for joy, daughter of Jerusalem, for your king is coming; just and victorious, humble, and riding on a donkey, on a colt, the foal of a donkey. No more chariots in Ephraim, no more horses in Jerusalem where he will do away with them. The warriors bow shall be broken when he brings peace to the nations."

Matthew puts that in there, not because he's trying to say Zechariah predicted everything that would happen; no, he's trying to get us to understand something important about Jesus - that Jesus is not going to be a ruler who will use force, not be a ruler who will use armies, and not be a ruler who will kill in order to supposedly bring about peace. No, instead, Jesus will be like that person described in Zechariah, humble. He will see to it that there are no more chariots, the instruments of war. He will do away with all that. The warrior's bow and any weapon will be broken and destroyed. He will bring peace to the nations.

We need that message.

You know, you can't be aware of the news without being aware that we're living in a world that is threatened with more and more violence. It seems to be getting worse in the Middle East. You almost get to the point of despairing that the conflict can ever be resolved. Both sides keep escalating the violence.

Or you read about our own government's intentions. It's mentioned today in the paper that we're going into Iraq with a military force. Our Secretary of State says, "It doesn't make any difference if they give up all their weapons." Supposedly, that's why we would go; to make sure that they have no weapons of mass destruction. But Colin Powell said, "No, that really doesn't make any difference." He has to go.

We've decided that the president of Iraq has to be put out. We call it a change of regime. So we're going to use violence to do that and it seems more and more clear we have every intention of doing it.

A couple of weeks ago, we read about the new defense posture that our Pentagon published. It says clearly we're prepared to use nuclear weapons. Can you believe that? Against non-nuclear states? We're planning to use nuclear weapons. It's getting more and more discouraging.

The violence just seems to go on and on.

You can't have missed this in the news over the past days and weeks - all the violence being done against children by priests in our church. It's a different kind of violence, but it's also very disturbing; a scandal of violence. And we haven't found a way to remedy this situation. Our leadership in the church simply seems to be struggling, trying to find a way to respond. We don't seem to have the humility and the willingness to just say: It's wrong and we're sorry that it ever happened. We still have bishops putting out messages about following the law, making sure that the settlements include legal settlements rather than a real, pastoral reaching out to those who have been hurt so badly.

So the violence is all around us.

But what we need to think about more that just all that violence around us is the violence in my own heart.

If we're ever going to end the violence in the world, it's going to start because each one of us can be transformed so that we have no spirit of violence in our heart.

"Have this mind in you which was in Christ Jesus."

As we listen to the passion of Jesus, never once did he respond with violence to those who were doing violence to him. Not once. If you listen carefully to that long account when he was betrayed, which is an act of violence, he embraces Judas and says, "Friend." He was trying to call Judas back. He loved him.

He never condemned Peter - later on, he looks on Peter with love and forgives him.

When they beat him with whips, spit on him, and mocked him, never once did he respond with violence or hatred.

"Have this mind in you which was in Christ Jesus."

Can we do that, that's the question?

If we turn to the first lesson today, we discover how it could happen. "God has taught me, so I speak as God's disciple." Hear how God has taught this servant. "Morning after morning, God wakes me up to hear, to listen like a disciple, one ready to learn."

Each morning, we have to let God awaken us and we have to listen deeply. Then we will hear, "God has opened my ear. I have not rebelled, nor have I withdrawn. I even offered my back to those who struck me, my cheeks to those who pulled my beard. Neither did I shield my face from blows, spittle and disgrace. I have not despaired, for God comes to my help. Like a flint, I set my face knowing that I will not be disgraced."

The servant listens deeply and is able to experience violence and respond with love.

As I read that passage earlier in the week and kept thinking about it, I couldn't help but remember an incident that had been described in a little book called Is this not a miracle? It's a booklet that recounts 21 incidents, each of which could be a miracle. This one goes like this: What attracted me to nonviolence was watching the evening news in the early 60's and seeing the blacks and whites sit at segregated lunch counters, refusing to move until they were served while angry whites poured ketchup on their heads, smeared mustard through their hair, pelted them with slurs, and mocked them. I wondered how people could absorb such hatred and violence without striking back. Then I read an account in the Catholic Worker newspaper where a black man was quoted as saying, "I will let them kick me and kick me until they have kicked all of the hatred out of themselves and into my body where I will transform it into love."

Is this not a miracle? It is, is it not, that anyone could absorb that much hatred and respond with love. But it's a miracle that could happen to each one of us too if we listen to God each morning in prayer. Or, each day, whatever time, and listen deeply and let God speak to us and form our thinking, our minds, and our hearts. Gradually, we come to have that mind which was in Christ Jesus.

We will be ready to give up violence, hatred, vengeance, retaliation, and all of those things that seem so necessary and almost so natural. We will give them up. We'll absorb hatred and violence and respond with love. It will be a miracle, but it's a miracle that God can make happen.

And so I hope that throughout this week each of us will listen and let God enter into our minds, our hearts, and our spirits and transform us so that we will be able to have the mind, the heart and the attitude of Jesus. As our hearts are transformed, as each one of us becomes a true disciple of Jesus, our world will begin to change. It will begin to change within our homes, within our neighborhoods, and our communities. That change can continue throughout the whole of the world and, ultimately, when enough of us who are followers of Jesus truly follow his way, peace will even come to our world.

In the name of the Father, and of the Son, and of the Holy Spirit. Amen.