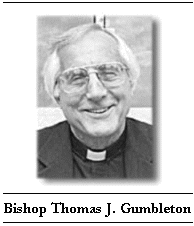 Auxiliary Bishop of the Archdiocese
of Detroit, Michigan *
1 Chr 36:14-16, 19-23
Moreover all the chiefs of the priests, and the people, trespassed very greatly after all the abominations of the nations; and they polluted the house of Yahweh which he had made holy in Jerusalem. Yahweh, the God of their fathers, sent to them by his messengers, rising up early and sending, because he had compassion on his people, and on his dwelling-place: but they mocked the messengers of God, and despised his words, and scoffed at his prophets, until the wrath of Yahweh arose against his people, until there was no remedy. They burnt the house of God, and broke down the wall of Jerusalem, and burnt all the palaces of it with fire, and destroyed all the goodly vessels of it. Those who had escaped from the sword carried he away to Babylon; and they were servants to him and his sons until the reign of the kingdom of Persia: to fulfill the word of Yahweh by the mouth of Jeremiah, until the land had enjoyed its Sabbaths: for as long as it lay desolate it kept Sabbath, to fulfill seventy years. Now in the first year of Cyrus king of Persia, that the word of Yahweh by the mouth of Jeremiah might be accomplished, Yahweh stirred up the spirit of Cyrus king of Persia, so that he made a proclamation throughout all his kingdom, and put it also in writing, saying, "Thus says Cyrus king of Persia, All the kingdoms of the earth has Yahweh, the God of heaven, given me; and he has charged me to build him a house in Jerusalem, which is in Judah. Whoever there is among you of all his people, Yahweh his God be with him, and let him go up."

Ephesians 2:4-10
Brothers and sisters: God, being rich in mercy, for his great love with which he loved us, even when we were dead through our trespasses, made us alive together with Christ (by grace you have been saved), and raised us up with him, and made us to sit with him in the heavenly places in Christ Jesus, that in the ages to come he might show the exceeding riches of his grace in kindness toward us in Christ Jesus; for by grace you have been saved through faith, and that not of yourselves; it is the gift of God, not of works, that no one would boast. For we are his workmanship, created in Christ Jesus for good works, which God prepared before that we would walk in them.

John 3:14-21
Jesus said to Nicodemus, "As Moses lifted up the serpent in the wilderness, even so must the Son of Man be lifted up, that whoever believes in him should not perish, but have eternal life. For God so loved the world, that he gave his one and only Son, that whoever believes in him should not perish, but have eternal life. For God didn't send his Son into the world to judge the world, but that the world should be saved through him. He who believes in him is not judged. He who doesn't believe has been judged already, because he has not believed in the name of the one and only Son of God. This is the judgment, that the light has come into the world, and men loved the darkness rather than the light; for their works were evil. For everyone who does evil hates the light, and doesn't come to the light, lest his works would be exposed. But he who does the truth comes to the light, that his works may be revealed, that they have been done in God."


* A longtime national and international activist in the peace movement, Bishop Gumbleton is a founding member of Pax Christi USA and an outspoken critic of the sanctions against Iraq.
He has appeared on numerous radio and television programs, and has published numerous articles and reports.

* Scripture texts in this work are in modified form from the American Standard Version of the Bible and are available as part of the public domain.
For your convenience, the Scripture texts, as they appear in the Lectionary for Mass for Use in the Dioceses of the United States, second typical edition, Copyright © 1998, 1997, 1970 Confraternity of Christian Doctrine, Washington, D.C., may be found at the website of the United States Conference of Catholic Bishops (USCC).
http://www.usccb.org/nab/
** The Web link to Pax Christi is provided as a service to our readers.
As I hope you will recall, on each of the first three Sundays of Lent, we were reminded of the Covenant that God has made with us, the Covenant by which God becomes our God and we become Godís people.

The Covenant on the first Sunday of Lent was spoken to us through the story of Noah and how God gave the rainbow as the sign of the Covenant. Then we had the story of Abraham and Isaac and how God rejected human sacrifice and then entered into a new covenant with Abraham whereby he promised Abraham that he would be, together with Sara, the parents of a whole new people -- Godís people. Then last Sunday we remembered the Sinai covenant when Moses received the commandments and again we emphasized how, by our living up to Godís way, we become Godís people and God is our God.

And, of course, the commandments were brought to their full realization, full revelation, in Jesus. Thatís the guide, or, I should say, he is the guide of how we are to live if we are to be Godís people. And it is important and helpful to remind ourselves of this, this week, because, as I mentioned before Mass, next Sunday we will be celebrating the sacrament of reconciliation, a time when we can be healed of any of the failures that we have experienced in trying to live up to our covenant to be Godís people, following as faithfully as possible, the way of Jesus, which is the way of love.

And the lessons today, as we listen to them carefully, instruct us, I think, in a very helpful way about sin, about healing and forgiveness and especially, about how God is always waiting to be gracious to us, to forgive us to heal us.

But sin is something very real, and it has devastating consequences. That first lesson today, which is kind of a summary of Godís chosen people, reminded us of how the people were (as the chronicler writes) exceedingly unfaithful, following the disgusting example of the nations around them and so they defiled the house which God had made holy.

And the chronicler points out how their sinfulness was aggravated, made worse, because God, Yahweh, the God of your ancestors, continued to send prophets to warn the people because God had compassion on them. But they mocked the messengers of God, ignored their words and laughed at the prophets. They rejected Godís word and so devastation came upon them. Their sin had its consequences. They refused to heed Godís call to reject violence and war so they were overcome -- taken off into exile for 70 long, dreadful, painful years.

Obviously, itís a coincidence but you have to wonder if the coincidence isnít saying something profound to us. Because what this writer of the history of the chosen people is talking about is when the people were carried off into exile, to what he calls Babylon. But it is, in fact, the country of Iraq where we are waging war right now. And isnít it possible that people like Pope John Paul II -- who has been speaking out against this war so consistently for over 12 years actually -- and all the leaders of the Christian religions throughout the world who are rejecting this war -- and the millions of people on the streets throughout the world saying, ďNo!Ē -- isnít that like God sending messengers to us? And we are laughing at them, disdaining them, rejecting them and choosing violence regardless of what God says, especially what God says through Jesus.

I donít know if you would catch it immediately, but when Jesus says in the Gospel, about being lifted up:
ďThe Son of Man, like the serpent in the desert must be lifted up and thatís how salvation, the saving power of Godís love will come.Ē
Jesus is speaking about being lifted up on the cross, which is what we proclaim in our Eucharistic Prayer as the everlasting sign of Godís covenant of love.

Jesus, pouring forth love upon us, rejecting violence, being willing to accept suffering rather than inflicting it, being willing to be killed rather than to kill, pouring forth love -- thatís the sign -- thatís Jesus. And that is the message that Jesus gives to us that the only way to peace is through love -- not through war, not through killing.

In the Gospel also, Jesus makes it so clear this is how the judgment happens. It isnít that God stands before us and condemns us. No, it is that light has come into the world; Jesus is the light that has come into the world, but people love darkness rather than light because their deeds were evil.

So, it is a choice that we make -- whether we accept the light that Jesus is to us or reject that light. Thatís how sin comes into the world, and that is how we are judged on that simple reality. The message is proclaimed through Jesus. We can accept it or reject it.

But the consequences are made so devastatingly clear as we reflect again on what happened to Godís chosen people when they rejected the messages and the prophets, when they rejected the light that God was in their midst.

And yet, even as we make real the possibilities of sin and the consequences of sin, we must also reflect today on how God is always waiting to be gracious to us. Those are words proclaimed by the prophet Isaiah, but they are reinforced today in the first lesson when, after the devastation and failure that happened because of the peopleís rejection of Godís ways, God still reached out in love. At the end of that first reading we hear how God sent someone to free the people, to let them go, to restore them to their place in the chosen land, the holy land -- the place given them by God.

And, in the letter of Paul to the Church at Ephesus, especially, we are reminded as Paul says; ďGod is rich in Mercy.Ē God reveals immense love and gives us life with Christ after being dead through our sins.

He goes on to tell us: ďBy the grace of God, you are healed through faith and this does not come from you but it is Godís gift.Ē It is not the result of your works, so you are not to feel proud. What we are is Godís handiwork, as Paul says, created in Jesus to carry out the works produced by God in Jesus.

And so God is inviting us; Godís mercy is ready to be poured forth upon us. God is asking us to be open about our sinfulness, to acknowledge it, to be ready for God to heal us.

Some time ago, Henri Nouwen wrote a book called ďThe Living ReminderĒ and in the introduction to that book he tells a story that I think is very important for us to reflect upon today because it reminds us of how sin can destroy us, can even destroy our world, but only if we neglect to acknowledge our sins and to be ready for Godís healing. He tells us this story about Elie Wiesel.

ďIn 1944 all the Jews of the Hungarian town of Sighet were rounded up and deported to concentration camps. Elie Wiesel, the now famous novelist was one of them. He survived the holocaust and 20 years later he returned to see his hometown again.

What pained him most was that the people of Sighet had erased the Jews from their memory. Elie Wiesel writes:
I was not angry with the people of Sighet Ö for having driven out their neighbors of yesterday, nor for having denied them. If I was angry at all it was for having forgotten them. So quickly, so completely Ö Jews have been driven not only out of town but out of time as well.
And then Henri Nouwen draws a very important conclusion from that story -- a very basic, fundamental truth about our spiritual life. He says,
This story suggests that to forget our sins may be an even greater sin than to commit them. Why? Because what is forgotten cannot be healed and that which cannot be healed easily becomes the cause of greater evil. In his many books about the Holocaust, Eli Wiesel does not remind us of Auschwitz, Buchenwald, and Treblinka to torture our consciences with heightened guilt feelings, but to allow our memories to be healed and so to prevent an even worse disaster. An Auschwitz that is forgotten causes a Hiroshima, and a forgotten Hiroshima can cause the destruction of our world. By cutting off our past we paralyze our future: forgetting the evil behind us we evoke the evil in front of us.
The truth that Henri Nouwen is proclaiming and dramatizing so well is the truth that if we refuse to acknowledge our sins and bury them we become the cause of greater evil and that happens to us on an individual, personal basis but it also happens to us as a nation.

We must be willing to acknowledge our sinfulness, bringing them forth before God in humility, even in a sense of helplessness, saying to God, ďI need your help to overcome my sins.Ē

If we can do that, if we are willing to acknowledge our sins, bring them out into the light, the light who is Jesus, we can be sure that they will be healed, forgiven and not become the cause of greater evil.

And so, during this week, I hope that we will look into our hearts, find where we have failed to live up to our covenant with God, especially the covenant as revealed in Jesus who is light and who is love and who shows us that love is the only way to bring peace into our world. Look into our hearts and discover how we have fallen short and be ready to bring that before God and then be confident that God will raise us up. God will heal us. God will totally forgive us and we will be able to live that new life that Jesus promises in the Gospel. ďGod so loved the world that God sent Jesus, Godís son, into this world in order to save it, to heal it, to bring it life, to bring it peace.Ē

By acknowledging our sinfulness, asking God forgiveness and healing we will experience that power of Jesus alive in us, enabling us to carry out the good works that God has called us to do, especially the good work of bringing reconciliation and peace within all our relationships and within our world.

In the name of the Father, and of the Son and of the Holy Spirit. AMEN.