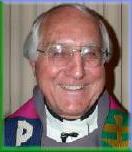 Thomas J. Gumbleton
Auxiliary Bishop of the Archdiocese
of Detroit, Michigan *



Isaiah 50:4-7
The Lord GOD has given Me the tongue of disciples, that I may know how to sustain the weary one with a word He awakens Me morning by morning, He awakens My ear to listen as a disciple. The Lord GOD has opened My ear; and I was not disobedient nor did I turn back. I gave My back to those who strike Me, and My cheeks to those who pluck out the beard; I did not cover My face from humiliation and spitting. For the Lord GOD helps Me, therefore, I am not disgraced; therefore, I have set My face like flint, and I know that I will not be ashamed.

Philippians 2:6-11


W

ho, although He existed in the form of God, did not regard equality with God a thing to be grasped, but emptied Himself, taking the form of a bond-servant, and being made in the likeness of men. Being found in appearance as a man, He humbled Himself by becoming obedient to the point of death, even death on a cross. For this reason also, God highly exalted Him, and bestowed on Him the name which is above every name, so that at the name of Jesus EVERY KNEE WILL BOW, of those who are in heaven and on earth and under the earth, and that every tongue will confess that Jesus Christ is Lord, to the glory of God the Father.

Mark 15:1-39
Early in the morning the chief priests with the elders and scribes and the whole Council, immediately held a consultation; and binding Jesus, they led Him away and delivered Him to Pilate. Pilate questioned Him, "Are You the King of the Jews?" And He answered him, "It is as you say." The chief priests began to accuse Him harshly. Then Pilate questioned Him again, saying, "Do You not answer? See how many charges they bring against You!" But Jesus made no further answer; so Pilate was amazed. Now at the feast he used to release for them any one prisoner whom they requested. The man named Barabbas had been imprisoned with the insurrectionists who had committed murder in the insurrection. The crowd went up and began asking him to do as he had been accustomed to do for them. Pilate answered them, saying, "Do you want me to release for you the King of the Jews?" For he was aware that the chief priests had handed Him over because of envy. But the chief priests stirred up the crowd to ask him to release Barabbas for them instead. Answering again, Pilate said to them, "Then what shall I do with Him whom you call the King of the Jews?" They shouted back, "Crucify Him!" But Pilate said to them, "Why, what evil has He done?" But they shouted all the more, "Crucify Him!" Wishing to satisfy the crowd, Pilate released Barabbas for them, and after having Jesus scourged, he handed Him over to be crucified. The soldiers took Him away into the palace (that is, the Praetorium), and they called together the whole Roman cohort. They dressed Him up in purple, and after twisting a crown of thorns, they put it on Him; and they began to acclaim Him, "Hail, King of the Jews!" They kept beating His head with a reed, and spitting on Him, and kneeling and bowing before Him. After they had mocked Him, they took the purple robe off Him and put His own garments on Him. And they led Him out to crucify Him. They pressed into service a passer-by coming from the country, Simon of Cyrene (the father of Alexander and Rufus), to bear His cross. Then they brought Him to the place Golgotha, which is translated, Place of a Skull. They tried to give Him wine mixed with myrrh; but He did not take it. And they crucified Him, and divided up His garments among themselves, casting lots for them to decide what each man should take. It was the third hour when they crucified Him. The inscription of the charge against Him read, "THE KING OF THE JEWS." They crucified two robbers with Him, one on His right and one on His left. [And the Scripture was fulfilled which says, "And He was numbered with transgressors."] Those passing by were hurling abuse at Him, wagging their heads, and saying, "Ha! You who are going to destroy the temple and rebuild it in three days, save Yourself, and come down from the cross!" In the same way the chief priests also, along with the scribes, were mocking Him among themselves and saying, "He saved others; He cannot save Himself. Let this Christ, the King of Israel, now come down from the cross, so that we may see and believe!" Those who were crucified with Him were also insulting Him. When the sixth hour came, darkness fell over the whole land until the ninth hour. At the ninth hour Jesus cried out with a loud voice, "ELOI, ELOI, LAMA SABACHTHANI?" which is translated, "MY GOD, MY GOD, WHY HAVE YOU FORSAKEN ME?" When some of the bystanders heard it, they began saying, "Behold, He is calling for Elijah." Someone ran and filled a sponge with sour wine, put it on a reed, and gave Him a drink, saying, "Let us see whether Elijah will come to take Him down." And Jesus uttered a loud cry, and breathed His last. And the veil of the temple was torn in two from top to bottom. When the centurion, who was standing right in front of Him, saw the way He breathed His last, he said, "Truly this man was the Son of God!"


* A longtime national and international activist in the peace movement, Bishop Gumbleton is a founding member of Pax Christi USA and an outspoken critic of the sanctions against Iraq.
He has appeared on numerous radio and television programs, and has published numerous articles and reports.
* Scripture texts in this work are in modified form from the American Standard Version of the Bible and are available as part of the public domain.
For your convenience, the Scripture texts, as they appear in the Lectionary for Mass for Use in the Dioceses of the United States, second typical edition, Copyright ©1998, 1997, 1970 Confraternity of Christian Doctrine, Washington, D.C., may be found at the website of the United States Conference of Catholic Bishops (USCC).
http://www.usccb.org/nab/
**The Web link to Pax Christi is provided as a service to our readers.
It's important that we take at least a few moments to reflect in sort of a general way on this very long Gospel that we've heard. There are many parts of it and we could take each part individually and reflect on any one of them for a number of minutes at least. But I suggest what might be the best way is to follow the direction that Bishop Ken Untener used in the Little Black Book* for today. Perhaps, you've read it already this morning. He points out that, in the beginning of the church, after Jesus had died and risen from the dead, when the Christians gathered together to celebrate the Eucharist -- to do what he had said "Do this in memory of me" -- they would always include some readings.

Dear Reader of Peace Pulpit,
We need your help. We are pleased to make available -- at no charge -- Peace Pulpit. But we cannot do all we need to do without your financial assistance.
Please take a moment to consider contributing to the Friends of NCR campaign. National Catholic Reporter is a nonprofit organization. Contributions are tax-deductible in the United States.

Contributions may be sent to:
National Catholic Reporter
115 E. Armour Blvd.
Kansas City, MO 64111
USA
Make checks out to: NCR
If you wish, you may print a form for submitting your donation. You may also use this form for credit card donations.

OR
They would go to the Hebrew Scriptures, perhaps to Isaiah like we heard today or to some other passage, but there were no Christian Scriptures at that time. I'm talking shortly after the Christian community first began to form. The Gospels weren't written, Paul's letters weren't written, and so instead of taking a New Testament lesson as we do, what they undoubtedly did was to start telling different things they remembered about Jesus -- something that had impressed them or moved them or inspired them. They would share their various experiences, but as Bishop Untener pointed out, probably one of the things that a lot of the time they would recount would be the Passion -- the suffering and death of Jesus that we just heard. We know that they probably did this many times because these accounts appear in all four Gospels, and they follow pretty much the same format. They must have, in an oral tradition, begun to be formed and put into kind of a set way in the very beginning.
But you might ask yourself, "Why would they focus on this worst part of the message of Jesus?" -- the message that he spoke but that also proclaimed by how he acted. Bishop Untener says it's probably because they knew the ending. They knew that Jesus was treated with such contempt, that he was rejected by his own family even, but they also knew that Jesus was raised from the dead.
The leaders of the religious community were the ones who hated him perhaps most of all and plotted and made sure the terrible execution was carried out. They remembered all of that but then they also knew that Jesus was raised from the dead. All that suffering, all those terrible things that happened to him were transformed because he responded only with love. Jesus entered into new life and as he had proclaimed, "When I am lifted up, I will draw all people to myself." His extraordinary example of love carried out in that ugly execution on the cross transformed everything. The worst thing that could happen to him, the worst suffering, the worst rejection, the worst humiliation, were all transformed because he responded only with love. He was raised from the dead and God affirmed the way of Jesus by raising him from the dead. Thus, as we heard in the second lesson today, "at the name of Jesus every knee shall bow, on the earth, below the earth, above the earth, and proclaim Jesus Christ as Lord." Everything was transformed because of how Jesus had acted, and God's response was to bring new life, fullness of life, everlasting joy and peace -- the reign of God made possible.
And so as we try to understand what the first Christians did and why they concentrated on and retold the story of his death so often when they gathered together, we can begin to understand how, in our own lives, when terrible things happen, no matter what it might be, they can be transformed, these terrible things, through God's power, through love.
Don't miss a homily
To receive an e-mail notice when The Peace Pulpit is posted every week, sign up here.
Click on the link at the top right of this page to send the column to a friend or colleague.
In the last week or so, I read for a second time a book that was written many years ago back in 1956, the book called Night by Elie Wiesel. This is an account of his being in a concentration camp, seeing his mother taken off to be killed and his sister and then his father eventually dying in the camp while he survived. But one of the things he recounts in the book is one occasion when a teenage boy, because he had broken one of the rules of the camp, was hanged and they made all the prisoners walk by and look at this young man hanging there in the gallows, his tongue out in agonized death. And somebody said, "Where is God? Where is God at a time like this?" They must have asked that question many times in that camp. Where is God? But then some would answer, "God is on that gallows." And that's true. God was present there in that young man. And as ugly and as terrible as that was, even that kind of evil can be and will be transformed because of what Jesus has done, how Jesus has given himself over to death, even the ignominious death of the cross and responded with love so that that love could transform the evil, the hatred, the violence -- transform it into goodness, into love.
That's the promise that we receive through Jesus: No matter what happens to us, if we are rejected as Jesus was, sometimes by our families perhaps, or by the church in a way. My experience with so many of the survivors of sex abuse is that they are being rejected by the church. This to me is a terrible evil but that too can be transformed as they try to respond as Jesus did, with love. See, no matter what happens to us, no matter if we have to suffer abuse, insult, humiliation, physical suffering, pain, illness, all of it, any of it can be transformed, by love.
In writing to that church at Philippi, Paul told them, "Have this mind in you which was in Christ Jesus." You have the mind, the attitude, the heart, the spirit of Jesus -- that's what we're called to do now as we hear this account of the terrible sufferings of Jesus and his ignominious death on the cross. We're called to have the same mind, the same attitude, the same spirit as Jesus. So that whatever happens to us, if we can respond as Jesus did, with love, with compassion, with concern for others as he always demonstrated, then anything that happens to us, terrible as it might seem at the moment, we can be sure we'll be transformed by God as we respond with love. Through our experience, just as Jesus, we'll come to a new life, to a fuller life, a more joyful, a more peace-filled life.
How do we try or bring it about that we can have that mind, the attitude, the heart of Jesus? Well, I think we must listen deeply to the first lesson today where that servant of Yahweh says, "Morning after morning, God wakes me to hear, to listen, like a disciple. God has opened my ears." That's what we must do. Morning after morning, let God open our ears so that we can listen deeply to God, follow God's way and accept God's will deeply and completely. We can become a disciple, a learner of the ways of God. As we do that, surely we will begin to have the mind, the heart, the attitude of Jesus and no matter what happens to us, whatever suffering we're asked to undertake, whatever we give of ourselves out of love for others, everything we do and even the worst things that happen to us will be transformed through God's overwhelming love, and we will share the new and fuller life of Jesus.
In the name of the Father, and of the Son, and of the Holy Spirit. Amen.
*Editor's Note: The "Little Black Books" that Bishop Gumbleton mentions are produced in the Diocese of Saginaw, Michigan. During his tenure as bishop of the Saginaw, Bishop Ken Untener wrote inspirational passages based on Scripture for each day of special seasons of the Liturgical Church year, Advent, Lent, Easter. The name of each small book comes from the color of its simple cover: black, blue or white. They became so popular that parishes, religious orders, and other folks from beyond the diocese began ordering them. Bishop Untener died March 27, 2004, after a short struggle with cancer. In his honor and memory, his friends in the diocese continue to publish these meditation booklets. To order these books, visit the Web site for the Diocese of Saginaw.