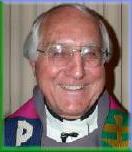 Thomas J. Gumbleton
Auxiliary Bishop of the Archdiocese
of Detroit, Michigan *



Acts 10:34, 37-43
Opening his mouth, Peter said: "I most certainly understand now that God is not one to show partiality, ...


...

you yourselves know the thing which took place throughout all Judea, starting from Galilee, after the baptism which John proclaimed. You know of Jesus of Nazareth, how God anointed Him with the Holy Spirit and with power, and how He went about doing good and healing all who were oppressed by the devil, for God was with Him. We are witnesses of all the things He did both in the land of the Jews and in Jerusalem They also put Him to death by hanging Him on a cross. God raised Him up on the third day and granted that He become visible, not to all the people, but to witnesses who were chosen beforehand by God, that is, to us who ate and drank with Him after He arose from the dead. And He ordered us to preach to the people, and solemnly to testify that this is the One who has been appointed by God as Judge of the living and the dead. Of Him all the prophets bear witness that through His name everyone who believes in Him receives forgiveness of sins."

Colossians 3:1-4
Therefore if you have been raised up with Christ, keep seeking the things above, where Christ is, seated at the right hand of God. Set your mind on the things above, not on the things that are on earth. For you have died and your life is hidden with Christ in God. When Christ, who is our life, is revealed, then you also will be revealed with Him in glory.

John 20:1-9
Now on the first day of the week Mary Magdalene came early to the tomb, while it was still dark, and saw the stone already taken away from the tomb. So she ran and came to Simon Peter and to the other disciple whom Jesus loved, and said to them, "They have taken away the Lord out of the tomb, and we do not know where they have laid Him." So Peter and the other disciple went forth, and they were going to the tomb. The two were running together; and the other disciple ran ahead faster than Peter and came to the tomb first; and stooping and looking in, he saw the linen wrappings lying there; but he did not go in. And so Simon Peter also came, following him, and entered the tomb; and he saw the linen wrappings lying there, and the face-cloth which had been on His head, not lying with the linen wrappings, but rolled up in a place by itself. So the other disciple who had first come to the tomb then also entered, and he saw and believed. For as yet they did not understand the Scripture, that He must rise again from the dead.


* A longtime national and international activist in the peace movement, Bishop Gumbleton is a founding member of Pax Christi USA and an outspoken critic of the sanctions against Iraq.
He has appeared on numerous radio and television programs, and has published numerous articles and reports.
* Scripture texts in this work are in modified form from the American Standard Version of the Bible and are available as part of the public domain.
For your convenience, the Scripture texts, as they appear in the Lectionary for Mass for Use in the Dioceses of the United States, second typical edition, Copyright ©1998, 1997, 1970 Confraternity of Christian Doctrine, Washington, D.C., may be found at the website of the United States Conference of Catholic Bishops (USCC).
http://www.usccb.org/nab/
**The Web link to Pax Christi is provided as a service to our readers.
God is good! (Parishioners reply, "All the time.") Do we really believe that? Let's hear. God is good. (Everyone says together, "All the time!") And on Easter we know that it's true -- God is good and good all the time. As we try to enter into this mystery of the resurrection of Jesus and what it meant for him, what it means for us, surely the one thing we can say with confidence is that it shows how good God is.

Dear Reader of Peace Pulpit,
We need your help. We are pleased to make available -- at no charge -- Peace Pulpit. But we cannot do all we need to do without your financial assistance.
Please take a moment to consider contributing to the Friends of NCR campaign. National Catholic Reporter is a nonprofit organization. Contributions are tax-deductible in the United States.

Contributions may be sent to:
National Catholic Reporter
115 E. Armour Blvd.
Kansas City, MO 64111
USA
Make checks out to: NCR
If you wish, you may print a form for submitting your donation. You may also use this form for credit card donations.

OR
First of all to Jesus ... If we've been praying with the Little Black Book* during the season of Lent, I'm sure that we feel close to Jesus. We feel like we know Jesus better than we did before. Jesus really becomes our friend and it was so painful then to experience, together with the disciples you actually were there, the terrible outcome of Jesus's life -- the horrific suffering that he underwent, torture that is almost unimaginable, and finally being put to death in that most ignominious way on the cross. So when that happened the first disciples thought it was all over. They must have begun, probably, to have some sense that "God failed." Jesus had pleaded with God to deliver him from this terrible experience.
This morning when those disciples went to the tomb and discovered that Jesus' body was gone they didn't know what had happened. But gradually they came to understand. And now they would cry out, I'm sure, "God is good," because of what God did for Jesus. It's spoken of very beautifully in the letter of St. Paul to the church of Philippi, which we listened to earlier in the season of Lent. "Jesus though he was divine did not think his divinity something to be clung to but emptied himself, became human, became a slave even, gave himself over to death, even the ignominious death of the cross." Then Paul says, "That is why God exalted him, gave him the name that outshines all names so that at the name of Jesus all knees should bend in heaven, on earth and among the dead. All tongues proclaim that Christ, Jesus is the Lord. God has made him Lord, son of God in power restored to the fullness of life forever." See, God is good to Jesus, our brother, our friend.
We rejoice because God is good to Jesus, but there's more to this Easter mystery. God is also good to us. In a few moments we will baptize a couple of our youngest members and this shows us how good God is. Last night at the ceremony you would have heard a passage from St. Paul to the church at Rome where Paul tells us what happens at baptism. Well, what happens to these youngsters, what has happened to all of us, we go down into the waters of baptism; we die. We're buried with Jesus, and then we rise up to new life, the very life of Jesus, the spirit of Jesus within us. See we could speak to God within our own spirit, be in touch with God living within us. God is good to us because God lets us share in the risen life of Jesus. Easter is not just something for Jesus. It's a gift to all of us. The very life of God in Jesus is given to us to nurture, to strengthen; to grow in. And God is good to all of us.
The goodness of God is shown in today's first lesson where Peter, by this time a few weeks after Easter. Remember in the Gospel, he had left -- gone home -- he didn't know what had happened. But now, he is aware that Jesus is alive and so he's ready to preach his good news. And he goes to the home of the centurion, a Roman soldier, an officer of the occupying army and enters into a home that he would have been forbidden to enter in to according to the Jewish law and he proclaims the good news. In the Acts of the Apostles -- you didn't hear it read today but shortly after Peter preached what he heard -- St. Luke tells us that Peter was still speaking when the Holy Spirit came upon all who listened to the word, and the believers of Jewish origin who had come with Peter were amazed. Why? God gives and pours out the Holy Spirit on foreigners also. For indeed this happened. They heard them speaking in tongues and praising God. So Peter carries this good news, and God is good to Cornelius, the Roman centurion, his family and his friends and pours forth the spirit upon them.
Don't miss a homily
To receive an e-mail notice when The Peace Pulpit is posted every week, sign up here.
Click on the link at the top right of this page to send the column to a friend or colleague.
But when we reflect on this and come to understand how good God is to us, because God has ratified everything Jesus has stood for by raising him from the dead, then we must also begin to understand that God is calling us to change our lives because that spirit of Jesus is alive within us now. We have to live according to the way of Jesus. God not only ratified Jesus but ratified all that Jesus stood for by raising him from the dead. The Jesus who preached nonviolence, who preached love of enemy and who did it, the Jesus who was always reaching out in service to others and teaching us, "Whatever you do to the least of my brothers and sisters you do to me," the Jesus who gave himself totally in sharing of himself and of all his goods and urges his followers, "Share what you have so everybody has enough.".... That message of Jesus we have to begin to live. In a way I think this might be true: I think we're more ready to accept the fact that Jesus was raised from the dead than we are ready to accept the other part of this truth, that the resurrection means we have to follow the way of Jesus, that God ratified that way of Jesus by raising him from the dead.
Oh yes, we will rejoice, "Jesus is risen! Alleluia!" but are we also ready to say, "I will change my life. I will live according to the way of Jesus." That's what Peter did. Before the resurrection, Peter would not have entered the home of a pagan. He would not have shared a meal with that pagan. He was ready to change everything. And what about Cornelius? He was a Roman soldier, part of the occupying army -- he now follows Jesus. He gives up his career. He has to. He totally changes his life. Are we ready to say yes to God? We're saying yes to the risen Jesus but are we ready to say yes to all that Jesus stands for?
And I suggest a rather challenging current event that we might ask ourselves about. For the last couple of weeks there has been a trial going on of Zacharias Moussaoui. I'm sure you probably have heard about it. The jury first had to answer the question, "Is he responsible for any of the deaths at the World Trade Center by not sharing information that he had when he was arrested by the FBI before that event happened?" Unanimously the jury said, "Yes, he is responsible." Now they are deliberating, "Should he get life in prison or should he be executed?" Now what would Jesus do, the Jesus who says you must love your enemy? That means even Zacharias Moussaoui. That may be hard for us. Obviously, it's very hard for the families who lost loved ones at the World Trade Center. But the only way we're going to change our world is if we begin to follow the way of Jesus.
There's a saying that "Violence ends where love begins." Jesus showed us that when he died on the cross. He accepted all the violence, absorbed the hatred and loved in response. Violence ends where love begins. And this is what we must come to understand. It means changing our attitude, changing our thinking in dramatic and very deep ways. The Easter mystery -- the death, the resurrection, the new life of Jesus -- that we share in today in a very special way. Will we become aware of how we share that risen life of Jesus? That Easter mystery calls us to change our lives radically and deeply.
I hope and pray for myself, for all of us, and ask you to pray too that we may be converted deeply to the way of Jesus. Then we really will be celebrating all that Easter stands for, all that Easter is, all that the risen Jesus is and stands for. Probably then, more than we ever have before, we will know God is good all the time. Say it: "God is good all the time."
So with that Happy Easter and good prayers.
*Editor's Note: The "Little Black Books" that Bishop Gumbleton mentions are produced in the Diocese of Saginaw, Michigan. During his tenure as bishop of the Saginaw, Bishop Ken Untener wrote inspirational passages based on Scripture for each day of special seasons of the Liturgical Church year, Advent, Lent, Easter. The name of each small book comes from the color of its simple cover: black, blue or white. They became so popular that parishes, religious orders, and other folks from beyond the diocese began ordering them. Bishop Untener died March 27, 2004, after a short struggle with cancer. In his honor and memory, his friends in the diocese continue to publish these meditation booklets. To order these books, visit the Web site for the Diocese of Saginaw.