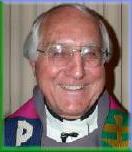 Thomas J. Gumbleton
Auxiliary Bishop of the Archdiocese
of Detroit, Michigan *



Acts 2:14, 36-41
But Peter, taking his stand with the eleven, raised his voice and declared to them: "Men of Judea and all you who live in Jerusalem, let this be known to you and give heed to my words." "Therefore let all the house of Israel know for certain that God has made Him both Lord and Christ--this Jesus whom you crucified." Now when they heard this, they were pierced to the heart, and said to Peter and the rest of the apostles, "Brethren, what shall we do?" Peter said to them, "Repent, and each of you be baptized in the name of Jesus Christ for the forgiveness of your sins; and you will receive the gift of the Holy Spirit. For the promise is for you and your children and for all who are far off, as many as the Lord our God will call to Himself." And with many other words he solemnly testified and kept on exhorting them, saying, "Be saved from this perverse generation!" So then, those who had received his word were baptized; and that day there were added about three thousand souls.

1 Peter 2:20-25
For what credit is there if, when you sin and are harshly treated, you endure it with patience? But if when you do what is right and suffer for it you patiently endure it, this finds favor with God. For you have been called for this purpose, since Christ also suffered for you, leaving you an example for you to follow in His steps, who committed no sin, nor was any deceit found in his mouth; and while being reviled, He did not revile in return; while suffering, He uttered no threats, but kept entrusting Himself to Him who judges righteously; and He Himself bore our sins in His body on the cross, so that we might die to sin and live to righteousness; for (J)by His wounds you were healed. For you were continually straying like sheep, but now you have returned to the Shepherd and Guardian of your souls.

John 10:1-10
"Truly, truly, I say to you, he who does not enter by the door into the fold of the sheep, but climbs up some other way, he is a thief and a robber. But he who enters by the door is a shepherd of the sheep. To him the doorkeeper opens, and the sheep hear his voice, and he calls his own sheep by name and leads them out. When he puts forth all his own, he goes ahead of them, and the sheep follow him because they know his voice. A stranger they simply will not follow, but will flee from him, because they do not know the voice of strangers." This figure of speech Jesus spoke to them, but they did not understand what those things were which He had been saying to them. So Jesus said to them again, "Truly, truly, I say to you, I am the door of the sheep. All who came before Me are thieves and robbers, but the sheep did not hear them. I am the door; if anyone enters through Me, he will be saved, and will go in and out and find pasture. The thief comes only to steal and kill and destroy; I came that they may have life, and have it abundantly."


* A longtime national and international activist in the peace movement, Bishop Gumbleton is a founding member of Pax Christi USA and an outspoken critic of the sanctions against Iraq.
He has appeared on numerous radio and television programs, and has published numerous articles and reports.
* Scripture texts in this work are in modified form from the American Standard Version of the Bible and are available as part of the public domain.
For your convenience, the Scripture texts, as they appear in the Lectionary for Mass for Use in the Dioceses of the United States, second typical edition, Copyright © 1998, 1997, 1970 Confraternity of Christian Doctrine, Washington, D.C., may be found at the website of the United States Conference of Catholic Bishops (USCC).
http://www.usccb.org/nab/
** The Web link to Pax Christi is provided as a service to our readers.