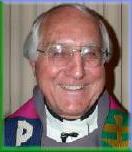 Thomas J. Gumbleton
Auxiliary Bishop of the Archdiocese
of Detroit, Michigan *



Acts 4:32-35
And the congregation of those who believed were of one heart and soul; and not one of them claimed that anything belonging to him was his own, but all things were common property to them. And with great power the apostles were giving testimony to the resurrection of the Lord Jesus, and abundant grace was upon them all. For there was not a needy person among them, for all who were owners of land or houses would sell them and bring the proceeds of the sales and lay them at the apostles' feet, and they would be distributed to each as any had need.

1 John 5:1-6
Whoever believes that Jesus is the Christ is born of God, and whoever loves the Father loves the child born of Him. By this we know that we love the children of God, when we love God and observe His commandments. For this is the love of God, that we keep His commandments; and His commandments are not burdensome. For whatever is born of God overcomes the world; and this is the victory that has overcome the world--our faith. Who is the one who overcomes the world, but he who believes that Jesus is the Son of God? This is the One who came by water and blood, Jesus Christ; not with the water only, but with the water and with the blood It is the Spirit who testifies, because the Spirit is the truth.

John 20:19-31
So when it was evening on that day, the first day of the week, and when the doors were shut where the disciples were, for fear of the Jews, Jesus came and stood in their midst and said to them, "Peace be with you." And when He had said this, He showed them both His hands and His side The disciples then rejoiced when they saw the Lord. So Jesus said to them again, "Peace be with you; as the Father has sent Me, I also send you." And when He had said this, He breathed on them and said to them, "Receive the Holy Spirit. If you forgive the sins of any, their sins have been forgiven them; if you retain the sins of any, they have been retained." But Thomas, one of the twelve, called Didymus, was not with them when Jesus came. So the other disciples were saying to him, "We have seen the Lord!" But he said to them, "Unless I see in His hands the imprint of the nails, and put my finger into the place of the nails, and put my hand into His side, I will not believe." After eight days His disciples were again inside, and Thomas with them. Jesus came, the doors having been shut, and stood in their midst and said, "Peace be with you." Then He said to Thomas, "Reach here with your finger, and see My hands; and reach here your hand and put it into My side; and do not be unbelieving, but believing." Thomas answered and said to Him, "My Lord and my God!" Jesus said to him, "Because you have seen Me, have you believed? Blessed are they who did not see, and yet believed." Therefore many other signs Jesus also performed in the presence of the disciples, which are not written in this book; but these have been written so that you may believe that Jesus is the Christ, the Son of God; and that believing you may have life in His name.


* A longtime national and international activist in the peace movement, Bishop Gumbleton is a founding member of Pax Christi USA and an outspoken critic of the sanctions against Iraq.
He has appeared on numerous radio and television programs, and has published numerous articles and reports.
* Scripture texts in this work are in modified form from the American Standard Version of the Bible and are available as part of the public domain.
For your convenience, the Scripture texts, as they appear in the Lectionary for Mass for Use in the Dioceses of the United States, second typical edition, Copyright ©1998, 1997, 1970 Confraternity of Christian Doctrine, Washington, D.C., may be found at the website of the United States Conference of Catholic Bishops (USCC).
http://www.usccb.org/nab/
**The Web link to Pax Christi is provided as a service to our readers.
I don't do it every year on this Sunday, but some of you may remember that sometimes when this Gospel is read I like to put up a defense for Thomas. You know my name is Thomas, and I always find it strange that we get the nickname, I'm sure you all know it. What do you call Thomas? (Congregation responds: Doubting Thomas!) Yes, that's right. Yet in the Gospel, Thomas makes the most profound act of faith and declares it boldly and openly beyond anything any other disciple is ever recorded as doing.

Dear Reader of Peace Pulpit,
We need your help. We are pleased to make available -- at no charge -- Peace Pulpit. But we cannot do all we need to do without your financial assistance.
Please take a moment to consider contributing to the Friends of NCR campaign. National Catholic Reporter is a nonprofit organization. Contributions are tax-deductible in the United States.

Contributions may be sent to:
National Catholic Reporter
115 E. Armour Blvd.
Kansas City, MO 64111
USA
Make checks out to: NCR
If you wish, you may print a form for submitting your donation. You may also use this form for credit card donations.

OR
He's "Believing Thomas." That's what we should remember, but it's like us, I think, so often we know something negative about a person and we remember that. We don't always think of all the positive things. So there's a good lesson there: Think positively about others not whatever is negative. We all have negatives, but think about the positive things. And so I hope from now on you will think of Thomas as "Believing Thomas" -- the strongest belief of any of the disciples at least as expressed.
But now it's important to reflect on today's scriptures. I thought maybe the best way to begin a reflection is to remember something that St. Paul wrote to the church at Rome when he was trying to impress upon them the great blessing that comes to us through the resurrection of Jesus and then because of that resurrection through our baptism. Paul tells the church at Rome, "The love of God, the very love of God is poured into our hearts through the Holy Spirit who is given to us." The love of God poured into our hearts, and if we're open to this, we're overwhelmed with this love of God now present within us through that spirit of Jesus who is given to us. That's what happened to those first disciples. Jesus comes to them that evening where they're in hiding, a bunch of cowardly runaways is what they were. They had basically, except for a few women, they had abandoned Jesus, let him be handed over to his enemies, tortured and executed. They were all gone and now they're in hiding.
Well, Jesus comes right into their midst, and what's the first thing he says to them? It's beautiful. "Peace be with you." No matter what they've done, no matter how they've failed, all that Jesus wants for them is for them to be reconciled with him and with God. So he offers them and bestows upon them a peace that he had promised at the last supper: "My peace I will give you and it's a peace that the world cannot take away." It's a peace you will never lose if you really open yourself to it. That's what he gives to them Easter Sunday night -- peace, forgiveness, reconciliation. He draws them back to himself.
Then, John tells us: "He breathed on them." This is a very significant action on the part of Jesus. When we read the scriptures we wouldn't catch this, but scriptures scholars tell us that that expression used here in the Gospel of John was used only one other time in the whole Torah, the books of the Old Testament. "He breathed on them" is used when, in Genesis, God is described as drawing into creation human life. The way it's described in Genesis, of course, is God formed the figure of a person out of clay and then God breathed on that figure and it becomes alive! Becomes a living creature filled with the spirit of God! And now Jesus does the same thing for those disciples. They were dead with their sinfulness and their fear and their abandonment of Jesus. He breathes on them, makes them a new creation, and then gives them a command. We must listen to this because it's what he says to us as he gives us his Holy Spirit this morning and as he has given us his Holy Spirit through our baptism and confirmation: "As God has sent me I send you."
The love of God was poured into our hearts through the spirit who was given to us. We become a new creation. But then as Jesus says, "As God sent me I send you." To do what? Well obviously, I think, first of all to do what he did when he first came to those disciples -- bring about reconciliation, share peace, spread peace. How? By being willing to forgive, being the first to forgive as Jesus did. I'm sure every one of us has situations in our life where we're offended and we hold some kind of resentment and anger for a while. Jesus says, "Don't. Forgive. Always be the one to reach out and to reconcile, forgive, bring peace and restrain evil."
See, Jesus says to us -- and itís to the whole community, itís not to certain ordained people -- the whole community has this power to forgive and the power to restrain evil. As I was thinking about restraining evil -- Iím reading a book right now about Dr. King called At Canaan's Edge. It's about the U.S. in the last three years of his life. Often, especially during that time, King restrained evil by reaching out in love! The nonviolent marches, the nonviolent sit-ins, reaching out to try to embrace white brothers and sisters and then white brothers and sisters joined him and the other African-Americans in the movement and they restrained evil, the evil of racism. We haven't destroyed it, but we restrained it at that time and changed our country dramatically.
Don't miss a homily
To receive an e-mail notice when The Peace Pulpit is posted every week, sign up here.
Click on the link at the top right of this page to send the column to a friend or colleague.
We have this power because the spirit of Jesus is poured into us and the love of God is poured into our hearts so everyone of us can spread peace, give peace, be quick to forgive, restrain evil.
As we go on to think about how that first community began to live out what Jesus said, we have other ways of reflecting on what we as a community of disciples now must do, how we are supposed to act. One of the things that we might not notice immediately, but I think it's very important at this time in our own history in the United States, is how the disciples treated Thomas. Remember it was on Easter Sunday. He wasn't there, but they all experienced Jesus. They gave witness to it fervently and vigorously and they told him, "We've seen the Lord! We've really seen him. He's alive!" Thomas says, "No. I won't believe." He was a dissenter. He rejected what the whole church was saying but did they push him away? No! They kept him as part of the community. Now that's a lesson I think we really need to learn in our church today, because in so many ways we have this spirit of -- Well, some people say, "We're the real church. Those others aren't faithful. Put them back. Don't let them go to Communion." It happened so clearly during the last election period. People were told, "You're not welcome at Communion." That's not the way the first community acted.
Truly Thomas was dissenting from what the whole church said, what the whole church was witnessing to, and they still welcomed him, made him part of their whole community. So how can we ever push anybody away for whatever reason? Because we think they're not faithful enough Christians? That's not a good reason. It wasn't for those first disciples. Or we think they're failing to live up to what God asks of all of us? Well, who of us isn't a sinner? All of us are forgiven sinners, so we never would turn somebody away because we think they're a sinner. Or because of different ethnicity, different race, different sexual orientation. There are various reasons why sometimes we push people away, but that's not the way the first community acted. It's so clear in today's Gospel, isn't it? When you're a community of disciples of Jesus with the love of God poured into your hearts through the Holy Spirit, you're a community who loves everyone, embraces everyone, draws everyone in. That's the kind of community we must be, continue to be, to become even more faithful in that.
And finally, what we learn from that first Christian community, as they're filled with the spirit of Jesus, they began to act the way he acted with regards to possessions. See Jesus had a very keen awareness that everything God made, all of creation was made for all and not for a few and so Jesus was not someone who possessed things tightly to himself. Jesus was always quick to share. There are different examples in his life. When he was in the desert, and there were thousands of hungry people but only five loaves and two fishes, he said, "Share them. See what happens. Share them. Give away what you have even if it's the last piece you have. Give it away. Don't hang on to it." That first community, that's how they lived. Wouldn't it be a glorious and marvelous thing if we could say, in this the richest country in the world, there's no one in need among us? That first community was able to say that. No one in need. Now they weren't rich people. They were poor, but they made sure no one was in need. They knew one another. They loved one another. They knew what their needs were and they responded. We must become that kind of community too-- within ourselves, as a church but as the church reaches out to the world around us, we must lead the way in showing that what we have, we who are so wealthy in this world, is all a gift from God. And it must be shared. We need to develop that spirit, each of us individually, all of us as a community of disciples, and then lead the way for our country to do the same thing -- find a way so that no one will be in need in this world where God has given enough for everyone.
That's a pretty good program for us to follow isn't it? It's quite difficult, all of this, but remember that the love of God is poured into your heart. The love of God, God who is love. That love is in your heart! Through the spirit of Jesus whom you received at baptism and confirmation. So every one of us can now follow this way of Jesus, because it will be Jesus living within us who will show us how to bring peace, how to be reconciling people, forgiving people, how to be generous people, sharing people, compassionate people. Open ourselves, that's what we must do, open to the love of God that's in our hearts and live according to the spirit of Jesus who has been given to us.
In the name of the Father and of the Son and of the Holy Spirit. Amen.