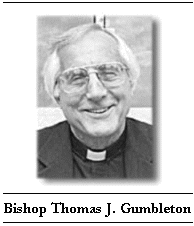 Auxiliary Bishop of the Archdiocese
of Detroit, Michigan *
Acts 1:12-14
When Jesus had said these things, as they were looking, he was taken up, and a cloud received him out of their sight. While they were looking steadfastly into the sky as he went, behold, two men stood by them in white clothing, who also said, "You men of Galilee, why do you stand looking into the sky? This Jesus, who was received up from you into the sky will come back in the same way as you saw him going into the sky." Then they returned to Jerusalem from the mountain called Olivet, which is near Jerusalem, a Sabbath day's journey away. When they had come in, they went up into the upper room, where they were staying; that is Peter, John, James, Andrew, Philip, Thomas, Bartholomew, Matthew, James the son of Alphaeus, Simon the Zealot, and Judas the son of James. All these with one accord continued steadfastly in prayer and supplication, along with the women, and Mary the mother of Jesus, and with his brothers.

1 Peter 4:13-16
But because you are partakers of Christ's sufferings, rejoice; that at the revelation of his glory you also may rejoice with exceeding joy. If you are insulted for the name of Christ, blessed are you; because the Spirit of glory and of God rests on you. For let none of you suffer as a murderer, or a thief, or an evil doer, or as a meddler in other men's matters. But if one of you suffers for being a Christian, let him not be ashamed; but let him glorify God in this matter.

John 17:1-11a
Jesus said these things, and lifting up his eyes to heaven, he said, "Father, the time has come. Glorify your Son, that your Son may also glorify you; even as you gave him authority over all flesh, he will give eternal life to all whom you have given him. This is eternal life, that they should know you, the only true God, and him whom you sent, Jesus Christ. I glorified you on the earth. I have accomplished the work which you have given me to do. Now, Father, glorify me with your own self with the glory which I had with you before the world existed. I revealed your name to the people whom you have given me out of the world. They were yours, and you have given them to me. They have kept your word. Now they have known that all things whatever you have given me are from you, for the words which you have given me I have given to them, and they received them, and knew for sure that I came forth from you, and they have believed that you sent me. I pray for them. I don't pray for the world, but for those whom you have given me, for they are yours. All things that are mine are yours, and yours are mine, and I am glorified in them. I am no more in the world, but these are in the world, and I am coming to you.


* A longtime national and international activist in the peace movement, Bishop Gumbleton is a founding member of Pax Christi USA and an outspoken critic of the sanctions against Iraq.
He has appeared on numerous radio and television programs, and has published numerous articles and reports.


** Scripture texts in this work are in modified form from the American Standard Version of the Bible and are available as part of the public domain.
For your convenience, the Scripture texts, as they appear in the Lectionary for Mass for Use in the Dioceses of the United States, second typical edition, Copyright © 1998, 1997, 1970 Confraternity of Christian Doctrine, Washington, D.C., may be found at the website of the United States Conference of Catholic Bishops (USCC).
http://www.nccbuscc.org/nab/index.htm
I'm sure that each of us, at one time or another, has seen the depiction of what we just heard from the Act of the Apostles where Luke describes Jesus ascending into heaven. But I have to tell you that that's not the way it happened [laughter]. And I hope you're not disappointed or shocked. But the ascension, like the resurrection of Jesus that we talked about seven weeks ago, is an event you really cannot put into words very well. So we have tried to image the deep meaning of the ascension in some kind of way that we could visualize it. And that happened right from the very beginning. Luke describes it this way and how Jesus spent forty days among the disciples and so on. Whereas in John's gospel, it all happened on Easter Sunday - Jesus comes back and gives them the Holy Spirit. We have Easter, Ascension, and Pentecost all in one.

And so we have to understand that those who were writing about these events were trying to describe the indescribable. And just to back up what I'm saying here, I have some words of a scripture scholar, John Donohue, who tells us in his commentary on the feast, "In one of the annual preached retreats that I was subjected to as a young Jesuit, the director presented a vivid picture of the ascension, long before the age of shuttle launchings. He described, 'As Jesus rose heavenward, he saw Jerusalem, Nazareth, Galilee, Asia minor, Greece and finally Rome,' like Jesus is up there, looking down over all of this." And John Donohue says, "This is precisely what the feast is not about." Its not about Jesus rising above the earth and being able to look down as our space pilots do when they are traveling around in space and in orbit above the earth. They look back and they see the beautiful earth below them. That's not what the ascension is.

John Donohue goes on to say, "Jesus' exaltation is celebrated and the end of his earthly existence as a prelude of the gift of the spirit. This is the deeper meaning of the ascension. What we are really celebrating today is what we would call the exaltation of Jesus being raised up before us as a model -- and being, in a sense, in his humanness, fulfilled and filled with the fullness of God's life.

And when you want to try to understand the deep meaning of the ascension and what we're celebrating, the exaltation of Jesus, there's probably no better place to go than the letter of Paul to the church at Philippi. Paul says about Jesus, "That Jesus, though he was God, did not think his divinity something to be clung to; but emptied himself, let go of his divineness and entered into human history, became fully human, subject to death and gave himself even to the ignominious death of the cross."

And then Paul says, "And, therefore, God exalted him and gave him the name which outshines all names, so that at the name of Jesus all knees should bend in heaven on earth and among the dead, and all tongues proclaim that Christ Jesus is the Lord. That God has taken Jesus, who was one like us in everything except sin, who had emptied himself of his divinity in order to become fully like us, to enter into death, even that horrible, ignominious shameful death of the cross."

Because Jesus let go of everything, he could be filled with the fullness of God and be raised up. And we image that then as Jesus being lifted up into heaven. But we have to try to understand the deeper meaning of what Jesus did and what we are trying to do as we honor him on this feast day of the ascension.

Perhaps, I can put it this way. You know that part of the Eucharistic prayer where we say, "Jesus came to proclaim the good news of salvation, the good news of God's life being shared with us. And Jesus showed us the way to that life, the only way -- the way of love.

What is happening today on the feast of the ascension is Jesus being raised up because he let go of everything and was willing to love, even when he was being put to death. He was reaching out in love and forgiveness. He showed us then the way to the fullness of life, the way to God. And it's the only way.

When Jesus hung there on the cross, violence was being done to him. Hatred was being spewed forth upon him, but it stopped right there. He absorbed it and responded with love and forgiveness. And, therefore, God has raised him up. This is what we have to try to understand. We're called to be raised up with Jesus, the good news of salvation. God's love is to be shared with us and we are to share that love forever in heaven. But only if we can follow the way of Jesus, which is the way of love, the way of forgiveness and reconciliation, the way of returning love for hate, just as he did.

But we live in a world where that is not very much accepted. Just today I read in the paper how the United States has once more determined that we're not going to ratify the test ban treaty about nuclear weapons and that we're going to develop new ones. So now Russia is planning to test nuclear weapons again. And we're getting right back into an arms race, where we'll try to outdo one another in developing the most destructive weapons that we can bring about.

That seems to be the way of the world, isn't? We always want to return violence for violence, hate for hate, and so on. And it's very discouraging when you hear what Jesus did and how he shows us the way to life and invites us to be with him. But we live in a world where that doesn't seem to be happening. Although, there are exceptions and that's what we must look to today in order to give us inspiration and hope.

Here's one exception. I happened to come across a homily of Archbishop Oscar Romero that I read. It was preached on March 24, 1980. Here's what he said while standing at the altar: "This holy mass, this Eucharist, is clearly an act of faith. This body broken and blood shed for human beings, encourages us to give our body and blood up to the suffering and pain as Jesus did. Not for self, but to bring justice and peace to our people."

Archbishop Romero was saying that at the Eucharist, when we stand at the altar and we offer the body and blood of Jesus, we offer what he did on the cross when he died, reaching out in love to everybody. And he says, "That's what you and I have to do." And right after he preached those words, that was the day when a sniper entered the church and shot him to death. But he left the legacy that we must give up violence in order to bring justice and peace into our world.

Another hopeful sign. Just yesterday, I happened to talk with a young man who was telling me about his own sudden awareness about how you have to love your enemy. He said, "I never truly realized that before. But I was saying the Our Father and I said forgive us our trespasses as we forgive. It was like a light had gone off and I thought of the person I needed to forgive and to love. And it all became so clear."

Or another example that is so hopeful. Again, in the paper today, tomorrow they're going to start the trial for the last of the killers for an incident that happened back in 1963. Some of us remember when the church in Birmingham, Alabama, was bombed and four little girls who were about the age of our first communicants here today were killed. Now, almost 40 years later, finally, the person is going to be put on trial. And one of the mothers is quoted as saying, "You live through it, and if you can, you live above it. You can't waste a life hating people."

That's so wise and it's so like Jesus. You live above it and you can't waste your life hating people. You must respond in love. It's the only way to heal, to make whole, and to bring peace in to your own heart and into the world around us.

So as we celebrate the feast of the ascension, you think of Jesus being exalted at the right hand of God. It's really the fulfillment of everything he came to do and to be; to show us the way to life, everlasting life, the good news.

You and I are called to this, as we heard in that first lesson today, Jesus saying to those disciples, "You must be my witnesses -- from Jerusalem to Judea, to the ends of the earth."

So, in a way, what we have pictured in the ascension, Jesus looking down over the whole world, becomes true in us. If we are the witnesses of Jesus, we take his message to the ends of the earth. Through us, Jesus sees every place on this earth. And Jesus calls us to change every place, where there's violence and hatred and killing, into a place of love. So that all of us can be raised up with Jesus and exalted with him at God's right hand.

Even now, as we live our life on this earth, but certainly as the good news of that life, Jesus' promise for all of us becomes our reality and we live it in heaven.

You and I will be raised up with Jesus, exalted at the right hand of God, as we become his witnesses, carrying out his message here on earth. The violence ended with Jesus on the cross and it was responded to with love. When you and I live the same way, spread this message and are witnesses to Jesus, our whole world can be transformed.

The Feast of the Ascension is very important for us, if we understand it deeply and try to live it the way Jesus calls us to, as his witnesses to the end of the earth.

In the name of the Father, and of the Son, and of the Holy Spirit. Amen.