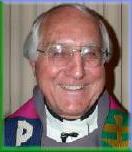 Thomas J. Gumbleton
Auxiliary Bishop of the Archdiocese
of Detroit, Michigan *
Exodus 24:3-8
When Moses came to the people and related all the words and ordinances of the LORD, they all answered with one voice, "We will do everything that the LORD has told us." Moses then wrote down all the words of the LORD and, rising early the next day, he erected at the foot of the mountain an altar and twelve pillars for the twelve tribes of Israel. Then, having sent certain young men of the Israelites to offer holocausts and sacrifice young bulls as peace offerings to the LORD, Moses took half of the blood and put it in large bowls; the other half he splashed on the altar. Taking the book of the covenant, he read it aloud to the people, who answered, "All that the LORD has said, we will heed and do." Then he took the blood and sprinkled it on the people, saying, "This is the blood of the covenant that the LORD has made with you in accordance with all these words of his."

Hebrews 9:11-15
Brothers and sisters: When Christ came as high priest of the good things that have come to be, passing through the greater and more perfect tabernacle not made by hands, that is, not belonging to this creation, he entered once for all into the sanctuary, not with the blood of goats and calves but with his own blood, thus obtaining eternal redemption. For if the blood of goats and bulls and the sprinkling of a heifer's ashes can sanctify those who are defiled so that their flesh is cleansed, how much more will the blood of Christ, who through the eternal Spirit offered himself unblemished to God, cleanse our consciences from dead works to worship the living God. For this reason he is mediator of a new covenant: since a death has taken place for deliverance from transgressions under the first covenant, those who are called may receive the promised eternal inheritance.

Mark 14:12-16, 22-26
On the first day of the Feast of Unleavened Bread, when they sacrificed the Passover lamb, Jesus' disciples said to him, "Where do you want us to go and prepare for you to eat the Passover?" He sent two of his disciples and said to them, "Go into the city and a man will meet you, carrying a jar of water. Follow him. Wherever he enters, say to the master of the house, 'The Teacher says, "Where is my guest room where I may eat the Passover with my disciples?"' Then he will show you a large upper room furnished and ready. Make the preparations for us there." The disciples then went off, entered the city, and found it just as he had told them; and they prepared the Passover.
While they were eating, he took bread, said the blessing, broke it, gave it to them, and said, "Take it; this is my body." Then he took a cup, gave thanks, and gave it to them, and they all drank from it. He said to them, "This is my blood of the covenant, which will be shed for many. Amen, I say to you, I shall not drink again the fruit of the vine until the day when I drink it new in the kingdom of God." Then, after singing a hymn, they went out to the Mount of Olives.


* A longtime national and international activist in the peace movement, Bishop Gumbleton is a founding member of Pax Christi USA and an outspoken critic of the sanctions against Iraq.
He has appeared on numerous radio and television programs, and has published numerous articles and reports.

* Scripture texts in this work are in modified form from the American Standard Version of the Bible and are available as part of the public domain.
For your convenience, the Scripture texts, as they appear in the Lectionary for Mass for Use in the Dioceses of the United States, second typical edition, Copyright © 1998, 1997, 1970 Confraternity of Christian Doctrine, Washington, D.C., may be found at the website of the United States Conference of Catholic Bishops (USCC).
http://www.usccb.org/nab/
** The Web link to Pax Christi is provided as a service to our readers.
Perhaps some of you noticed that the feast we celebrate today is now called the Feast of the Body and Blood of Jesus. We used to call it simply "Corpus Christi" or the "Body of Christ" but a few years after the Vatican Council, the name of the feast was changed. It might seem quite insignificant but, in fact, it is an important change. As we reflect on the scriptures, I hope the reason for this change becomes very clear to us and that we follow up on it.
When we called it Corpus Christi and celebrated the body of Christ, we thought mostly of the presence of Jesus in the Blessed Sacrament. That, of course, is a very important part of our Catholic faith: Jesus, the Son of God, is truly present in the bread we eat, in the bread we keep in the tabernacle; Jesus, the son of God, is here in our midst in a very special way under the appearance of bread and wine. And, of course, this reflects the very early convictions of the church about the Real Presence of Jesus.
John's gospel, which was written probably in the year 90 A.D. or so, emphasizes in a very powerful way Jesus' presence because Jesus was in a dispute with those to whom he was preaching who said, "How can this man give us his flesh to eat?"
Jesus replied to them, "Truly I say to you, if you do not eat the flesh of the Son of Man and drink his blood you have no life in you. Those who eat my flesh and drink my blood live with everlasting life because my flesh is really food and my blood is strength." Jesus makes it so clear he is present in the Blessed Sacrament.
Even earlier than the writing of John, Paul writing to the church at Corinth points out: "This is the tradition of the Lord that I received and that in my turn, I have handed on to you. The Lord Jesus, on the night he was delivered up, took bread and said: 'This is my body which is broken for you.' " And further on, Paul reminds them, "Therefore if anyone eats of the bread and drinks of the cup unworthily, you sin against the body and the blood of the Lord."
There is no question that our faith compels us to know that Jesus is present in that tiny piece of bread and in that cup of wine. Do we celebrate that truly?
As we reflect on this feast today we are asked to look at a different dimension of the Blessed Sacrament. That is highlighted when we read Mark's Gospel where Jesus says when he changes the wine in the cup into his blood: "Take this and drink. This is my blood; the blood of the covenant."
Covenant. That is the word that I hope we will reflect on now because when Jesus gave us this sacrament of his body and his blood, it wasn't just so that we could adore the Real Presence of God, Jesus, in the Blessed Sacrament. We put a lot of emphasis on that and that is correct. When we come to church we should be very reverent. When we pass the tabernacle, we bow or we genuflect because it is God who is present there.
But the covenant -- reflecting on this takes us back to recall what happened in the desert when Moses brought the people together and to renew the commitment they made with God on Sinai. He read the whole book of the Law, the Torah, and the people said, "We will obey this law of God, because we are God's people."
Then Moses performed a very symbolic but very easy to understand ritual. It is not common for us, of course, but for the chosen people it was something that meant very much to them. He set up an altar and the people were gathered around it and then they sacrificed a lamb. Moses, we are told, put the blood into a basin, and then he poured part of the blood on the altar and the rest he sprinkled on the people. He used the same blood. Now for those people -- and for us too, isn't it? -- blood is a very clear symbol of life, because if blood is poured out you die. Those people knew that blood was needed for life and so it became a sign of life to them.
So, when they were sprinkled with the same blood that God was sprinkled with -- the altar stands in for God -- it created a bond between them. They became truly God's people and God became their God. They said: "We will obey everything that God has told us because we are God's people." They were bound to this by that very powerful sign: sharing the same life of God.
But Jesus says of the cup that he raised up: "This is the cup of my blood, of the new covenant." Now we're not just sprinkled with that. We consume it. It becomes part of us. So the bond is even deeper. We are creating a covenant between God and ourselves, and we should be able to say as those chosen people said: "Whatever God tells us, we will do." Whatever Jesus tells us, we will do. We commit ourselves to become the disciples of Jesus and every time we receive the bread and the wine that have become the body and the blood of Jesus, we renew that commitment. When we say amen, we are saying yes to Jesus, yes to everything Jesus teaches. We say, "Yes, we are ready to change our lives, to follow him, to live according to his way."
Every time we receive the Blessed Sacrament, it should be a profound moment; when we take that same body and blood of Jesus into ourselves, we are bonded to God in a very deep way. We become God's people. We commit ourselves to following Jesus.
Something that is very important about this that I think we need to emphasize especially is that it isn't just each of us as an individual. It isn't just God and me. No. We do this together as God's people, as God's community. The bond is between God and each of us and all of us together. We become a community and we are connecting with everyone in this parish community, but we are also connecting with everyone in the whole Catholic community and the Christian community throughout the world. This bond makes us the people of God; permits us to act as God's people, to work for the transformation of the world as God's people. We do this as a whole community.
I have a sense that we need to strengthen our awareness of this: I don't come to church on Sunday just to fulfill an obligation. I don't come to church on Sunday just so I can feel closer to God. That is part of it, but we also come to church together on Sunday to deepen our community, to be one parish family, one people of God, located here in this place to do God's work.
Some of our young people are preparing for confirmation. We will celebrate with them next Sunday. Each of them writes a letter to me to indicate why he or she wants to be confirmed. I was very touched and pleased with the letter that one of them wrote to me, because it says so clearly that this young person has an understanding of what it means to become a confirmed disciple of Jesus, especially within a particular parish family. She tells me:
I am in the process of getting confirmed and I am willing to get confirmed to fully become a member of St. Leo's.

As a member of the community, I have participated in coming to the soup kitchen on Saturdays to lend a helping hand. I could have received Confirmation with my fellow classmates because I go to a Catholic school outside the parish but, instead, I wanted to be confirmed in my own church. Confirmation for me is another step closer to God and a better bond in our relationship. I am choosing to take God's invitation of faith and follow in God's footsteps. It will mean a lot to me to celebrate this decision and share in the experience with those in the St. Leo community.
This teenager has a clear understanding that she is becoming a part of the people of God established here in this church. I think that all of us can really learn from that example. It is important that we become members of a community of God's people, that we act together and that we strengthen those bonds of community, of love among us. When we do this, we can act far more effectively as God's people and change our world as Jesus wants us to do.
This goes not only for us in this parish community but for all of us throughout the church. We have to work at building up the whole Catholic church in this country. We have to have a deep concern for what is happening.
I know that all of you are aware that we are going through a terrible crisis in the church. This past week when the bishops were meeting in St. Louis this was the topic again, and the media has covered it very completely. It has been very hurtful to our church, very painful.
There is lots of suffering, lots of concern. But I can say this. To a certain extent we made some real progress at the bishops' meeting this week. We have clearly set forth guidelines that almost certainly will prevent the same kinds of things that have happened so tragically in the past. But we still haven't gone far enough, and this should be a concern to all of us who are the people of God, who belong to this community, who share in the covenant with God and with Jesus and his blood.
I have another letter that someone wrote to me from another part of the country. I received this before the bishops' meeting. She says:
I am hoping you will take a stronger stand against the injustice in the leadership of our own church. Last year you suggested the bishops should admit their mistakes and resign if those mistakes warrant their resignation.

I suggest that criminal negligence is more than a mistake, warrants more than an apology or plea-bargaining. In no other profession would high-ranking leaders remain in office after spreading the crime of child abuse across the country. In my opinion, the implosion of the Catholic church will continue as long as its leaders refuse to hold their peers accountable.

As a Catholic who is ashamed and embarrassed by the leadership of her church, I beg you to do something at this year's conference to show that the hierarchy is capable of practicing what they preach.
I'm not suggesting that we should be condemning all the bishops and yet I am saying this: All of us who belong to the Catholic church, to this community of God's people, should have a deep concern about what is happening. We can't let this crisis just go by and feel that we have resolved it now that we have set up ways to prevent some of the worst things from happening again.
We need a deeper reform of our community of the church. There are those who have organized in our country -- Voices of the Faithful is one group among many -- who are saying we need deep reform in our church so that all of us are accountable to one another; so that we really become a people of God who challenge one another. Bishop, clergy, laity, religious -- all of us in the church -- we need to be challenging one another.
As this woman wrote to me suggested, we need to be not just setting up ways to prevent something from happening again. We need to look more deeply: What went wrong in our church? How could this have ever come about? Where was the leadership lacking? What do we need to do to change that?
If we really understand that we are God's people through this covenant that we make because we receive the body and blood of Jesus every time we come to the Eucharist, we need to work together to reform our whole church. Then we will have a church where this kind of thing could never happen again. We can't just punish those who did it in the past, we need to find the reasons why it happened and try to change.
This is what it means to be part of God's people: that we care about one another in the most important ways possible, here within our parish family but also in our larger church.
This morning then I hope as we come forward to receive holy communion every one of us will be deeply aware that God is present in this sacrament. Jesus becomes our food and drink, and that is a profound blessing and a privilege. But I also hope we will be aware that when we say "Amen," we say: "I accept this covenant. I pledge myself to love all those in my community and to work for the building up of my community. And I pledge myself to follow the way of Jesus."
This is how we as a church will change our world and make it as close as possible to the reign of God.
In the name of the Father and of the Son and of the Holy Spirit.