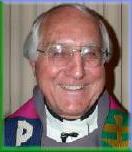 Thomas J. Gumbleton
Auxiliary Bishop of the Archdiocese
of Detroit, Michigan *



1 Kings 19:16b, 19-21
… and Jehu the son of Nimshi you shall anoint king over Israel; and Elisha the son of Shaphat of Abel-meholah you shall anoint as prophet in your place. So he departed from there and found Elisha the son of Shaphat, while he was plowing with twelve pairs of oxen before him, and he with the twelfth. And Elijah passed over to him and threw his mantle on him. He left the oxen and ran after Elijah and said, "Please let me kiss my father and my mother, then I will follow you." And he said to him, "Go back again, for what have I done to you?" So he returned from following him, and took the pair of oxen and sacrificed them and boiled their flesh with the implements of the oxen, and gave it to the people and they ate. Then he arose and followed Elijah and ministered to him.

Galatians 5:1, 13-18
It was for freedom that Christ set us free; therefore keep standing firm and do not be subject again to a yoke of slavery. For you were called to freedom, brethren; only do not turn your freedom into an opportunity for the flesh, but through love serve one another. For the whole Law is fulfilled in one word, in the statement, "You shall love your neighbor as yourself." But if you bite and devour one another, take care that you are not consumed by one another. But I say, walk by the Spirit, and you will not carry out the desire of the flesh. For the flesh sets its desire against the Spirit, and the Spirit against the flesh; for these are in opposition to one another, so that you may not do the things that you please. But if you are led by the Spirit, you are not under the Law.

Luke 9:51-62Luke 9:51-62
When the days were approaching for his ascension, he was determined to go to Jerusalem; and he sent messengers on ahead of him, and they went and entered a village of the Samaritans to make arrangements for him. but they did not receive him, because he was traveling toward Jerusalem. When his disciples James and John saw this, they said, "Lord, do you want us to command fire to come down from heaven and consume them?" But he turned and rebuked them, and said, "You do not know what kind of spirit you are of; for the Son of Man did not come to destroy men's lives, but to save them." And they went on to another village.


* A longtime national and international activist in the peace movement, Bishop Gumbleton is a founding member of Pax Christi USA and an outspoken critic of the sanctions against Iraq.
He has appeared on numerous radio and television programs, and has published numerous articles and reports.
* Scripture texts in this work are in modified form from the American Standard Version of the Bible and are available as part of the public domain.
For your convenience, the Scripture texts, as they appear in the Lectionary for Mass for Use in the Dioceses of the United States, second typical edition, Copyright © 1998, 1997, 1970 Confraternity of Christian Doctrine, Washington, D.C., may be found at the website of the United States Conference of Catholic Bishops (USCC).
http://www.usccb.org/nab/
** The Web link to Pax Christi is provided as a service to our readers.
During World War II in Germany, there was a group of Christians -- Lutherans and Evangelicals -- who began a resistance movement against Hitler. Very few Christians opposed the ideology of Nazism in the wars of Hitler. But these Christians saw that it was important to make a choice. You could not follow the ideology of Nazism and the ideology of Christianity. They were in direct conflict. One of them, Dietrich Bonhoeffer, wrote a series of reflections on the Sermon on the Mount, and he called it "The Cost of Discipleship". What it costs to be a disciple of Jesus. He paid the ultimate price. On April 9, 1945, he was hanged because of his resistance to Hitler, to Nazism and to the wars of Hitler.
Today as we listen to the scriptures perhaps we began to sense that there is a cost to being a disciple of Jesus. A couple of weeks ago, you remember, Jesus asked the question very directly of his disciples and asks it of us right now: "Who do you say I am?" Of course we know the answer, "You are the Christ, the son of the living God." For those who believe that, Jesus says, "Come, follow me."
In today's Gospel, Jesus is on the way to Jerusalem, the final journey in his life. In Jerusalem, he will pay the ultimate price himself. And he invites us to follow him, to continue his work and mission. For those who take up his challenge, there are costs. Today, we should think about those costs, and ask ourselves, "Am I ready to pay the price?" If we fall short, if we feel we aren't quite ready to pay the price that it takes to truly be a disciple of Jesus, we need to pray that we will be ready.
One of the first things that you hear in today's gospel is Jesus speaking about who he is. One person says, "I'm ready to follow you." And Jesus says, "Wait. Look, the son of man has nowhere to lay his head." Jesus is poor and he expects his followers to be poor. For us today, that means we have to confront the culture in which we live, because it is a culture dedicated to wealth. It is a culture that encourages us to accumulate wealth. Reading in the paper this morning, I found an example that shows how extreme this is in our culture. You may remember the name Kenneth Lay. He was the head of Enron, that corporation that is involved in deep corruption. Well, he lost his job as CEO and now he is preparing for to go on trial. The article I read said he once had $400 million in assets; now he's only got 20 million. I guess this is meant to make us feel sympathy for Lay. Imagine. What other country in the world could something like that be the case? Where a person with $20 million ... $400 million is more than anyone has any right to. You don't have a right to more than you need when others lack the barest necessities. And yet we think nothing of it, really. We just take it for granted that some people will just get richer and richer and richer and so on. If you only have 20 million, well, that's tragic.
Well, Jesus is saying we have to confront a culture that encourages us to keep on getting more. We have to find a way to be simple in our lifestyle and ct against the consumer mentality that keeps coming at us. To follow Jesus, the son of God who had nowhere to lay his head, may cost us something. To be a disciple of Jesus we have to begin to confront this.
Another thing that Jesus addresses in the gospel is how sometimes we, well, we sort of have good will and we would like to follow Jesus and we sort of make a move in that direction, but then we find an excuse. To the person who said, "Wait, I have to go bury my father," Jesus says, "No, don't wait for that." Now that might seem quite harsh, but you have to understand the context in which Jesus lived. At that time and place, the eldest family member would take responsibility for the whole family. So the man was saying, "Well, it may take a few years but I'll follow you." To this Jesus said, "No, make the decision right now. Choose now whether you will follow me or not." There is a cost for that too. To follow Jesus means letting go of the things we are attached to.
Perhaps one of the most difficult aspects of the call of Jesus, and something thatwill cost us who what to follow him, comes in our second reading today. Paul sums up the whole message of Jesus by saying: "The one law you have to obey is to love one another." Love one another. Love others as you love yourselves. Jesus makes this point clear in the first incident related in today's Gospel. He had sent messengers ahead to a town in Samaria, and the townspeople rejected him.
The Samaritans had been in opposition to the Jewish people for hundreds of years, and there was very deep hostility between Samaritans and Jews. They argued and struggled over where God should be worshiped. Samaritans said Mt. Gerizim and the Jews said in Jerusalem. This extreme hostility had built up over hundreds of years, and so in Jesus time, when someone was traveling from Galilee south through Samaria down toward Jerusalem, the Samaritans wouldn't be very welcoming. That is also why when the townspeople turned the messengers away, John and James said, "Let's destroy those people. Use violence against them. If they are going to reject us, let's retaliate." Jesus, of course, rebuked James and John saying: "No, you can't retaliate."
You see, Jesus knew and understood what was behind the antipathy, the hostility. He understood and he was willing to be compassionate and forgiving. He was trying to encourage his disciples to do the same thing. He said, "Don't retaliate. Don't respond with hatred just because hatred is poured forth upon you. Respond with love. Give up vengeance, retaliation and violence."
For us to do this, it will cost us something. Once more it seems clear that we really have to act against the culture. The predominant culture of our nation moves us to retaliate, to kill in response to being attacked.
This past week I was privileged to be a witness for a young man who has truly understood what it means to be a disciple of Jesus, especially in this area of rejecting violence. This young man, Camilo Mejia, was a soldier in Iraq. He was involved in some terrible killings, especially of innocent people. He did not necessarily do the killing but he saw it happen, and he began to understand that he couldn't do it. When he was home on furlough, he prayed and thought it through and decided: "I can't go back." In the testimony he submitted to his hearing board of military officers, he said:
In the comfort of my home, away from the dangers of combat, I was left with my memories of war. And, what's worse, I came face to face with my moral and religious convictions. Suddenly I realized I needed justifications. Not from the government, but from myself. It is always up to the individual person to do the right thing. Coming home gave me the clarity to see the line that separates military duty from moral obligation. My feelings against the war dictated [that] I could not be a part of it, but being in the military dictated the exact opposite. This was the turning point where my religious values became incompatible with my duty with the military. Acting upon my principles proved incompatible with my role in the military and so by putting my weapon down I chose to reassert myself as a human being, as a person of faith."
Further on he said:
I think that writing this application, and that the fact that I'm turning myself in are the best indications that there has been a deep change in my beliefs. I truly believe this war and every war is wrong. Making this moral, religious and principled stand and presenting my case of conscientious objection are about more than just me. This is about the soldiers who are still dying in Iraq. It's about their families. This is about the Iraqi people. Rather than taking the easy way out and running away, I am speaking my mind because this is a very important issue. I know I made the right decision."
But he's also paid a price. Before the military would hear his case for conscientious objection, they put him on trial for desertion. He's in prison right now and will be there for quite a while. He's lost his rank. He's lost his pension. He's lost his honor, in a sense, because he will be dishonorably discharged. So, in terms of the military, he's dishonorable. But, in other terms, of being a disciple of Jesus, willing to pay the cost, to pay the price, he's very honorable.
Now, most of us aren't going to be asked to pay a huge price to be disciples of Jesus, but clearly we're being asked to consider what the cost will be. If I'm truly faithful to the way of Jesus, the ways that are suggested in today's scripture, to the whole message of Jesus -- if I'm truly faithful what cost am I willing to pay?
What cost am I willing to pay? This is what we have to ask ourselves because we are being called, of course, to carry on the mission of Jesus. What that means can be a variety of things. I was with a group this week called the Volunteer Missionary Movement. They have over 2,000 people, people like ourselves who are in mission work carrying out the message of Jesus, bringing the love and the goodness of Jesus into foreign lands, into various places. We have our own people in this parish who are going out into our neighborhoods now every week, up and down the streets. Knocking on doors, proclaiming the good news.
All of us are called to carry on the mission of Jesus. For some that means accepting the call to go to another part of the world. For others it means becoming part of our evangelization team or supporting that team with prayer and support. For some that means, simply, be present in their places of work. Where ever we are, we are called to proclaim the good news. The reign of God is at hand. If we follow the way of Jesus, it will break forth, but that will only happen when all of us who say yes to Jesus are willing to pay whatever price it takes.
In the name of the Father and of the Son and of the Holy Spirit. Amen.