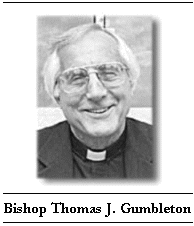 Auxiliary Bishop of the Archdiocese
of Detroit, Michigan *
2 Kings 4:8-11, 14-16a
It fell on a day, that Elisha passed to Shunem, where there was a great woman of influence, who urged him to eat bread with her. So it was, that as often as he passed by, he turned in there to eat bread. She said to her husband, "See now, I perceive that this is a holy man of God, that passes by us continually. Let us make a little chamber on the wall; and let us set for him there a bed, and a table, and a seat, and a lamp stand: and it shall be, when he comes to us, that he shall turn in there." It fell on a day that he came there and he turned into the chamber and lay there.
Elisha said, "What then is to be done for her?" Gehazi answered, "Most assuredly, she has no son and her husband is old." Elisha said, "Call her." When he had called her, she stood in the door. Elisha said, "At this season, when the time comes round next year, you shall embrace a son."

Romans 6:3-4, 8-11
Brothers and sisters, don't you know that all we who were baptized into Christ Jesus were baptized into his death? We were buried therefore with him through baptism to death, that just like Christ was raised from the dead through the glory of the Father, so we also might walk in newness of life.
If, then, we died with Christ, we believe that we will also live with him; knowing that Christ, being raised from the dead, dies no more. Death no more has dominion over him! For the death that he died, he died to sin one time; but the life that he lives, he lives to God. Thus also consider yourselves also to be dead to sin, but alive to God in Christ Jesus our Lord.

Matthew 10:37-42
Jesus said to his apostles, "Whoever loves father or mother more than me is not worthy of me; and whoever loves son or daughter more than me isn't worthy of me. Whoever doesn't take his cross and follow after me, isn't worthy of me. Whoever finds his life will lose it; and he whoever loses his life for my sake will find it. Whoever receives you receives me, and he whoever receives me receives him who sent me. Whoever receives a prophet in the name of a prophet will receive a prophet's reward: and whoever receives a righteous man in the name of a righteous man will receive a righteous man's reward. Whoever gives one of these little ones just a cup of cold water to drink in the name of a disciple, most assuredly I tell you he will in no way lose his reward."


* A longtime national and international activist in the peace movement, Bishop Gumbleton is a founding member of Pax Christi USA and an outspoken critic of the sanctions against Iraq.
He has appeared on numerous radio and television programs, and has published numerous articles and reports.


** Scripture texts in this work are in modified form from the American Standard Version of the Bible and are available as part of the public domain.
For your convenience, the Scripture texts, as they appear in the Lectionary for Mass for Use in the Dioceses of the United States, second typical edition, Copyright © 1998, 1997, 1970 Confraternity of Christian Doctrine, Washington, D.C., may be found at the website of the United States Conference of Catholic Bishops (USCC).
http://www.nccbuscc.org/nab/index.htm
NOTE: Today's homily was given by Cardinal Wilfrid F. Napier, OFM, a guest of Bishop Gumbleton who was visiting at Saint Leo Church in Detroit, Michigan.

Cardinal Napier is the archbishop of Durban, South Africa and the president of the Southern African Catholic Bishops Conference (SACBC). He is also a consultor to the Congregation for the Evangelization of Peoples.

Dear Bishop Gumbleton, dear friends,

I don't how much you know about me, but I'm sure that from the way I speak you will have suspected that I did some of my training in Ireland. And while I was in Ireland, I learned about Irish bulls. An example of an Irish bull is a statement such as this. "If you see ten cows lying in field and one of them is standing up, then that's the bull." Another one, which is my favorite, and which I think can serve as a model for our spirituality and our living of the gospel is this. "There was a hotel porter in Dublin who had this rather peculiar way of receiving the guests at the hotel. He would go to them, take their baggage, and say, 'Follow me sir or madam, I'm right behind you.'"

We have just heard God saying that to us. In the first reading from the life of the prophet Elisha, we are told about how this prophet in his hardship when he was being persecuted, having to run away from those in authority, when he was being marginalized and not given his rightful respect as a human being and even less as a spokesperson for God, he sought refuge and he was given refuge by a couple who were themselves in need and yet in their need they reached out and from their meager resources provided a place for the prophet to stay.

What God is doing in this reading is saying to us, "Follow me." And the way to follow me is to go through my word and see all along the way how I place before you people that show you how to live the way of life. And certainly the prophet Elisha was showing people the way of life.

But in the second reading, we go even further into what it means to 'follow me.'

There's a famous way of calling that Jesus had. How many times in the gospel does he not say to somebody 'follow me.'

In this reading from Saint Paul, we are told how we have to follow Jesus, how we have to follow God our creator, how we have to live the life to which God is calling us -- 'follow me.' St. Paul is saying that the way to live the Christian life is to be as close to Jesus Christ as is possible.

What does that mean? Well it means first of all getting to know who Jesus is. And how will we do that? By listening to what others had to say about him, but especially listening to what he has to say to us. He's told us so many times the different things that we need to do if we are to be his true followers.

In the gospel that I've just read for you, he says, "If you are going to be close to me, then you have to look at your life all the time, everyday, to see if there are things in your life that are obstacles that are driving a wedge or creating a barrier between you and me." And sometimes it may be people that are near and dear to you like your father, your mother, your brother, your sister, or your son or your daughter.

We also have to add in all the other possibilities of the things that are keeping us apart. Where I come from in South Africa, for so long the barrier was put in place by racism, by apartheid, by that horrible belief that some people are born superior to others and that others are born inferior to them. Yet, we know from our basic catechism, we are all created and born in the image and likeness of God. To the extent, therefore, that we recognize and acknowledge and give respect to that image of God in others we will be coming closer and closer to Jesus. Or it may be a relationship such as a man or woman that we know that we shouldn't be in relationship with. But you know what it is to fall in love. Jesus is saying, "It's hard to follow along my way. You may even have to give that up."

The reason for my coming here to America is to speak about Catholic Relief Services(CRS), an agency of the Catholic Church here in America which has been working very closely with us in South Africa -- closely on a problem that is causing more upheavals in our society than we've ever had before, and which is threatening our society more than even apartheid threatened us -- that is the disease of HIV and AIDS. That is causing a real catastrophe.

Just to give you some idea -- throughout the country, we are looking at an infection rate among the adult population beginning from about the age of 15. The worst group is from 15 to 45-50. We are looking at an infection rate of about 20-25 percent. But the province I come from, KwaZula-Natal, where Durbin is, we have a rate of infection which is between 25 and 30 percent and in some areas as high as 50 percent. Who is it affecting? The age range of people from 15 to 35 or 45, the very backbone of any society, of any economy, of any community, and of any church as well. We are losing the most important people in our communities to this dreadful disease of HIV and AIDS.

CRS has come in and is assisting the Catholic Church through the various dioceses and parishes to run programs that do four things.
First of all, to inform, to teach, to educate and to make people aware how it is transmitted, how to avoid contracting it and so forth.
Secondly, to care for those who have HIV and AIDS. Since our hospitals, clinics and hospices are not able to cope with the numbers that are sick and dying, we have to train people to care for their sick in their homes, so home-based care programs are being run throughout the country.
The third area is that of looking after orphans and vulnerable children. One of most touching experiences I've had in AIDS ministry has been to go and visit an area that has been devastated by AIDS and to find there that an 18 year old girl is trying to run the family because their parents have died from AIDS. She's doing this on something like $11 a month, a salary that she gets from being domestic help in a home. She's trying to run a family, her own little baby of a few months, a brother who is 14, and another sister who is around 9 or 10. How touching it is that somebody tries to dedicate her life when she's still a child herself trying to raise her sibling brothers and sisters to bring them to a sense of hope that there is a future for them.
Possibly, the most important part that CRS is playing is working together with us in this desperate situation to be a light of hope, a beacon of hope. The campaign that they are running is called Africa Rising. I think some people might wonder why Africa Rising? For me, just as 'Jesus rising from the tomb' is a signal of hope, so too Africa's rising is a way of saying Africa has to be filled with hope. Otherwise, it will never rise.
But if Africa is seeing itself as rising, then it needs to have that other part of our Irish bull: "I'm right behind you." Somebody has to be there to support it. That's what the American church, through Catholic Relief Services, is helping us to do. It's giving us that support so that we can move forward in caring for some many hundreds and thousands of people who are affected by this disease.

The other aspect of what CRS is doing is preaching a message of healing, of peace building. That is so necessary in Africa where there have been so many conflicts. In South Africa, though we emerged from apartheid with relatively little violence at the election time and after the election, we have a very violent society. In that, I think, we have a lot in common with Detroit, Chicago, and many of the great cities of America where crime and murders especially are very, very common and too numerous. And that's where I think we can play a role together, communicating together, being one together as one body in Christ, suffering with each other and helping each other carry our burdens together.

Healing -- bringing healing into people's lives -- that's what Jesus was about and that's what CRS and the Catholic Church in South Africa are trying to do -- to bring healing and reconciliation.

So, brothers and sisters, when you go home this afternoon, remember that philosophy of life that God is saying to us, "Follow me. I'm right behind you. I've a program of life that's going be for your redemption, that's going take you out of the power of sin and evil. But you will not get there unless I'm there supporting you."

Then we know what our church says. If you want to be supported by God, then you must make daily prayer, personal and community, but especially family prayer, a part of your daily life. Reading the scriptures must be a part of your daily life. Trying to do acts of kindness and goodness must be part of your life. That's what God wants. That's the support God is giving us. We've got the sacraments, reconciliation, the Eucharist, ways of being strengthened in our commitment. So as you go home, remember that God is calling you, especially through Christ, to follow him because he's right behind you giving you all the support and all of the strength that you need.

Thank you very much once again, Bishop Gumbleton, for the warm welcome that you have given me and to the community, your wonderful welcome as well. And I'd like you to remember that we were very much with you in our thoughts on the 11th of September and that our sympathies are still with. And I think many of you found yourselves after the 11th of September wondering from where you were going to get a beacon of hope. Everything seemed to have changed so much. That hope has to be the fact we have been baptized in a hopeless situation in the death of Jesus in order to rise with fullness of hope in his resurrection and that what we are celebrating here is the triumph of Jesus over death -- the resurrection that has given us the body and blood that are our life.

God bless you and be with you always. Amen.