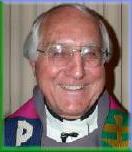 Thomas J. Gumbleton
Auxiliary Bishop of the Archdiocese
of Detroit, Michigan *



Zechariah 9:9-10
Thus says the LORD: Rejoice heartily, O daughter Zion, shout for joy, O daughter Jerusalem! See, your king shall come to you; a just savior is he, meek, and riding on an ass, on a colt, the foal of an ass. He shall banish the chariot from Ephraim, and the horse from Jerusalem; the warrior's bow shall be banished, and he shall proclaim peace to the nations. His dominion shall be from sea to sea, and from the River to the ends of the earth.

Romans 8:9, 11-13
Brothers and sisters: You are not in the flesh; on the contrary, you are in the spirit, if only the Spirit of God dwells in you. Whoever does not have the Spirit of Christ does not belong to him. If the Spirit of the one who raised Jesus from the dead dwells in you, the one who raised Christ from the dead will give life to your mortal bodies also, through his Spirit that dwells in you. Consequently, brothers and sisters, we are not debtors to the flesh, to live according to the flesh. For if you live according to the flesh, you will die, but if by the Spirit you put to death the deeds of the body, you will live.

Matthew 11:25-30
At that time Jesus exclaimed: "I give praise to you, Father, Lord of heaven and earth, for although you have hidden these things from the wise and the learned you have revealed them to little ones. Yes, Father, such has been your gracious will. All things have been handed over to me by my Father. No one knows the Son except the Father, and no one knows the Father except the Son and anyone to whom the Son wishes to reveal him." "Come to me, all you who labor and are burdened, and I will give you rest. Take my yoke upon you and learn from me, for I am meek and humble of heart; and you will find rest for yourselves. For my yoke is easy, and my burden light."


* A longtime national and international activist in the peace movement, Bishop Gumbleton is a founding member of Pax Christi USA and an outspoken critic of the sanctions against Iraq.
He has appeared on numerous radio and television programs, and has published numerous articles and reports.

* Scripture texts in this work are in modified form from the American Standard Version of the Bible and are available as part of the public domain.

For your convenience, the Scripture texts, as they appear in the Lectionary for Mass for Use in the Dioceses of the United States, second typical edition, Copyright © 1998, 1997, 1970 Confraternity of Christian Doctrine, Washington, D.C., may be found at the website of the United States Conference of Catholic Bishops (USCC).
http://www.usccb.org/nab/

** The Web link to Pax Christi is provided as a service to our readers.

As I reflected on the scriptures for today, especially the first lesson, I found myself rather amazed when I realized that we were being presented with an extraordinary vision of peace in the world. A peace, as Zechariah said, would "extend from sea to sea, from the river to the ends of the earth." The river he's speaking about is the river Euphrates, which is the river that cuts through what we now call the country of Iraq. He was saying that there would be peace everywhere.

It's an extraordinary vision. But, if you can believe it, we heard the same vision from President Bush when he spoke to the nation about the war in Iraq. He spoke about the fact that we're going to establish democracy in Iraq, you know, along the river Euphrates, and then it's going to spread through the Middle East and through the world. We'll end the tyranny everywhere. He's going to make the reign of God happen. That's the vision he gives.

But if we continue to listen deeply to our scriptures today, what we'll realize is that there is an extraordinary difference between the way that Zechariah calls for that vision to happen and the way that President Bush calls for it to happen. I hope and pray that we can really listen to the way that Zechariah said it would happen and follow that way, because that is God's way.

Zechariah told us, "Your king is coming. A just king who will be victorious." Listen how he comes: "... humble and riding on a donkey. No more chariots. No more horses in Jerusalem. This king will do away with them. The warrior's bow shall be broken when he brings peace to the nations." The horse and the chariot, those where what people used in warfare. Their weapons were bows and arrows and spears and swords, but it was all for warfare. Zechariah described the kingdom that would come: We'll reject all of that and we'll bring true peace to all the nations.

And it happened! Jesus came! Zechariah was talking about Jesus. Remember the readings for Palm Sunday when we listened to the Passion of Jesus described by Matthew -- it's also in Mark and Luke -- remember how Jesus told his disciples to prepare for Passover: "Go and find a donkey so that I can enter into Jerusalem riding on the back of a donkey." Why did he do that? Jesus was showing us clearly that he was fulfilling the prophesy, the vision of Zechariah. He was in effect saying, "Never again war. No more war. Never again war," the words that Paul VI proclaimed at the United Nations. Reject horse and chariot. Reject the weapons of war -- that's how peace will move from the great river to the ends of the earth. The way of Jesus.

President Bush thinks it is going to happen through violence, through killing, through continued warfare. He says we are in this for a long time, until we finally end all terrorism, all tyranny. He says we are going to keep building up our arsenal -- weapons of destruction, even mass destruction. Which way do you really think will bring peace to our world? Whose vision? Well, it's the same vision really, but how will it be fulfilled? Through President Bush's way or through the way of Jesus?

I have a sense that many of us still somehow cling to the idea that war can bring peace, that we can use violence to end violence. But that is impossible, and that is what Jesus makes so clear as he fulfills this vision of Zechariah. It is not something that strikes us as common sense, I suppose. In fact, Jesus said something like that in the Gospel when he said it would be the little ones who hear his words. "I thank you God," he says, "and I praise you because you've hidden these things from the wise and the learned and revealed them to simple people," that is, people who are ready to set aside what human wisdom tells us and accept divine wisdom.

Remember the letter Paul wrote to the church at Corinth? "Here am I preaching a crucified Christ. To the Jews it's a scandal and to the pagans it's madness." It's foolishness, because a crucified Christ means that you give up violence, you give up retaliation, you give up vengeance, you can give up hatred. A crucified Christ means you respond only with love and that's the way the world will be changed. Paul says that to the wise, the Greeks, such an idea is madness. To the Jews it is a scandal to think that Jesus, the messiah, the son of God, would allow himself to be ignominiously hanged on the cross and put to death. That's madness. But it is, in fact, the way of Jesus.

There are people whom I consider to be among what we would call, I guess, the humble, the simple. They are ready to hear God's word and receive it, not in terms of our sophisticated human wisdom (We think we know always what is best, what is right.) but according to God's way.

This past week I had what I think of as the privilege of confirming a young man who spent a year and some months in prison because he refused to go back to Iraq and continue to wage war there. You may have heard of him, Camilo Mejia, is his name. While he was in prison he wrote a beautiful letter in which he says this:
"Many have called me a coward. Some have called me a hero. I believe I can be found somewhere in the middle. To those who have called me a hero I say that I don't believe in heroes but I believe that ordinary people can do extraordinary things. To those who have called me a coward I say they are wrong, and that without knowing it they are also right. They are wrong when they think that I left the war for fear of being killed. I admit that fear was there, but even more there was the fear of killing innocent people, the fear of putting myself in a position where to survive means to kill. There was the fear of losing my soul in the process of saving my body. The fear of losing myself to my daughter, to the people who love me, to the man I used to be, the man I wanted to be. I was afraid of waking up one morning to realize my humanity had abandoned me. But they who called me a coward without knowing it are also right. I was a coward for not leaving the war sooner, for having been part of it in the first place. Refusing and resisting this war was my moral duty. A moral duty that called me to take a difficult action. A moral duty that was clear and the accomplishment of which was urgent. I failed to fulfill my moral duty as a human being and instead I chose to fulfill my duty as a soldier.

"I apologize to the Iraqi people. To them I say I'm sorry for the rage, for the killings. May they find it in their hearts to forgive me. One of the reasons I did not refuse the war from the beginning was that I was afraid of losing my freedom. Today as I sit behind bars I realize that there are many types of freedom and that in spite of my confinement I remain free in many important ways. What good is freedom if we are afraid to follow our conscience? What good is freedom if we are not able to live with our own actions? I am confined to a prison now but I feel today more than ever connected to all humanity. I am truly free."
To me those are the words of someone who has listened deeply to Zechariah and to Jesus. He is one of the "simple ones," if you will, who are ready to hear God's word, to understand that the foolishness of God is wiser than human wisdom and that the weakness of God is stronger than human strength. Those again are the words of Paul: who is seen to be foolish is really wise, who is seen to be weak is really strong when we follow the way of Jesus.
It's difficult for us to give up our sophisticated ways of looking at things and thinking we know how to bring peace just from our human wisdom. It's very difficult to give that up as we try to accept the wisdom of Jesus, the wisdom of God.
But in the Gospel today Jesus invites us to take his yoke upon us and I hope you will try to get this image. What he's talking about, of course, is a harsh wooden yoke that was used on an ox and that ox was paired with another ox; the big yoke would connected the two together. Well, Jesus is saying, "Take my yoke. Be yoked together with me and I will lead you. I will carry you. I will bring you to where you have to go in order to understand my ways. Jesus said, "I will carry you with me until you deeply understand and are able to follow the way to true peace in the world." Listen carefully, then, to Jesus. "Take my yoke upon you." Do that and Jesus will show us the way, and we will be able to be among those who bring his peace to our world.
In the name of the father and of the son and of the Holy Spirit. Amen.