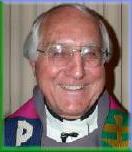 Thomas J. Gumbleton
Auxiliary Bishop of the Archdiocese
of Detroit, Michigan *



Ecclesiastes 1:2, 2:21-23
When there is a man who has labored with wisdom, knowledge and skill, then he gives his legacy to one who has not labored with them. This too is vanity and a great evil. For what does a man get in all his labor and in his striving with which he labors under the sun? Because all his days his task is painful and grievous; even at night his mind does not rest. This too is vanity.

Colossians 3:1-5, 9-11
Therefore if you have been raised up with Christ, keep seeking the things above, where Christ is, seated at the right hand of God. Set your mind on the things above, not on the things that are on earth. For you have died and your life is hidden with Christ in God. When Christ, who is our life, is revealed, then you also will be revealed with Him in glory. Therefore consider the members of your earthly body as dead to immorality, impurity, passion, evil desire, and greed, which amounts to idolatry. Do not lie to one another, since you laid aside the old self with its evil practices, and have put on the new self who is being renewed to a true knowledge according to the image of the One who created him-- a renewal in which there is no distinction between Greek and Jew, circumcised and uncircumcised, barbarian, Scythian, slave and freeman, but Christ is all, and in all.

Luke 12:13-21
Someone in the crowd said to Him, "Teacher, tell my brother to divide the family inheritance with me." But He said to him, "Man, who appointed Me a judge or arbitrator over you?" Then He said to them, "Beware, and be on your guard against every form of greed; for not even when one has an abundance does his life consist of his possessions." And He told them a parable, saying, "The land of a rich man was very productive. "And he began reasoning to himself, saying, 'What shall I do, since I have no place to store my crops?' "Then he said, 'This is what I will do: I will tear down my barns and build larger ones, and there I will store all my grain and my goods. 'And I will say to my soul, "Soul, you have many goods laid up for many years to come; take your ease, eat, drink and be merry."' "But God said to him, 'You fool! This very night your soul is required of you; and now who will own what you have prepared?' "So is the man who stores up treasure for himself, and is not rich toward God."


* A longtime national and international activist in the peace movement, Bishop Gumbleton is a founding member of Pax Christi USA and an outspoken critic of the sanctions against Iraq.
He has appeared on numerous radio and television programs, and has published numerous articles and reports.
* Scripture texts in this work are in modified form from the American Standard Version of the Bible and are available as part of the public domain.
For your convenience, the Scripture texts, as they appear in the Lectionary for Mass for Use in the Dioceses of the United States, second typical edition, Copyright © 1998, 1997, 1970 Confraternity of Christian Doctrine, Washington, D.C., may be found at the website of the United States Conference of Catholic Bishops (USCC).
http://www.usccb.org/nab/
** The Web link to Pax Christi is provided as a service to our readers.
At the beginning of the gospel today, a person came to Jesus and asked him to intervene in a dispute over an inheritance within his family. This kind of incident is really not all that uncommon. In fact, it's one of the most tragic things that can happen. After a person's parents have died and the family is trying to divide up the inheritance, sometimes you have the most bitter disputes, and a family can be torn apart. It indicates clearly the absurdity of piling up riches.
What the author of Ecclesiastes said today is so true. A man who toils in wisdom, knowledge and skill must leave all he has gained to someone who has not worked for him. It can create a situation that could tear apart his very family. It can happen so easily. Jesus was very much aware of that, and he chose not to enter into the dispute on this occasion. Rather, he tried to teach a deeper lesson, a lesson that affects all of us, a lesson about greed.
Many factors are involved in disputes over inheritance. People are grieving, and so they are very emotional. Sometimes there are guilt feelings that interfere with what is going on. Whatever the circumstances in these kinds of incidents, the basic component that Jesus identifies is greed.
Greed is a sin, a way of worshiping idols, St. Paul said our second lesson today. Greed is the kind of sin that causes us to turn from God and put all our attention, all our concern on material things -- the things of earth, which is why Paul urges us to put to death what is earthly in our lives.
Another way to say this is the common expression, "You can't take it with you." What a foolish thing, to focus on material wealth. Yet, we live in a society and a culture where it is so easy to be caught up in greed, perhaps at times without our even knowing it. We can think of examples of people who are extreme in accumulating wealth. These we can easily identify as being greedy. An example that I remember from years ago, and maybe some of you do too, when Ferdinand Marcos, the dictator-president of the Philippines, and his wife, Imelda, were forced from power and into exile. The people of the Philippines discovered all the wealth they had accumulated through corruption. Among many, many things, people discovered Imelda Marcos had tens of thousands of pairs of shoes. Obviously, she could never have worn them in her life. Things were just piled up, this material wealth.
Or think of corporate leaders who get salaries in the tens of millions or hundreds of millions of dollars and yet they cheat and act dishonestly. Why? To get more.
Because these examples are so extreme, we might think we could not even begin to be part of something like that. "Greed isn't going to enter into my life," we think. Yet, it is in our culture and probably does affect us more than we think.
Somebody has said that the best place to find religious practice on Sunday morning is not in churches but in the malls. Lots of people choose to go to the mall rather than go to church, because material things have become their god, their idol.
And this could happen to anyone of us. We could become greedy, wanting more and more and more. Even if we don't need it. Our society and our economic system is designed that way. Advertisers focus on tiny children and develop advertisements, based on developmental psychology, that appeal to children. If they can get children attached to particular name brands when they are young, the attachment continues through the children's lives.
Our culture has developed great skills to entice people to want more and more and more, and -- maybe more than we like to think -- every one of us is caught up wanting to have more than we really need. Yes, God wants each of us to have a full life, to develop our talents and gifts, and to become a full person. So we are not to live destitute, but having enough does not mean having more than we need.
Here at St. Leo's we serve the poor every day by feeding them and we also provide clothing. When people come to know this, they bring donations of clothes to us, and I am often amazed that people have so much extra clothing that some things they bring us they have never even used. They have been caught up in this culture of accumulation of material wealth.
Jesus warns us about that today; "Avoid greed in every form." It happens to us individually, but it also happens to us as a nation. We want to have more. We're No. 1 in the world, but that's not good enough. We have to make sure we continue to be No. 1 in the world. I was amazed a few years ago when I read a document put out by the Pentagon indicating plans for the United States military for the 1990s and the first decade of this century. The Cold War had just ended, and so we were no longer fearful of the Soviet Union, which was about to collapse. The plan said that with the Soviet threat gone, now we had to be prepared to go to war in the Third World. Why? To protect -- the document said it plainly -- to protect our vital resources, to make sure we have access and control over the resources of the Earth so that we can continue to enrich ourselves and our nation.
Doesn't that make you think that maybe that is why we have fought two wars in the Persian Gulf? The wars had nothing to do with weapons of mass destruction or defending ourselves against a nation that could destroy us. They were -- are -- about controlling wealth, controlling oil. When Jesus says to avoid greed in every form, he's asking us to think about this not only as individuals in our everyday lives, but also as part of a society and nation.
Besides our individual actions, we also have to look at what we do as a people.
Our power is not only military might. We also control other nations through the economic system that we are part of and are the leader of. This weekend and for the last few days of last week, the World Trade Organization has been engaged in meetings. Most of us probably aren't even aware of it, but our nation is very deeply involved and the struggle has been over what the rich nations have been doing to the poor nations. Because we rich nations subsidize our farmers to the amount of $300 billion a year, we can sell cotton and other agricultural products on the world market at prices that the poor nations can't match. So poor people in poor nations, in Africa especially, become poorer. People starve to death while we get richer. That is greed and a sign of a problem within our nation.
Jesus gives us today some very important advice on how we can overcome greed in every form. Look at the parable, he tell us. The very first thing we should notice is that the rich man and his land had produced a good harvest. "The land had produced the good harvest," those are the words to notice. In Jewish thinking, it wasn't the work of the farmer that brought the good harvest -- oh, certainly the farmer had to do the work -- but it was the land that had produced the good harvest. Where did the land come from? It was the gift of God. The land, all of creation, everything we have, is a gift from God.
Jesus tells us that instead of being like that farmer, setting himself apart and saying "How am I going to get more and more?" we should remember that God made all of these things, not for a few but for everybody. The wealth of creation is a gift from God. And not just for me but for all. For sure, we work for what is ours and with our talents we add value to what is given us, but fundamentally, basically, whatever we have is a gift from God, and God intends these gifts for every person so that no one is living in poverty and destitution, which is violent and destructive of human life.
If we could just take that one thing away with us today that might change our whole way of thinking about the material goods in the world around us, because we would realize that what we have is not for us alone, it is to be shared and given away so that others can also enjoy these gifts from God. Instead of accumulating more and more, we would be sharing. Finally, if we take this message to heart, we would not only change our individual actions, but we would try to influence the public policy of our country so that as a nation we would become the generous people that we like to think we are. We would find ways to change the economic structure and to change our militaristic approach to the goods of the Earth. We would as a people begin to understand that God has given the wealth of creation for all the peoples of the Earth.
As we leave the church and this service today reflecting on God's message, I hope we take with us, in our minds and our hearts, the prayer we prayed at the beginning of our liturgy: "We thank God and bless God for all that God has given to us, and we pray that we might use the blessings of this world wisely so that we may come to share forever the fullness of God's life." If we make that our prayer today and throughout this week, it will help us to avoid greed in every form.
In the name of the Father and of the Son and of the Holy Spirit. Amen.