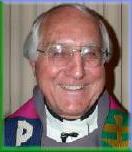 Thomas J. Gumbleton
Auxiliary Bishop of the Archdiocese
of Detroit, Michigan *



Sirach 3:17-18, 20, 28-29
My child, be gentle in carrying out your business, and you will be better loved than a lavish giver. The greater you are, the more humbly you should behave, and then you will find favor with the Lord. Do not try to understand things that are too difficult for you, or try to discover what has been assigned you. For the disease of the proud there is no cure, since an evil growth has taken root there. The heart of the sensible will reflect on parables, an attentive ear is the sage's dream.

Hebrews 12:18-19, 22-24a
For you have not come to a mountain that can be touched and to a blazing fire, and to darkness and gloom and whirlwind, and to the blast of a trumpet and the sound of words which sound was such that those who heard begged that no further word be spoken to them. But you have come to Mount Zion and to the city of the living God, the heavenly Jerusalem, and to myriads of angels, to the general assembly and church of the firstborn who are enrolled in heaven, and to God, the Judge of all, and to the spirits of the righteous made perfect, and to Jesus, the mediator of a new covenant, and to the sprinkled blood, which speaks better than the blood of Abel.

Luke 14:1, 7-14
It happened that when He went into the house of one of the leaders of the Pharisees on the Sabbath to eat bread, they were watching Him closely. And He began speaking a parable to the invited guests when He noticed how they had been picking out the places of honor at the table, saying to them, "When you are invited by someone to a wedding feast, do not take the place of honor, for someone more distinguished than you may have been invited by him, and he who invited you both will come and say to you, 'Give your place to this man,' and then in disgrace you proceed to occupy the last place. But when you are invited, go and recline at the last place, so that when the one who has invited you comes, he may say to you, 'Friend, move up higher'; then you will have honor in the sight of all who are at the table with you. For everyone who exalts himself will be humbled, and he who humbles himself will be exalted." And He also went on to say to the one who had invited Him, "When you give a luncheon or a dinner, do not invite your friends or your brothers or your relatives or rich neighbors, otherwise they may also invite you in return and that will be your repayment. But when you give a reception, invite the poor, the crippled, the lame, the blind, and you will be blessed, since they do not have the means to repay you; for you will be repaid at the resurrection of the righteous."


* A longtime national and international activist in the peace movement, Bishop Gumbleton is a founding member of Pax Christi USA and an outspoken critic of the sanctions against Iraq.
He has appeared on numerous radio and television programs, and has published numerous articles and reports.
* Scripture texts in this work are in modified form from the American Standard Version of the Bible and are available as part of the public domain.
For your convenience, the Scripture texts, as they appear in the Lectionary for Mass for Use in the Dioceses of the United States, second typical edition, Copyright © 1998, 1997, 1970 Confraternity of Christian Doctrine, Washington, D.C., may be found at the website of the United States Conference of Catholic Bishops (USCC).
http://www.usccb.org/nab/
** The Web link to Pax Christi is provided as a service to our readers.
If we listened only in a very superficial way to the Gospel today we might think that Jesus is offering advice for how to get ahead in the world, almost a "how to make friends and influence people" sort of thing. But that's not what Jesus is about. In today's Gospel, as always, there is a challenge for all of us.
At the beginning of the Gospel, Luke tells us that Jesus was invited to and went to a meal in the house of a leading Pharisee, and Luke adds, "He was being carefully watched." Jesus was being watched because he had already stirred up a lot of animosity among the Pharisees by exposing their hypocrisy and their fake religion and religious spirit.
Left out of the reading we just heard are the passages that come right after that first sentence. Luke also says that as Jesus entered the house of the Pharisee, in front of him was a man suffering from dropsy who had come in uninvited:
Jesus stopped what he was doing and he said to the teachers of the Law, "Is it lawful to heal on the Sabbath or not?" but none of them would answer. Jesus then took the man, touched him, healed him and sent him to be seated. Then he addressed them, "If your lamb or your ox falls into a well on a Sabbath day, who among you doesn't hurry to pull the ox out?" and again they would not answer.
Then Jesus went on to tell the parable. See what was happening here? The Pharisees had very strict rules. They abided very carefully by the 613 laws of the Torah. They were human laws, but to the Pharisees they were very important. They even took the place of God's law of love. So Jesus was exposing their hypocrisy. When this person came in, they wouldn't even go near him because they might become "unclean." A sick person was considered ritually unclean, and that is what they were concerned about.
But Jesus said, "That's not the way." He allowed the meal to be interrupted and he told the parable about "Don't just take, immediately, the highest place." You see, Jesus was addressing people who were very concerned about the rules; they had rules about status, about who was important, more important and most important. And everyone knew where each belonged. Jesus, almost making fun of what they tried to do, said, "When you go to a meal, why don't you just go to the lowest place, and then everybody will notice how important you are because the host will have to come and say, 'Go to the highest place.' " These were people who were ready to exalt themselves, give exaggerated importance to themselves. Jesus wanted to remind them that dignity and worth were not based on external factors.
Remember Matthew's Gospel where Jesus said, "Look at the flowers of the field. They do not toil or spin, and yet how beautifully arrayed they are. Aren't you of much more value than the flowers of the field? Why do you have this false sense of how to make yourself important? Accept who you are -- one made by God, drawn into being by God's love." That is what gives us our dignity and our worth. It is not having a certain place or status. But we so easily fall into that pattern of trying to exaggerate our importance.
Today, we might not have the same kind of rules about where to sit at banquets and so on, although there may be some of that, and some of us may always want to be in the top spot. But I wonder, and I'm sure many of us have wondered, why do people drive these big all-terrain vehicles? Is it to make themselves feel like they are above others? More important than others? You get that sense sometimes when you're driving along the highway and people buzz by you in those big trucks and Humvees. People exaggerate their importance because they don't realize that the externals do not make one important or give one value. Jesus wants us to recognize the worth that we have because God made us in God's own image. We don't have to put on airs and exaggerated ways to make us feel important. Just being who we are, God will raise us up and exalt us.
Jesus challenged the Pharisees -- and challenges us -- even more with his second example. When you have a feast or some kind of a party, Jesus said, don't just invite family members or wealthy people, people who you know can reciprocate your hospitality. Instead, he said, go out into the highways and byways. Bring in the poor, people who are crippled in some way, people who are rejected, marginalized. They can't reciprocate.
Most of the time, we would not think of doing this. I'm reminded of the St. Vincent de Paul Society. We have a conference here at the parish; they reach out to the poor, and that is very important. But every year when they have their big fundraiser to collect money for the poor, they do it in a hotel like the Hyatt, and only rich people can come. You do not see people from the streets there. I often wonder, why not? When you are raising money for the poor, why not do it with the poor? Go to a soup kitchen, have your meal. Invite the rich people who can make contributions, but let them mingle with the poor.
Wouldn't that make a huge difference in our attitude toward the poor, if we really sat down with them at a meal instead of having a meal where we're all by ourselves? In our typical events, we can raise a lot of money, but it's only for them; it is never with them. Jesus wants us to break through that mentality and not just do things for the poor, but with them. He said, "Don't just invite those who can reciprocate, also invite the poor."
We'll have an opportunity to do this on Labor Day, when members of our parish family are invited to serve the meal here for the poor. We're not going to be raising money, but it is an opportunity for every one of us to share the gifts we have, the food we have, and to come here and serve it. We will sit down with the poor from our streets around us and enjoy a meal. That's so different from just doing something for the poor. That's what Jesus is trying to get across to us today. Don't simply be with the rich and for the rich, but be with the poor and for the poor in everything that we do.
Finally, as we reflect on today's scriptures, it is important to for us note that Jesus is attending a banquet. Throughout the Gospels -- and especially in Luke's Gospel -- the action of the story takes place within the setting of a banquet, and there is always a sense that these banquets symbolize the Eucharist. Every banquet that Jesus attended was to be a sign of what the banquet of the Eucharist would be. So here too, at our eucharistic gatherings, we must make sure that we don't become exclusive, that we don't invite only people like ourselves.
We have to keep trying to invite people from our neighborhood. That is what we are doing in our evangelization program, trying to ensure that we become an all-inclusive community. That too, I think, speaks to the problems we are experiencing in the church with some people being told, "You're not welcome to holy Communion." That is so wrong. Jesus said everyone is welcome and no one should judge another as not welcome. We have to give up the idea of being exclusive, and especially at our eucharistic banquet.
Every one of us has to make more of an effort to draw others in with us to make this an inclusive celebration. All people, of every race and background, every economic level, can come together as one family of God united in the body and blood of Jesus. That is our hope for our parish family.
As we reflect today on the parables Jesus told at a banquet, I hope we will hear the deep message that Jesus proclaims, and that with God's help we will live out what he asks of us.
In the name of the Father and of the Son and of the Holy Spirit. Amen.