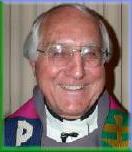 Thomas J. Gumbleton
Auxiliary Bishop of the Archdiocese
of Detroit, Michigan *



Isaiah 5:1-7
"Let me sing now for my well-beloved a song of my beloved concerning His vineyard. My well-beloved had a vineyard on a fertile hill. He dug it all around, removed its stones, and planted it with the choicest vine and He built a tower in the middle of it and also hewed out a wine vat in it; then He expected it to produce good grapes, but it produced only worthless ones. And now, O inhabitants of Jerusalem and men of Judah, judge between Me and My vineyard. What more was there to do for My vineyard that I have not done in it? Why, when I expected it to produce good grapes did it produce worthless ones? So now let Me tell you what I am going to do to My vineyard: I will remove its hedge and it will be consumed; I will break down its wall and it will become trampled ground. I will lay it waste; it will not be pruned or hoed, but briars and thorns will come up I will also charge the clouds to rain no rain on it.""For the vineyard of the Lord of hosts is the house of Israel and the men of Judah His delightful plant thus He looked for justice, but behold, bloodshed; for righteousness, but behold, a cry of distress."

Philippians 4:6-9
Be anxious for nothing, but in everything by prayer and supplication with thanksgiving let your requests be made known to God. And the peace of God, which surpasses all comprehension, will guard your hearts and your minds in Christ Jesus. Finally, brethren, whatever is true, whatever is honorable, whatever is right, whatever is pure, whatever is lovely, whatever is of good repute, if there is any excellence and if anything worthy of praise, dwell on these things. The things you have learned and received and heard and seen in me, practice these things, and the God of peace will be with you.

Matthew 21:33-43
"Listen to another parable. There was a landowner who planted a vineyard and put a wall around it and dug a wine press in it, and built a tower, and rented it out to vine-growers and went on a journey. When the harvest time approached, he sent his slaves to the vine-growers to receive his produce. The vine-growers took his slaves and beat one, and killed another, and stoned a third. Again he sent another group of slaves larger than the first; and they did the same thing to them. But afterward he sent his son to them, saying, 'They will respect my son.' But when the vine-growers saw the son, they said among themselves, 'This is the heir; come, let us kill him and seize his inheritance.' They took him, and threw him out of the vineyard and killed him. Therefore when the owner of the vineyard comes, what will he do to those vine-growers?"They said to Him, "He will bring those wretches to a wretched end, and will rent out the vineyard to other vine-growers who will pay him the proceeds at the proper seasons."Jesus said to them, "Did you never read in the Scriptures, 'The stone which the builders rejected, this became the chief corner stone; this came about from the lord, and it is marvelous in our eyes'? Therefore I say to you, the kingdom of God will be taken away from you and given to a people, producing the fruit of it.


* Alongtime national and international activist in the peace movement, BishopGumbleton is a founding member of Pax Christi USA and an outspoken criticof the sanctions against Iraq.
Hehas appeared on numerous radio and television programs, and has publishednumerous articles and reports.

* Scripture texts in thiswork are in modified form from the American Standard Version of the Bibleand are available as part of the public domain.

For your convenience, theScripture texts, as they appear in the Lectionary for Mass for Use in theDioceses of the United States, second typical edition, Copyright ©1998, 1997, 1970 Confraternity of Christian Doctrine, Washington, D.C.,may be found at the website of the United States Conference of CatholicBishops (USCC).
http://www.usccb.org/nab/

**The Web link to Pax Christi is provided as a service to our readers.

In order for the full impact of today's scripture lessons, especially the Gospel, to enter into our hearts and minds and spirits where we can apply them to ourselves it's important, I think, to remind ourselves again of the context in which Jesus tells this parable. It's the day after he has gone into the temple, knocked over the tables and drove out the money changers and buyers and sellers telling them, "Don't make the house of God a den of thieves!" It was because of this that the leaders, the priests and the chief Pharisees and the elders had come to Jesus and asked, "By what authority are you doing that?"

As I mentioned to you last week, Jesus had no special status. He wasn't a priest. He wasn't one of the learned Pharisees. He wasn't one of the great Rabbis. He had no wealth. He had no worldly power. That's why the authorities could challenge him so readily. He was, in a sense, a nobody compared to these powerful leaders of the people. But Jesus wasn't intimidated, and he tried to teach them about what was really happening, what God was doing in their midst if only they would recognize it. So he told that parable last week, you remember, about the two sons. The one says, "I'll go," but doesn't. The other said, "I won't," but did. Jesus asked the religious leaders, "Which of them really did the will of God?" The religious leaders had to answer, "Well, of course, the one who said no but then went." They were the ones who said "yes" but never really carried out God's will.

Today the message is even more clear. At the end of today's lesson Matthew reminds us that the religious leaders understood Jesus was talking about them, challenging them. They understood the parable very clearly because that idea of the vineyard of God was the chosen people, the religious leaders were charged with care of the vineyard, that was a very long tradition among the chosen people. We can readily understand that if we remember the first lesson today, which has been written maybe 700 or 750 years before. Isaiah had been a preacher in the faith centuries before Jesus and so that beautiful parable about the vineyards that God loved so much and took care of so much was well known. And, of course, the vineyard Isaiah was talking about was the chosen people. God expected good things to come from the chosen people. God expected good fruit, but as Isaiah says, all that God got was rotten grapes; the word actaully means "stinking" grapes. They were worthless.

And that is the parable that Jesus is updating, in a sense, when he speaks to the Pharisees and the priests and the leaders.

Why had God found the chosen people such a failure? What were the rotten grapes they had produced? Isaiah makes it very clear. God looked for justice but found bloodshed and violence. God looked for righteousness but heard cries of distress from the poor, neglected and uncared for. Violence. Neglect of the poor. Lack of justice. That's what was happening among the chosen people, and Jesus updates that somewhat. He starts the parable just as Isaiah, the person having a vineyard, caring for it and so on. Then he makes the violence even more explicit. He challenges the leaders because they have rejected the prophet. They have killed the prophets in the past. And he even speaks about one who will be taken outside the city and murdered. Of course, he's talking about himself. And so these leaders understand that Jesus is challenging them because they have failed to lead the people to justice, peace, to goodness, to sharing.

Don't miss a homily
To receive an e-mail notice when The Peace Pulpit is posted every week, sign up here.
Click on the link at the top right of this page to send the column to a friend or colleague.

As we listen Isaiah's story and the songs he sings and then the parable that Jesus tells, it's important for us to try to update this for ourselves. Jesus applied what had been said 700 years before him to his current moment. We should listen to Jesus and apply it to our current moment. We're God's vineyard now. We're the chosen people. We're the ones who took place of those who had not been faithful, but now are we faithful? What kind of group are we to Jesus? That's what we have to ask ourselves. Well, if we look in the world around us, of course, we know the world is full of violence, of injustice, the poor are neglected, not cared for. How tragically we saw that in the hurricane that hit our country a couple of weeks ago. And we're not getting the leadership that would really lead us toward more justice and the rejection of violence.

I have a very specific instance of what I think of as the failure of leadership in our church. This is a homily that was preached by the Archbishop of the Military services some months ago. Archbishop Edward O'Brien, the head of the U.S. archdiocese for the military services, he preached a homily in St. Patrick's Cathedral and in it, in the presence of all these military personnel, he said, "Yours is more than a job; it is a call from God, a true vocation, a call to imitate the very life of Jesus Christ." How could he say that? Didn't Jesus, as Dr. King put it so beautifully, teach us to accept suffering rather than inflict suffering, to be killed rather than kill? Isn't that what Jesus taught? Could you imagine Jesus being armed, killing people? Nowhere in the Gospel is there any suggestion that Jesus would do that. This is actually in direct contradiction of something Pope John Paul II said when he visited Ireland many years ago: "Do not believe in violence. Violence is a lie. Violence goes against the truth of our faith. Violence is a lie that goes against the truth of our faith. Reject violence. Only forgiveness, peace and love are of Christ."

Only peace, forgiveness and love are of Christ and yet constantly we support war, support the military, support killing. We cannot even get our Catholic churches in the United States to condemn a public policy of our country that calls for the use of nuclear weapons, weapons of mass destruction. Wouldn't what Jesus tells those Pharisees and priests and religious leaders so long ago, wouldn't Jesus say the same thing to us? We are bringing forth rotten grapes. Part of it is because our own leaders do not follow and speak clearly, the way of Jesus, the way of nonviolence, the way of love.

When we celebrate the Eucharist, often I use that prayer that tells us, "Jesus brought us the good news of life to be lived with God forever in heaven, and he showed us the way to that life, the way of love." And that's the only way! Yet we keep going the other way.

But I have another example. I find it compelling, because it is so like what was happening to Jesus who, in a sense, was a nobody but could stand up and say to the leaders, "You're wrong." This is a young man, the testimony of a young man, who rejected violence. He has no status in the church or in society. He was an immigrant to our country. He joined the Florida National Guard, because he didn't have enough money to go on to a higher education. He stayed in the Guard for a number or years, went to Iraq and came back totally convinced that he had done something wrong, so he refused to go back when he was commanded to. I've spoken to you about before about this young man. His name is Camilo Mejia. He was sent to jail because he refused to serve and could not get conscientious objector status, which he applied for and which he wanted because he sincerely could not ever bring himself to kill. While he was in jail he received an award and this is an excerpt from what he wrote as an acceptance speech for that award. He says:
"I am only a regular person who got tired of being afraid to follow his own conscience. For far too long I allowed others to direct my actions even when I knew they were wrong. I cannot accept this award on behalf of those who have truly refused and resisted. There are far too many of them who deserve the honor more than I. I will, however, accept the award on behalf of those who are still quiet, those who are still afraid to speak their minds. Not too long ago I was one of them. Not too long ago I was ordered to be part of a war that I knew in my heart was immoral and criminal, a war of aggression. Many have called me a coward. Many have called me a hero. I believe I can be found somewhere in the middle. For those who have called me a hero I say that I don't believe in heros but I believe that ordinary people can do extraordinary things. For those who have called me a coward, I say that they are wrong and that without knowing it they are also right. They are wrong when they think I left the war for fear of being killed. I admit that fear was there, but there was also the fear of killing innocent people, the fear of putting myself in the position where to survive means to kill. There was the fear of losing my soul in the process of saving my body, the fear of losing myself to my daughter, to the people who love me, to the man I used to be, the man I want to be. I did my job as a soldier. I commanded an infantry squad and we never failed to accomplish our mission, but they who called me a coward, without knowing it, are also right. I was a coward for not leaving the war, for having been a part of it in the first place. Refusing and resisting this war is my moral duty, a moral duty that called me to take a principled action, a moral duty that was clear and the accomplishment was urgent. I failed to fulfill my moral duty as a human being and instead I chose to fulfill my duty as a soldier all because I was afraid. I was terrified. I did not want to stand up to the government and the Army. I was terrified, afraid of punishment and humiliation. I went to war because at the moment I was a coward and for that I apologize. One of the reasons I did not refuse the war from the beginning is that I was afraid of losing my freedom. Today as I sit behind bars I realize there are many types of freedom and that in spite of my confinement I remain free in many important ways. I am confined to a prison but I feel today more than ever connected to all my brothers and sisters throughout the world."
There is a person with no status in the church and yet doesn't he teach us what it really means to be the vineyard of the Lord? To bring forth the truth, the peace, the justice, love, a full life for every person on this planet? If we could listen to Camillo and follow his example, he could almost say to us what Paul said to the Philipians, "Put into practice what you have learned from me, what I passed on to you, what you heard from me and saw me doing, and the God of peace will be with you." Perhaps we'll learn from Camillo and the God of peace will be with us. Then we can help to bring peace into our world.
In the name of the Father and of the Son and of the Holy Spirit. Amen.