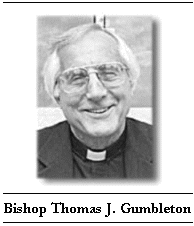 Auxiliary Bishop of the Archdiocese
of Detroit, Michigan *
2 Kings 5:14-17
Naaman went down, and dipped himself seven times in the Jordan, according to the saying of the man of God; and his flesh came again like unto the flesh of a little child, and he was clean.
Namaan returned to the man of God, he and all his company, and came, and stood before him; and he said, Behold now, I know that there is no God in all the earth, but in Israel: now therefore, I pray thee, take a gift of thy servant. But he said, As Jehovah liveth, before whom I stand, I will receive none. And he urged him to take it; but he refused. And Naaman said, If not, yet, I pray thee, let there be given to thy servant two mules' burden of earth; for thy servant will henceforth offer neither burnt-offering nor sacrifice unto other gods, but unto Jehovah.

2 Timothy 2:8-13
Remember Jesus Christ, risen from the dead, a descendant of David: according to my gospel, wherein I suffer hardship unto chains, as a criminal. But the word of God is not chained. Therefore I endure all things for the sake of those who are chosen, that they also may obtain the salvation which is in Christ Jesus with eternal glory. Faithful is the saying: For if we died with him, we shall also live with him: if we endure, we shall also reign with him: if we shall deny him, he also will deny us: if we are faithless, he remians faithful; for he cannot deny himself.

Luke 17:11-19
And it came to pass, as they were on their way to Jerusalem, that Jesus was passing along the borders of Samaria and Galilee. And as he entered into a certain village, ten lepers met him, who stood afar off and they lifted up their voices, saying, "Jesus,
Master, have mercy on us." And when he saw them, he said unto them, "Go and show yourselves unto the priests." And it came to pass, as they went, they were
cleansed. And one of them, when he saw that he was healed, turned back, glorifying God in a loud voice; and he fell upon his face at the feet of Jesus, giving him thanks. He was a Samaritan. And Jesus answering said, "Were not the ten cleansed? But where are the other nine? Has none but this foreigner returned to give glory to God?" Then he said to him, "Arise and go; your faith has made you whole."


* A longtime national and international activist in the peace movement, Bishop Gumbleton is a founding member of Pax Christi USA and an outspoken critic of the sanctions againsst Iraq.
He has appeared on numerous radio and television programs, and has published numerous articles and reports.


** Scripture texts in this work are taken from the American Standard Version of the Bible and are available as part of the public domain.
For your convenience, the Scripture texts, as they appear in the Lectionary for Mass for Use in the Dioceses of the United States, second typical edition, Copyright © 1998, 1997, 1970 Confraternity of Christian Doctrine, Washington, D.C., may be found at the website of the United States Conference of Catholic Bishops (USCC).
http://www.nccbuscc.org/nab/index.htm
These readings today obviously are very appropriate for a liturgy in which we will celebrate a rite of anointing and a rite of praying to God for healing.

The first reading reminds us that through Godís power and Godís love we can be healed if we do as Naaman, the Syrian army commander did, and bring ourselves very humbly before God and pray for that healing in strife that we need.

Or as Paul experienced in his prison cell, in writing to Timothy, and points out that the word of God can never be chained up, that the word of God can touch me even here. No matter where I am, how cut off I may seem to be from my friends, my family, my brothers and sisters, Godís word is powerful, can cross any boundary, can heal.

And, too, finally, in the Gospel lesson, it is very clear we have this incident of Jesus through the power of God that works through him, heals those whom he blesses and prays for.

But as we reflect on these lessons, I hope we will not only realize and pray for the healing of ourselves physically and the healing of our bodies, in whatever way we need, but that thereís a deeper healing, the healing of our spirit that we need sometimes even more than our physical healing. We need that deeper healing that will bring a sense of peace, restfulness, joy into our hearts. And, I think, thatís especially true during this crisis in which we live as a nation. We need an inner healing that will enable us to reach out to others and bring healing and reconciliation and love, rather than hatred and violence. And, in fact, when we look deeply into the Gospel lesson, I think we can discover what Jesus is doing here beyond healing ten people who were suffering from leprosy and healing them of that physical ailment. Heís showing us that thereís a deeper healing that can happen.

Most of us, I think, when we read that Gospel lesson or begin to reflect upon it, think of it as a lesson that encourages us to be more grateful. And we right away start thinking, ďAre we like that one who came back to give thanks or are we more like the other nine who just take Godís blessings for granted and donít stop to thank and praise God.Ē And thatís the obvious lesson that we draw from this incident.

But itís a very important point that Luke makes. That the one who came back was a Samaritan and, through this, Jesus is trying to teach us. He holds the Samaritan up as a model for us.

We have to remind ourselves of the history that was being lived out at the time of Jesus. It was a history of long hatred and lots of violence between the Samaritans and the Jews. It goes back to the time when the exile took place, hundreds of years before, and those who had been left behind were not faithful to Godís word, to the Torah. They had not kept themselves faithful. They had intermarried and had begun to let their religious practice deteriorate. And when the others came back from exile, the two groups were hostile to one another. It went on for hundreds of years.

About 125 years before Jesus, there was a terrible incident. A Jewish army person went into the temple at Mount Gerizim where the Samaritans worshiped and destroyed that temple. Just before the time of Jesusí ministry, there were a couple of incidents that intensified the hatred and the hostility. Some Samaritans came into the temple at Jerusalem and threw human bones around. It was a contamination and made the temple unable to be used so that all the feasts at the festival time had to be cancelled. And then some Samaritans killed some Galileans. You remember thatís recorded in the Gospels. And then according to Josephus, the Jews sent a bandit up to kill people at Mount Gerizim and to burn their temple once more. And so this hostility was going on back and forth.

But in this Gospel lesson, itís the Samaritan, the outsider, who comes back. And Jesus is holding him up as a model for his disciples, for the chosen people. This is the one who, as he was going with the other ten and they were leaving the presence of Jesus and heading toward their temples, would have been heading toward Mount Gerizim and they toward Mount Zion where the Jewish temple was. But on the way, they were cured and the Samaritan understood something that was so important. Jesus had said this to the Samaritan women at the well long before. ďThere will come a time when you will not worship at Mount Gerizim or at Mount Zion, neither temple. But you will worship God because Godís spirit is everywhere. And there is only one God. Not a god of this temple or of that temple.Ē

Itís very much like the Eucharistic prayer that we say where we thank God for sending Jesus into this world because he opened our minds and our hearts to understand that we are brothers and sisters, that thereís only one God of us all. All of us are brothers and sisters and that thereís only one God of us all.

So Jesus is using the Samaritan, the one who would be despised by the Jews, to show us that now, through Jesus, we are all brothers and sisters. He welcomes everyone and that the Samaritan comes back and praises God, shows love for God, worships God as a model for all of us.

Jesus is showing us that this means we have to breakdown the barriers that separate us, the hatred that sometimes can rise up even between religious groups. It is such a contradiction of everything that God teaches us, that those who believe in God could learn to hate one another. And so Jesus takes this person who is despised and hated by the Jews and uses him as the model to show how we can breakdown these barriers. All of us worship the one God. We are all brothers and sisters.

And we all need models like this. Especially, I think, again, in the time in which we live right now. And there are models among us. Sometimes, it will be people from within our own faith community that show us that we must not harbor hatred, hostility in our hearts. We must not seek to do violence.

I read about one young woman who was killed in United Flight 93. She was a junior at Santa Clara University in California, a Catholic school. And the president of that university, a Catholic priest, a Jesuit, was speaking with her parents, who said to Father Locatelli, the president, ďLook, we know that our daughter would not want anything done out of hatred in her name. Nor do we. We donít want revenge or recrimination. We need and want only reconciliation and peace.Ē And thatís a beautiful model for us.

But I can also think of another model, a person who we might not quickly look to. And this is a Moslem woman in Iraq. This happened when one of our delegations was there a year or so ago. This womanís tiny six month old baby died. Six months and died from an illness that could have been easily cured if only there were the medicine there to do it. And as she wept for the loss of her baby, she said to us from the United States, ďI pray that this will never happen to a mother in America.Ē This is such a tremendous act of love and forgiveness from someone whom we might not ordinarily look to for our model of reconciliation and love. But there it is.

And itís so real and itís the very thing that could breakdown the hostility and the hatred the barriers that keep us from one another. If all of us could reach out in love and forgiveness, then we would not have a world in which we have to live with such confusion and such fear, where we wait for the next attack against us or for us to attack them. We could live in a world where it would be as Jesus wanted it to be. As Pope John Paul II described the way of Christ, when he told us that we have to reject violence, that violence is not the Christian way, itís not the way of the Catholic Church. He said ďPeace, forgiveness, and love, these are of Christ and only theseĒ. We could learn from the young woman killed in United Flight 93 or from the woman in Iraq, whose baby Hassan died. We might be able to move forward in the way of Jesus to peace, forgiveness, and love. These, and only these, are of Christ.

This morning then, as we come forward to be healed in body and in spirit, I hope that we will pray for the healing of ourselves and of our brothers and sisters throughout our country. A healing in our hearts, so that we will give up any spirit of vengeance, any spirit of hatred, any spirit of violence. And pray that we will be filled with the spirit of Jesus, the spirit of peace, forgiveness, and love.

In the name of the Father and of the Son and of the Holy Spirit. Amen.