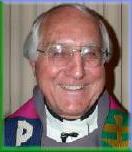 Thomas J. Gumbleton
Auxiliary Bishop of the Archdiocese
of Detroit, Michigan *



Exodus 17:8-13
Then Amalek came and fought against Israel at Rephidim. So Moses said to Joshua, "Choose men for us and go out, fight against Amalek. Tomorrow I will station myself on the top of the hill with the staff of God in my hand." Joshua did as Moses told him, and fought against Amalek; and Moses, Aaron, and Hur went up to the top of the hill. So it came about when Moses held his hand up, that Israel prevailed, and when he let his hand down, Amalek prevailed. But Moses' hands were heavy. Then they took a stone and put it under him, and he sat on it; and Aaron and Hur supported his hands, one on one side and one on the other. Thus his hands were steady until the sun set. So Joshua overwhelmed Amalek and his people with the edge of the sword.

2 Timothy 3:14-4:2
You, however, continue in the things you have learned and become convinced of, knowing from whom you have learned them, and that from childhood you have known the sacred writings which are able to give you the wisdom that leads to salvation through faith which is in Christ Jesus. All Scripture is inspired by God and profitable for teaching, for reproof, for correction, for training in righteousness; so that the man of God may be adequate, equipped for every good work. I solemnly charge you in the presence of God and of Christ Jesus, who is to judge the living and the dead, and by His appearing and His kingdom: preach the word; be ready in season and out of season; reprove, rebuke, exhort, with great patience and instruction.

Luke 18:1-8
Now He was telling them a parable to show that at all times they ought to pray and not to lose heart, saying, "In a certain city there was a judge who did not fear God and did not respect man. "There was a widow in that city, and she kept coming to him, saying, 'Give me legal protection from my opponent.' For a while he was unwilling; but afterward he said to himself, 'Even though I do not fear God nor respect man, yet because this widow bothers me, I will give her legal protection, otherwise by continually coming she will wear me out.'" And the Lord said, "Hear what the unrighteous judge said; now, will not God bring about justice for His elect who cry to Him day and night, and will He delay long over them? I tell you that He will bring about justice for them quickly. However, when the Son of Man comes, will He find faith on the earth?"


* A longtime national and international activist in the peace movement, Bishop Gumbleton is a founding member of Pax Christi USA and an outspoken critic of the sanctions against Iraq.
He has appeared on numerous radio and television programs, and has published numerous articles and reports.
* Scripture texts in this work are in modified form from the American Standard Version of the Bible and are available as part of the public domain.
For your convenience, the Scripture texts, as they appear in the Lectionary for Mass for Use in the Dioceses of the United States, second typical edition, Copyright © 1998, 1997, 1970 Confraternity of Christian Doctrine, Washington, D.C., may be found at the website of the United States Conference of Catholic Bishops (USCC).
http://www.usccb.org/nab/
** The Web link to Pax Christi is provided as a service to our readers.
If we notice carefully the Gospel lesson today, we can discover a clear indication of something we have mentioned before, how the Gospel was put together over a period of time. No one sat down and all at once wrote out the words of Jesus and described the actions of Jesus, and so on. It happened over a number of decades. Luke's Gospel was not finished, perhaps, until the 80s. You can see this in the lesson today, because in the beginning, before Jesus tells the parable, he says he is telling it for one purpose: to show us that we must pray constantly. His message is to just keep praying, asking God day after day after day. Jesus tells the parable to show how that prayer can be successful.
But by the time this was put into writing, many years had passed, decades. People had begun to have experiences; they prayed and prayed and there seemed to be no answer. They did not receive what they were asking for.

Dear Reader of The Peace Pulpit,

We need your help. We are pleased to make available -- at no charge -- The Peace Pulpit. But we cannot do all we need to do without your financial assistance.

Please take a moment to consider contributing to our annual appeal and join the ranks of readers who give to the Friends of NCR campaign. National Catholic Reporter is a nonprofit organization. Contributions are tax-deductible in the United States.


Contributions may be sent to:

National Catholic Reporter
115 E. Armour Blvd.
Kansas City, MO 64111
USA

Make checks out to: NCR

If you wish, you may print a form for submitting your donation.
You may also use this form for credit card donations.

OR



P.S. Everyone who donates will receive the fourth in a series of specially designed NCR Christmas ornaments connecting us in a special way to the gospel of peace on earth. Thank you.

So now we have the question: When Jesus comes again will there still be faith? Will he find faith on Earth among his followers? Will they continue to believe in him even when it seems their prayers are not answered? They had begun to have that experience.

Think about it; they must have prayed so desperately when Peter was put into jail and then threatened with death. They must have prayed for his being freed. But it did not happen. Peter was executed, and the same thing happened to so many of them. They must have been praying all the time. Some, perhaps, did began to lose faith in him.

In our own lives, isn't it true that sometimes we have a sense almost that God is supposed to be some kind of a wonder worker and when we ask God for something, God should give it? We have that sense about our prayer that it is almost like we try to manipulate God to give us what we want, and we do pray with constancy.

I remember just three years ago when Gloria was dying, the person for whom we are offering this Mass today, how desperately we prayed. I was there to anoint her. The family was there. We wanted her to be healed. She was not, of course. All of us have had that experience.

I think of the people in Haiti right now who are praying desperately for an end to the repression there and for an end to their affliction. They have not even begun to have their lives restored to normalcy after the hurricane hit there over a month ago. The roads have not been repaired. They cannot get through to get medicine to the people. They must be, and I know that they are, praying desperately.

People who are in jail because of the repression are praying desperately, but the repression continues. Just this week, one of the people I met when I went to Haiti two weeks ago, Fr. Gerard Jean-Juste, is in jail.* Hooded people came to his church while they were serving food to 600 children. They surrounded the church. They grabbed him and took him off to jail. They beat him. He is in jail right now. Two other priests are rumored to be in jail also. The repression gets worse, and the people pray for freedom and justice, and it is not happening.

The people of Iraq must be praying desperately. Yesterday, five Christian churches were bombed. The Iraqis are surely praying for peace in their country, desperately. It does not happen.

So when Jesus tells us we must pray without stopping, we must be intense in our prayer and keep on praying, persevering in our prayer, we have to do it with faith. That is what Jesus says in the parable. "When I return will I find faith on Earth?" Will we be people who continue to pray even when it seems that our prayers are not being answered? Will we continue to trust in God who is love? Will we continue to believe? There is reason why you should, of course.

The parable itself shows us not only the perseverance of the woman in her prayer, but what happens -- there is a reversal. A poor, oppressed widow, someone who had no rights, almost no possibility of getting justice, confronts the system and it works. The lowly are lifted up with God's promises. That is a sign of what can happen, but the most important sign, of course, is what happens to Jesus.

He prayed that his passion would be taken away from him, that he would not have to go to the cross and be executed, but he was. But then God reversed it all. Jesus is raised from the dead. This is an extraordinary sign that God does hear our prayers and that God will reverse all the injustice, evil and suffering that we have in our world. God will restore us, bring us at some point to a fullness of life and joy. The God who made us out of love is always watching over us with love.

This is what we believe, but it will take constant prayer. This is why, more than any other reason, that we have to be persistent in prayer -- so that we continue to believe in the power of God's love and that that love is always with us, and that that love at some point will bring to completion and fulfillment all of our dreams and hopes and give us a fullness of life beyond anything that we could image. We need to pray with persistence for this kind of faith and trust in God.

In the scriptures today, I see something else we need to pray for, our own conversion so that we can follow the way of Jesus, because that is how this reign of God will happen. The reign of God will bring us the fullness of life and joy that we pray for.

There is such a stark contrast, between the first lesson and what we have come to know as the teachings of Jesus. In that first lesson, Moses is praying for victory in battle. Killing people. Wiping out all the Amaleki, the whole tribe of people. Sometimes that is a challenge to us who follow the way of Jesus. People say, well didn't God endorse violence and killing and war? No, God really didn't, but as people came to understand who God truly is, it took a long time for them to come to an awareness that God is only love. That is fully revealed in Jesus.

We begin to understand, if we listen to the lessons today, that Jesus has radically changed everything. "You have heard it was said of old, thou shalt not kill. I say to you, do not even have anger or hatred in your heart for your brother or sister." Do not just not kill, love even your enemy. Be good to the one who hurt you. Jesus brings a radical change in teaching and shows us fully who God is; that God is only love.

As we pray with persistence and perseverance, we have to pray most of all that we can listen deeply to God's word as that word is revealed in Jesus. As God raised up Jesus, God will bring us through every trial, every suffering, even through death to life!

Will there be faith on Earth when Jesus returns? That is a question each of us asks in our own hearts: Do I believe and will I continue to believe? Well, perhaps, most of all if we commit ourselves to praying with perseverance, pray that we will believe, trust in God, the God of love revealed to us in Jesus, we continue to pray for that kind of persistence surely God hears our prayer then we will find the beginning, even now, of God's joy and fullness of life within ourselves. Then we can look with confidence at is a time when God will make God's love manifest everywhere and the reign of God will happen.

Will there be faith on earth? Will there be faith in my heart? Pray for it today with great fervor.

In the name of the Father and of the Son and of the Holy Spirit. Amen.
---
*Editor's Note: Read a full account of Juste's arrest in the Oct. 29 issue of National Catholic Reporter.