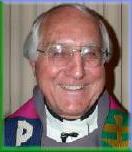 Thomas J. Gumbleton
Auxiliary Bishop of the Archdiocese
of Detroit, Michigan *



Proverbs 31:10-13, 19-20, 30-31
An excellent wife, who can find? For her worth is far above jewels. The heart of her husband trusts in her, and he will have no lack of gain. She does him good and not evil all the days of her life. She looks for wool and flax and works with her hands in delight.She stretches out her hands to the distaff, and her hands grasp the spindle. She extends her hand to the poor, and she stretches out her hands to the needy.Charm is deceitful and beauty is vain, but a woman who fears the Lord, she shall be praised. Give her the product of her hands, and let her works praise her in the gates.

1 Thessalonians 5:1-6
Now as to the times and the epochs, brethren, you have no need of anything to be written to you. For you yourselves know full well that the day of the Lord will come just like a thief in the night. While they are saying, "Peace and safety!" then destruction will come upon them suddenly like labor pains upon a woman with child, and they will not escape. But you, brethren, are not in darkness, that the day would overtake you like a thief; for you are all sons of light and sons of day We are not of night nor of darkness; so then let us not sleep as others do, but let us be alert and sober.

Matthew 25:14-30
"For it is just like a man about to go on a journey, who called his own slaves and entrusted his possessions to them. To one he gave five talents, to another, two, and to another, one, each according to his own ability; and he went on his journey. Immediately the one who had received the five talents went and traded with them, and gained five more talents. In the same manner the one who had received the two talents gained two more. But he who received the one talent went away, and dug a hole in the ground and hid his master's money. Now after a long time the master of those slaves came and settled accounts with them. The one who had received the five talents came up and brought five more talents, saying, 'Master, you entrusted five talents to me. See, I have gained five more talents.' His master said to him, 'Well done, good and faithful slave You were faithful with a few things, I will put you in charge of many things; enter into the joy of your master.' Also the one who had received the two talents came up and said, 'Master, you entrusted two talents to me. See, I have gained two more talents.' His master said to him, 'Well done, good and faithful slave. You were faithful with a few things, I will put you in charge of many things; enter into the joy of your master.' And the one also who had received the one talent came up and said, 'Master, I knew you to be a hard man, reaping where you did not sow and gathering where you scattered no seed. And I was afraid, and went away and hid your talent in the ground. See, you have what is yours.' But his master answered and said to him, 'You wicked, lazy slave, you knew that I reap where I did not sow and gather where I scattered no seed. Then you ought to have put my money in the bank, and on my arrival I would have received my money back with interest. Therefore take away the talent from him, and give it to the one who has the ten talents.' For to everyone who has, more shall be given, and he will have an abundance; but from the one who does not have, even what he does have shall be taken away. Throw out the worthless slave into the outer darkness; in that place there will be weeping and gnashing of teeth."


* Alongtime national and international activist in the peace movement, BishopGumbleton is a founding member of Pax Christi USA and an outspoken criticof the sanctions against Iraq.
Hehas appeared on numerous radio and television programs, and has publishednumerous articles and reports.
* Scripture texts in thiswork are in modified form from the American Standard Version of the Bibleand are available as part of the public domain.
For your convenience, theScripture texts, as they appear in the Lectionary for Mass for Use in theDioceses of the United States, second typical edition, Copyright ©1998, 1997, 1970 Confraternity of Christian Doctrine, Washington, D.C.,may be found at the website of the United States Conference of CatholicBishops (USCC).
http://www.usccb.org/nab/
**The Web link to Pax Christi is provided as a service to our readers.

Dear Reader of The Peace Pulpit,

We need your help. We are pleased to make available -- at no charge -- The Peace Pulpit. But we cannot do all we need to do without your financial assistance.

Please take a moment to consider contributing to our annual appeal and join the ranks of readers who give to the Friends of NCR campaign. National Catholic Reporter is a nonprofit organization. Contributions are tax-deductible in the United States.


Contributions may be sent to:
National Catholic Reporter
115 E. Armour Blvd.
Kansas City, MO 64111
USA

Make checks out to: NCR

If you wish, you may print a form for submitting your donation.
You may also use this form for credit card donations.

OR


P.S.: Everyone who donates will receive the fourth in a series of specially designed NCR Christmas ornaments connecting us in a special way to the gospel of peace on earth. Thank you.

The last part of the Gospel this morning could give us a very distorted image of God if we immediately think that the property owner in the story stands for Jesus or stands for God. So before we begin the reflection, let's remind ourselves that when Jesus tells a story all the details are not to be applied to any thing in particular or any person in particular but that he always has a central lesson he is trying to teach us.

To put it in a broader context, I remind you that the last few Sundays we have been listening to the Gospel of Matthew where Matthew is describing the last week in the life of Jesus. Jesus had come into Jerusalem and overthrown the tables of the money changers and drove them out of the temple and so on. He entered into a lot of arguments and dialogues, if you want to call it that, with the religious leaders.

Then last Sunday, he gathered his disciples around. He told them the story about the wise and foolish bridesmaids trying to get us to understand that we need to live according to the wisdom of God, which can be foolishness to the world.

Today, again, Jesus is instructing his disciples, instructing us. So we have to listen carefully to what he's telling us. The story has a very powerful lesson. It seems pretty clear, if you remember the disciples of Jesus are gather around him and he's giving them their final instructions. In a couple days he will be gone, so he tells them in this story, "Look, you have the talent. You have all the gifts that you need as my disciples, so go out into the world and change it, carry the message of the good news everywhere. You have all that you need to do it. The terms in the parable are really quite extravagant. You know talents, one talent was the equivalent of 20 years of a working person's wages. Two talents is 40 years, five is 100 years. It's a huge amount of money. Jesus is emphasizing we have an abundance of gifts as his disciples.

But what could thwart us? Well, it's obvious. The one who receives the one talent, it wasn't because he had too little. Twenty years wages is a lot of money. If it were invested, it would bring back huge returns. The thing that stopped him was fear. He was afraid to take any risk. He was afraid to follow the vision of Jesus. He was afraid to be creative, to use his energy and his gifts to spread God's word. Fear stopped him cold. He doesn't make a move. He hid the talent in the ground and nothing happened. The other two, of course, use the talents. Tremendous things happen and so God welcomes them, "Come, enjoy the life and the joy of the master."

Our first lesson today gives us an example, a really quite amazing example in a way. As I have mentioned before in the culture of Jesus, in the Jewish culture, the culture of that time, women were not held up very often as the ones to follow -- but this woman is. "The woman of character, where is she to be found? She is more precious than any jewel. She brings only good, not evil, all the days of her life. She, like the merchant ships which bring provisions from afar, if she sets her heart on a field she buys it and plants a vineyard with her own hand." She has energy. She has ideas. She's got imagination. She's full of energy. "She reaches out her hand to the helpless and gives to the poor." She is as totally generous as Jesus was. "She weaves linen cloth and sells it. She supplies the merchants with sashes. She is strong and dignified and looks with confidence to the future. She speaks wisely. Her words are kind." And it's the last phrases; "Charm is deceptive and beauty is useless. The woman who fears the Lord is the one to praise."

Now, isn't that sort of strange, in this instance, fear is freeing! But this is a different kind of fear. Fear of the Lord is a very important virtue. It means having awe and wonder about God and knowing who God is. So we're in awe and, you could call it a kind of fear, but it is not a paralyzing fear. It is a fear that makes us not afraid of anything else, not afraid of anyone else. Once we know who God is and that we are God's people, and that we are disciples of Jesus, and we have this awe of God nothing will stop us. That's the message there. This woman is the ideal disciple: she has fear of the Lord, not fear of other human beings, not fear of what might happen to her, not fear of anything but awe and wonder about God. And so she is free.

Don't miss a homily
To receive an e-mail notice when The Peace Pulpit is posted every week, sign up here.
Click on the link at the top right of this page to send the column to a friend or colleague.

Now, of course, that's the quality we must try to develop within ourselves, in our church, in our society. As I was thinking about how we might apply this lesson, first of all within our society, I was aware of almost immediately, of course, of what the leadership of our nation, President Bush, tries to do -- make us afraid. Just the other day he gave what as billed as a very important speech, why we have to be at war in Iraq and why we have to stay there until we practically destroy the whole country and all the people. It was all based on fear. There might be terrorists coming at us at any moment, at any time, he said. Remember the mushroom cloud that he talked about, the link to al-Qaeda. None of that existed but it made us afraid. So instead of having creative ideas about how we can build up the world, bring nations together, work with other nations, we act out of fear; we built more weapons, tried to get more troops to go, tried to do more violence. If we had fear of God, fear of the Lord and were free of fear of anything else, we would begin to be creative as a people, have a vision of how to make things happen, and we could make it happen.

As long as we're operating out of that fear it's like burying our talent in the ground and not using it. We must work to change that fear within ourselves (if we're affected by it) and within our society, within our nation. We must work to become a people who are not weighed down by a graven fear but who are creative, ready to reach out, build up rather than tear down.

But it also applies to our church. I don't think there was a lot of attention paid to it in the public media, but there was a Synod of Bishops that took place during the month of October. A Synod of Bishops is representatives of every bishops' conference in the world; it's a cross-section of whole church's leadership. They come together in Rome, and they spent four weeks discussing the Holy Eucharist, one of the central parts of our whole faith. What we do here every Sunday, celebrate the Eucharist. Of course, they spoke about the centrality of the Eucharist in the church. You have to have the Eucharist in order to build up the Christian community. People need the Eucharist if we're going to be nurtured and nourished and able to grow away from our sinful inclinations. So it was an opportunity to begin, perhaps, to set a new vision for the church, because the bishops at the synod agreed very readily that you need a priest to celebrate the Eucharist. Yet we don't have enough priests, obviously. I saw a report the other day that in a few years there will only 232 priests in the archdiocese of Detroit. When I was ordained there were about 600 to 700. This is archdiocesan priests. We don't have them. The bishops spoke about how important it is -- to build a Christian community you need a priest to celebrate the Eucharist. One bishop at the synod said that the Sunday after he was ordained he celebrated nine masses in nine different places because there aren't enough priests.

Now did the bishops come up with any creative, visionary, new ideas? No, it's all the status quo. Nothing new. It seems to me that they were acting out of fear, out of fear of being creative, of being visionary. Although, as I mentioned before, it would only be in a sense a vision taking us back to the original tradition of the church -- ordain married men, ordain women. It would be so easy to have priests everywhere, where ever you needed them, for the smallest community. Yesterday they had the last Mass at St. Dominic's Church. Ned McGrath was on the radio, he's the spokesperson for the archdiocese. He said, "Well, they don't have that many people anymore. They have debts and they are not able to do this so we had to close it." He forgot to mention that a few years ago they had a priest there who was a real leader and that parish was growing! It was becoming an alive and energetic parish community. But then you don't assign a priest who's a leader, or in fact you assign a priest to that parish and to two other parishes -- well, obviously the parish is going die out! And that's what was happening. That's what happened yesterday. They ended it. It doesn't have to happen that way; if instead of acting out of fear within the church, if we would act in fear of the Lord, which frees us, makes us not afraid of anything or any one, we could move in a totally different direction.

And so you and I, I guess, have to try to take this to heart. Understand that God has given me, you, everyone of us talents, an abundance of gifts. And if we operate out of that extraordinary virtue of fear of the Lord, awe for God that frees us, gives us energy, we could act in a very different way as members of God's people. Each of us individually. We'll have the courage to go out into our community, to spread the good news, to say the word of God, to live it. And we'll really be active in changing the world, transforming it into the reign of God.

We must pray for our church leaders, our civil leaders. We must try to bring forth leaders who are not afraid, who are not going to bury the talent that God gives to us in the ground but who will give leadership to our nation and to our church. This passage in today's Gospel is very important for every one of us, and I urge you to think of it again as Jesus, right at the end of his life saying to his first community but now saying to us, "I'm going to be gone in my physical presence. I'll be with you in spirit and you go and use your talents. Spread the good news. Make the reign of God happen."

In the name of the Father and of the Son and of the Holy Spirit. Amen.