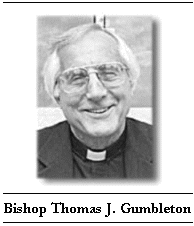 Auxiliary Bishop of the Archdiocese
of Detroit, Michigan *
* A longtime national and international activist in the peace movement, Bishop Gumbleton is a founding member of Pax Christi USA and an outspoken critic of the sanctions against Iraq.
He has appeared on numerous radio and television programs, and has published numerous articles and reports.

* Scripture texts in this work are in modified form from the American Standard Version of the Bible and are available as part of the public domain.
For your convenience, the Scripture texts, as they appear in the Lectionary for Mass for Use in the Dioceses of the United States, second typical edition, Copyright © 1998, 1997, 1970 Confraternity of Christian Doctrine, Washington, D.C., may be found at the website of the United States Conference of Catholic Bishops (USCC).
http://www.usccb.org/nab/
** The Web link to Pax Christi is provided as a service to our readers.
NOTE: Bishop Gumbleton was speaking at a rally to close the School of the Americas (SOA), held this past week, and unable to provide last Sunday's homily. The rally took place from November 15 to November 17 outside the gates of Fort Benning, Georgia. For more information, you may visit the School of the Americas Watch Web site at: http://www.soaw.org