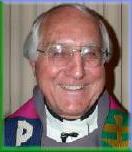 Thomas J. Gumbleton
Auxiliary Bishop of the Archdiocese
of Detroit, Michigan *



Is 61:1-2a, 10-11
The spirit of the Lord GOD is upon me,because the LORD has anointed me;he has sent me to bring glad tidings to the poor,to heal the brokenhearted,to proclaim liberty to the captivesand release to the prisoners,to announce a year of favor from the LORDand a day of vindication by our God.I rejoice heartily in the LORD,in my God is the joy of my soul;for he has clothed me with a robe of salvationand wrapped me in a mantle of justice,like a bridegroom adorned with a diadem,like a bride bedecked with her jewels.As the earth brings forth its plants,and a garden makes its growth spring up,so will the Lord GOD make justice and praisespring up before all the nations.

1 Thes 5:16-24
Brothers and sisters:Rejoice always. Pray without ceasing.In all circumstances give thanks,for this is the will of God for you in Christ Jesus.Do not quench the Spirit.Do not despise prophetic utterances.Test everything; retain what is good.Refrain from every kind of evil.May the God of peace make you perfectly holyand may you entirely, spirit, soul, and body,be preserved blameless for the coming of our Lord Jesus Christ.The one who calls you is faithful,and he will also accomplish it.

Jn 1:6-8, 19-28
A man named John was sent from God.He came for testimony, to testify to the light,so that all might believe through him.He was not the light,but came to testify to the light.And this is the testimony of John.When the Jews from Jerusalem sent priestsand Levites to himto ask him, "Who are you?"He admitted and did not deny it,but admitted, " am not the Christ."So they asked him,"What are you then? Are you Elijah?"And he said, "I am not.""Are you the Prophet?"He answered, "No."So they said to him,"Who are you, so we can give an answer to those who sent us?What do you have to say for yourself?"He said:"I am the voice of one crying out in the desert,'make straight the way of the Lord,'as Isaiah the prophet said."Some Pharisees were also sent. They asked him,"Why then do you baptizeif you are not the Christ or Elijah or the Prophet?"John answered them,"I baptize with water;but there is one among you whom you do not recognize,the one who is coming after me,whose sandal strap I am not worthy to untie."This happened in Bethany across the Jordan,where John was baptizing.


* Alongtime national and international activist in the peace movement, BishopGumbleton is a founding member of Pax Christi USA and an outspoken criticof the sanctions against Iraq.
Hehas appeared on numerous radio and television programs, and has publishednumerous articles and reports.
* Scripture texts in thiswork are in modified form from the American Standard Version of the Bibleand are available as part of the public domain.
For your convenience, theScripture texts, as they appear in the Lectionary for Mass for Use in theDioceses of the United States, second typical edition, Copyright ©1998, 1997, 1970 Confraternity of Christian Doctrine, Washington, D.C.,may be found at the website of the United States Conference of CatholicBishops (USCC).
http://www.usccb.org/nab/
**The Web link to Pax Christi is provided as a service to our readers.
It is not difficult to discover quickly the themes that we are called to reflect upon this morning as we listen carefully to God's word. Obviously, we're called to reflect on the theme of joy and the theme of witness. These two themes must be what our reflection is all about today.

Dear Reader of The Peace Pulpit,

We need your help. We are pleased to make available -- at no charge -- The Peace Pulpit. But we cannot do all we need to do without your financial assistance.

Please take a moment to consider contributing to our annual appeal and join the ranks of readers who give to the Friends of NCR campaign. National Catholic Reporter is a nonprofit organization. Contributions are tax-deductible in the United States.


Contributions may be sent to:
National Catholic Reporter
115 E. Armour Blvd.
Kansas City, MO 64111
USA

Make checks out to: NCR

If you wish, you may print a form for submitting your donation.
You may also use this form for credit card donations.

OR


P.S.: Everyone who donates will receive the fourth in a series of specially designed NCR Christmas ornaments connecting us in a special way to the gospel of peace on earth. Thank you.

The theme of joy is very plain. Paul says, "Rejoice always." He's calling upon us to rejoice, be filled with joy, give thanks to God at every moment. This is the will of God, your vocation. A very strong way to put it: Joy is to be our vocation, our calling from God is to be fulfilled with joy. That theme is continued so clearly even in the first lesson where Isaiah cries out, "I rejoice greatly in Yahweh! My soul exalts for joy in my God for God has clothed me in the garment of God's saving love."

That is a profound reason to be joyful. And we might not have noticed but our response today after the first reading, which is usually a psalm response but instead today is taken from the Gospel of Luke and is part of our blessed lady's powerful cry of joy. When she goes to visit her relative Elizabeth and Elizabeth proclaims her blessed among all women, Mary cries out, "My soul proclaims the greatness of God. My spirit exalts and rejoices in God because God has looked upon God's servant in her lowliness and people will forever call me blessed."

Joy is throughout our readings today. How will we achieve that spirit of joy so that our very lives will proclaim the message that we are God's people, that we are filled with God's life, God's love, that we're filled with joy?

I think it will happen if we take very seriously our other theme, the theme of witness. And that you can't miss either. It's so clear: John saying who he is. John recognized the truth, did not deny it: "I am not the messiah." John said, quoting the prophet Isaiah, "I am the voice crying out in the wilderness. I am not the light. I am a witness to the light." John came to bear witness, to introduce the light that all might believe through John. He was not the light but a witness to introduce the light.

Isaiah too, in the passage that we hear today, was acting as a witness. As I mentioned, the people had just returned from that terrible period of exile in Babylon, which we know today as Iraq. They had come back to Jerusalem, found everything destroyed, violence everywhere, rubble. They were disheartened because the temple had been totally leveled, the altar had been abominated. And yet Isaiah can cry out to them that they are to be witnesses. He tells them, "The spirit of God is upon me because God has anointed me to bring good news." That is to give testimony. "... to bring good news, proclaim how God has sent me to bind up broken hearts, proclaim liberty to the captives, freedom to those languishing in prison, to announce the Lord's year of favor, a time of fullness of life and joy and peace." Isaiah was the witness proclaiming this great message.

Of course we know, that's the very testimony that Jesus took to declare how he was to be a witness in the world. At the beginning of his public life, the first time he spoke in Luke's Gospel was in the synagogue at Nazareth after he had spent time in the desert praying and undergoing conversion, a deep awareness of his call from God. He came back and he proclaimed those words to the people of Nazareth, "The spirit of God is upon me. God sends me to proclaim the good news to the poor, heal the broken hearted, set the downtrodden free, proclaim God's year of favor."

Jesus reads the passage, sits down and then this is when he declares, "This day this scripture passage is fulfilled as you listen. I am the one who gives testimony to this truth that God has sent me to proclaim good news to the poor, heal the broken hearted." In other words restore everything to the way God wants us to be. God's year of favor, a year of fullness of life and peace and joy, a time of fulfillment, a fulfillment of God's reign.

But of course we don't stop there, do we? Jesus was given testimony by John who was a witness of Jesus. Jesus comes. He gives testimony on behalf of God, that God has sent him to proclaim the good news and then Jesus sends us out. We are the community of God's people, a community of disciples of Jesus, so we have now this task. Each of us must say, "This day this scripture passage is fulfilled even as you listen. I am to be a witness to God, to the good news. I am to bring healing to the afflicted, to give the blind new sight, to lift up the poor."

Each of us is called to be a witness. We must take that call very seriously. And so I thought I might suggest some ways, very real ways in the world in which you and I live where perhaps we need to give testimony, we need to be witnesses.

The root meaning of that word -- or I should say the Greek form of that word "witness" is "martyr." Ultimately our witness must be a willingness even to give our lives. I can't help but think of those four women martyrs whom we celebrated last week on Dec. 2. In El Salvador 25 years ago, these women (two Maryknoll nuns, an Ursuline nun and a lay woman) gave their lives to give witness to the poor in that tiny country. They were struggling to be on the side of the poor, to live with the poor and because of that their names appeared on the death lists. Two of them were returning from a meeting in a neighboring country, Nicaragua, and the other two had gone to pick them up at the airport. Their van was pushed off the road, and soldiers trained at our School of the Americas assaulted them, raped them and killed them. Shot them point blank in the head and left their bodies buried in a very shallow ditch. Well, that probably isn't the kind of witness that any of us is called to. Yet we must be aware of that witness and that when we become witnesses of Jesus it means that we are willing to go where ever God calls us, to be genuinely ready to hand ourselves over as witnesses as those four women did or as Oscar Romero did the same year a few months before them.

Don't miss a homily
To receive an e-mail notice when The Peace Pulpit is posted every week, sign up here.
Click on the link at the top right of this page to send the column to a friend or colleague.

But even though we probably are not going to be called to that final witnessing by giving up our very lives we do have to be witnesses on the side of the poor.

I wonder how many of us are aware that this past week the House of Representatives passed a bill in our Congress that will take over $50 billion from programs for the poor in our country, the kind of person I met last night. A man came to my door and it was very cold at that point. It's not quite so cold today. He was shivering. He's homeless, and he's also lacking medicine. He's got a sugar deficiency so almost at any time he could have a convulsion. And he has no money. He's homeless! He's in our neighborhood with no place to live. Now, that's the kind of person we're going to take any kind of assistance away from cutting back on Medicaid, cutting back on assistance to family, cutting back on all our central programs.

How many of us have taken the time to write to our representative in the Congress to protest? How many of us have been ready to stand up and be a public witness? Tuesday morning of this week there's going to be a press conference at Our Lady of Fatima Church, at which this protest is going to be made public. There's still a chance that in the conference committee that the Congress has to have now between the Senate and the House that some of those cuts may be eliminated. Certainly they won't restore them all but some of them might come back. Or perhaps they'll reduce the $95 billion in tax cuts that go to the richest people in our country. We have a very unjust situation here. If we're really going to witness to Jesus, proclaim good news to the poor, this is one place we could witness.

But I also think of, and this is encouraging, this past week in Montreal was a special international meeting on the problems that our world is facing with the changing climate. Global warming -- caused by the emission of gasses that happen because of human activity -- is becoming very threatening. It's a whole different phenomenon in our history in the world. Well, at least in Montreal there were hundreds of young people there protesting. Now, China and the United States both refused to make any changes. We're determined to keep on spending our resources just the same way we have, to keep on producing this global warming. But young people are beginning to say, "It's going to be our world that you're destroying!" They're standing up. They're willing to go there and give witness, but we should be with them.

There are many ways in which we could give witness. Those are just a couple. But one other that I found very powerful for myself this week was a witness from a mother who wrote an open letter to the hierarchy of the Roman Catholic Church. Sometimes we have to witness even against the leadership of our own church just as Jesus witnessed against the leaders of the religious community of his time.
As a mother, I would like you to know how much it hurts to hear the child you raised and love referred to once again as "objectively disordered" by the Church. I cannot imagine the pain and despair it causes all the chaste, gay priests who have served the Church so steadfastly and who continue to do so. The above mentioned document …
The document she is referring to, the instruction concerning criteria for determination of vocations regarding persons with homosexual tendencies,
"The above mentioned document states that it was "made more urgent by the current situation" to ban those with "deep-seated homosexual tendencies" from entering into Holy Orders. The only reasonable conclusion from this wording would be that homosexual persons were solely responsible for the recent "scandal" within our beloved church. Not only is this not true, it is spiritually harmful to those of us who know and love homosexual people. And it is an affront to all the girls and women who were abused.

As the parent of a lesbian, I know my child to be a kind, loving, devout person who lives her life in full accordance with the Gospel of Jesus as do many homosexual persons. The Catechism of the Catholic Church states "they do not choose their homosexuality" and as a parent, I can attest to that very statement. My daughter, who received 16 years of Catholic education, struggled and prayed for many years asking God to take this challenge away. When we learned of our daughter's orientation, we were devastated. We, too, prayed endlessly for God to change things. We said novenas, rosaries and stormed all the saints in heaven to help us.

God answered our prayers and did change things -- but in a way we did not expect. During our time of praying, reading, and getting to know gay and lesbian persons, we became aware that they are indeed a gift from God -- a gift that reflects God's love in a new and powerful way. In addition, I now have a small incite into the agony Our Blessed Mother suffered when her son was condemned and then crucified. Part of her anguish must have come from those in the early church who abandoned Jesus and did not speak up or help him."
That's a very courageous witness of a mother and father who love their daughter. It is a witness proclaimed to the very leadership of our church. It is another area of witness where every one of us, I believe, must become involved, speaking up for the beautiful gift that gay and lesbian people are in our midst.

I'm sure that any one of us as we continue to reflect on today's reading can find other ways in which we can and must become living witnesses to everything that Jesus taught and did and lived out in his life. Living witnesses to the truth that God proclaimed through Jesus. And I'm sure that if we do this, if we begin to become the witnesses God has called us to be, that the other theme of our reflection today -- joy -- will be realized within our own lives.

One of the most joyful persons I ever met was Dorothy Kazel, one of the four women murdered on Dec. 2, 25 years ago. The Easter before she was murdered she wrote a beautiful Easter reflection in which she spoke about how our call is to be "Alleluia," our whole being must be crying out "Alleluia." Her life did proclaim "Alleluia!" That's what will happen to every one of us. We need only remember what Jesus said to his disciples at the Last Supper when he was sending them forth, the last time he was talking to them before he was executed. He said, "I tell you all of this so that my joy may be in you and that your joy will be complete." If we listen to Jesus, become witnesses to Jesus, his joy will be in us and our joy will be complete.

In the name of the Father and of the Son and of the Holy Spirit. Amen.