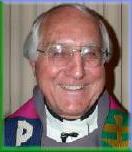 Thomas J. Gumbleton
Auxiliary Bishop of the Archdiocese
of Detroit, Michigan *



2 Sm 7:1-5, 8b-12, 14a, 16
When King David was settled in his palace,and the Lord had given him rest from his enemies on every side,he said to Nathan the prophet,"Here I am living in a house of cedar,while the ark of God dwells in a tent!"Nathan answered the king,"Go, do whatever you have in mind,for the Lord is with you."But that night the Lord spoke to Nathan and said:"Go, tell my servant David, 'Thus says the Lord:Should you build me a house to dwell in?'"It was I who took you from the pastureand from the care of the flockto be commander of my people Israel.I have been with you wherever you went,and I have destroyed all your enemies before you.And I will make you famous like the great ones of the earth.I will fix a place for my people Israel;I will plant them so that they may dwell in their placewithout further disturbance.Neither shall the wicked continue to afflict them as they did of old,since the time I first appointed judges over my people Israel.I will give you rest from all your enemies.The Lord also reveals to youthat he will establish a house for you.And when your time comes and you rest with your ancestors,I will raise up your heir after you, sprung from your loins,and I will make his kingdom firm.I will be a father to him,and he shall be a son to me.Your house and your kingdom shall endure forever before me;your throne shall stand firm forever."

Rom 16:25-27
Brothers and sisters:To him who can strengthen you,according to my gospel and the proclamation of Jesus Christ,according to the revelation of the mystery kept secret for long agesbut now manifested through the prophetic writings and,according to the command of the eternal God,made known to all nations to bring about the obedience of faith,to the only wise God, through Jesus Christbe glory forever and ever. Amen.

Lk 1:26-38
The angel Gabriel was sent from Godto a town of Galilee called Nazareth,to a virgin betrothed to a man named Joseph,of the house of David,and the virgin's name was Mary.And coming to her, he said,"Hail, full of grace! The Lord is with you."But she was greatly troubled at what was saidand pondered what sort of greeting this might be.Then the angel said to her,"Do not be afraid, Mary,for you have found favor with God."Behold, you will conceive in your womb and bear a son,and you shall name him Jesus.He will be great and will be called Son of the Most High,and the Lord God will give him the throne of David his father,and he will rule over the house of Jacob forever,and of his kingdom there will be no end."But Mary said to the angel,"How can this be,since I have no relations with a man?"And the angel said to her in reply,"The Holy Spirit will come upon you,and the power of the Most High will overshadow you.Therefore the child to be bornwill be called holy, the Son of God.And behold, Elizabeth, your relative,has also conceived a son in her old age,and this is the sixth month for her who was called barren;for nothing will be impossible for God."Mary said, "Behold, I am the handmaid of the Lord.May it be done to me according to your word."Then the angel departed from her.


* Alongtime national and international activist in the peace movement, BishopGumbleton is a founding member of Pax Christi USA and an outspoken criticof the sanctions against Iraq.
Hehas appeared on numerous radio and television programs, and has publishednumerous articles and reports.
* Scripture texts in thiswork are in modified form from the American Standard Version of the Bibleand are available as part of the public domain.
For your convenience, theScripture texts, as they appear in the Lectionary for Mass for Use in theDioceses of the United States, second typical edition, Copyright ©1998, 1997, 1970 Confraternity of Christian Doctrine, Washington, D.C.,may be found at the website of the United States Conference of CatholicBishops (USCC).
http://www.usccb.org/nab/
**The Web link to Pax Christi is provided as a service to our readers.
If we listen deeply to the scripture lessons today we will hear God proclaiming a marvelous truth: God is always faithful. God's promises will always be fulfilled. We can have unlimited trust and confidence in God. God makes an extraordinary promise in the first lesson today when speaking to the prophet Nathan. God tells David that he will be the beginning of the house of Israel. Remember the reading? David wanted to build a temple, a house for God and God reminds David that he doesn't need a temple that God is living with them in their midst all the time. God doesn't need a special place for us to be aware that God is present. But God says to David, "I will build you a house and it's a house that will last forever." And he wasn't talking about a building. He was talking about a dynasty, the house of David, the rule of David that would go on forever.

Dear Reader of The Peace Pulpit,

We need your help. We are pleased to make available -- at no charge -- The Peace Pulpit. But we cannot do all we need to do without your financial assistance.

Please take a moment to consider contributing to our annual appeal and join the ranks of readers who give to the Friends of NCR campaign. National Catholic Reporter is a nonprofit organization. Contributions are tax-deductible in the United States.


Contributions may be sent to:
National Catholic Reporter
115 E. Armour Blvd.
Kansas City, MO 64111
USA

Make checks out to: NCR

If you wish, you may print a form for submitting your donation.
You may also use this form for credit card donations.

OR


P.S.: Everyone who donates will receive the fourth in a series of specially designed NCR Christmas ornaments connecting us in a special way to the gospel of peace on earth. Thank you.

And yet if we follow the history of the chosen people after David, we discover that yes his son Solomon succeeded him. He was a marvelous and extraordinary king, but then shortly after that the kingdom of David began to fall apart. Historically, you would think that God was not keeping the promise, that God had not been faithful. But then finally and suddenly you hear in the Gospel lesson today the angel Gabriel tell Mary that she's to have a son. He will be great. He'll rightly be called "son of the most high." God will give him the kingdom of David, his ancestors, and he will rule over the people of Jacob forever. And his reign will have no end. Now, I'm sure that's not the way David understood the promise when he first heard it, but that's how God fulfills the promise hundreds and hundreds of years later in a way that was totally unexpected: Jesus came into the world the very son of God and established God's reign that will go on forever.

It took great confidence on the part of Mary to say "yes" to that angel. The angel made the promise that her son was to be the son of the most high, that he would be the beginning of a new reign of God. But how could Mary have any evidence, any proof? She simply trusted in God and God's promise. And that's what we're called to do also, to try to become more aware that God is always faithful, that God fulfills the promises that God makes. Sometimes it will not be in the way we expect. We'll be surprised by how God does fulfill the promises God makes to us, how God is always faithful to us.

Last Sunday I shared with you a letter that was written by one of our members, Mary Black, and I think I'll share part of it again because it's such a clear example of how God surprises us in the way that God is faithful, and fulfills promises God makes to us. You may remember that Mary was writing to the hierarchy of the Roman Catholic church because of the recent decree that came from the Vatican about gay people and the seminary. She says:
"As a mother I would like you to know how much it hurts to hear the child you raised and loved referred to once again as "objectively disordered" by the church. I cannot image the pain and despair it causes all the chaste, gay priests who have served the church so steadfastly and who continue to do so. ...

As the parent of a lesbian, I know my child to be a kind, loving, devout person who lives her life in full accordance with the Gospel of Jesus as do many homosexual persons. ...

My daughter, who received 16 years of Catholic education, struggled and prayed for many years asking God to take this challenge away. When we learned of our daughter's orientation, we were devastated. We, too, prayed endlessly for God to change things. We said novenas, rosaries, and stormed all the saints in Heaven to help us.

God answered our prayers and did change things -- but in a way we did not expect. During our time of praying, reading and getting to know gay and lesbian persons, we became aware that they are indeed a gift from God -- a gift that reflects his love in a new and powerful way."
God was faithful to Mary and Jerry Black and their daughter. God fulfills the word God has promised to them that their daughter would be a gift. And she is. But it took great confidence and trust in God to have that promise fulfilled and realize that it was fulfilled in a way that was a surprise. It was different from what they expected. That will often happen if we try to place our trust in God that what we expect may not be the way it comes out but it will be God's faithfulness that will make it happen in a way that will be for our good.

You know even the great saints spoken of in the scriptures had to have profound trust in God's promises and sometimes misunderstood how God was going to fulfill those promises. Earlier this week there was a passage in one of the weekday masses in the Gospel about John the Baptist. John the Baptist, you may remember was the one who proclaimed that Jesus is the messiah. But then later John the Baptist was arrested by King Harrod and thrown into jail; he was about to be executed. He sent messengers to Jesus to ask. "Are you the one who is to come or should we expect another?" John the Baptist had preached about the coming of the messiah, but he thought of the messiah as one who would as he put it, "take the axe to the root of the trees and strike them down, destroy them." The messiah would come as a judge, as one who would quickly overwhelm the forces of evil in a violent way. But Jesus didn't act that way, and so he tells the messenger, "Go back and tell John what you've seen and heard." And he describes how the blind are beginning to see, the deaf are beginning to hear, the lame are beginning to walk, the sick are being nurtured, and the poor have the good news proclaimed to them. What Jesus was telling John was: "Yes, God is transforming this world through the message that I bring, but it's not in a sudden, dramatic way. It's a slow transformation. The way of love is beginning to penetrate into the world, into the lives of people. They're being changed. The reign of God is happening." In other words Jesus said to John, "Yes, I am the one, but I am fulfilling God's promises in a way different from what you had thought."

Don't miss a homily
To receive an e-mail notice when The Peace Pulpit is posted every week, sign up here.
Click on the link at the top right of this page to send the column to a friend or colleague.

We still have failed to hear this message that Jesus gave to John the Baptist. I thought of this this week when Gov. Schwarzenegger in California refused to give clemency to Stanley "Tookie" Williams, the black man who was on death row. Gov. Schwarzenegger, I guess, thought that he knew best how to judge people. So the man was executed. But think about what was happening: This was a man, Tookie Williams, who had begun to change his whole life and had begun to do good in the world, to heal those places in his own life where he was so wounded, and to begin to spread the healing and the goodness and the love to others. A slow transformation was taking place and it could have gone on. That's how the reign of God can happen. But when we decide how we will make it happen, we're probably wrong. God acts differently.

God is faithful, but God's ways are different from our ways. God's thoughts are different from our thoughts, and so if we really want to show our trust in God, we have to be ready to follow where God leads not where we decide to go. This is why it requires such trust. We have to believe that God is faithful, that God does fulfill all the promises God makes and that God's reign is happening and will come to it's fulfillment at some point.

But, of course, this can be extremely challenging, trusting in God even when it seems that what God is asking of us would be impossible. We might wonder sometimes how God is being faithful in certain circumstances. Sometimes tragedy happens. This came home to me very clearly this week when I received an e-mail from friends of mine, a married couple, good friends of mine over many, many years. They wrote to me:
"We received some devastating news on Friday. Our 10 year old granddaughter was found to have a brain tumor which is inoperable and malignant. And the doctors say she probably has only nine to 12 months to live. All of this was completely unexpected. Otherwise she is in perfect health. She had a slight problem with double vision in one of her eyes. Her parents took her to an ophthalmologist for a routine visit. He couldn't find anything wrong with the eye and suggested an MRI which revealed the tumor and then it's been confirmed twice more."
A 10-year-old youngster. A beautiful child. Nine to 12 months of life. There is a challenge. How will those parents and grandparents trust that somehow God is present in this? That God's love is still there and that God is faithful? That's the challenge, the kind of challenge that could face any one of us when we are asked to believe and trust in God's goodness, in God's love.

Perhaps for us to do this we should turn once more to the example of Jesus himself. Jesus was the son of God as proclaimed by the angels in today's Gospel. He was the one who was to establish the kingdom of David forever, but not once in his life was he acclaimed as king. He never was installed as the ruler of Israel. You remember the one time in the Gospel where Jesus is proclaimed as king? When he's hanging on the cross. Over his head is the scripture, "Jesus of Nazareth, King of the Jews". How ironic! The king crucified on a cross. Executed as a criminal. And yet God affirms the truth of this, because God raised Jesus from the dead. God's promise was fulfilled fully in Jesus. He is the fulfillment of the promise to David. Jesus is the king of the universe, the one who rules over all of us in his glory as son of God. Jesus had to pray with great confidence to God. You may remember on the cross he cried out, "My God, my God why have you forsaken me?" And yet he could finally say, "God in your hands I shall rest my spirit."

Each of us has to pray that we can begin to trust in God the same way. And no matter what happens in our lives, no matter what God asks of us, if we're willing to trust and to follow where God leads us we will find ourselves filled with the joy and the goodness of God and the love of God just as Jesus did. We pray that as we listen to today's scripture we will hear clearly the truth: God is faithful, God's love is always trustworthy. Pray that we will hear that and that we will live our lives everyday trusting totally in God and in whatever God asks of us.

In the name of the Father and of the son and of the Holy Spirit. Amen.