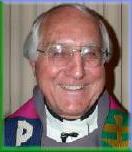 Thomas J. Gumbleton
Auxiliary Bishop of the Archdiocese
of Detroit, Michigan *



Isaiah 7:10-14
The LORD spoke to Ahaz, saying: Ask for a sign from the LORD, your God; let it be deep as the netherworld, or high as the sky! But Ahaz answered, "I will not ask! I will not tempt the LORD!" Then Isaiah said: Listen, O house of David! Is it not enough for you to weary people, must you also weary my God? Therefore the LORD himself will give you this sign: the virgin shall conceive, and bear a son, and shall name him Emmanuel.

Romans 1:1-7
Paul, a slave of Christ Jesus, called to be an apostle and set apart for the gospel of God, which he promised previously through his prophets in the holy Scriptures, the gospel about his Son, descended from David according to the flesh, but established as Son of God in power according to the Spirit of holiness through resurrection from the dead, Jesus Christ our Lord. Through him we have received the grace of apostleship, to bring about the obedience of faith, for the sake of his name, among all the Gentiles, among whom are you also, who are called to belong to Jesus Christ; to all the beloved of God in Rome, called to be holy. Grace to you and peace from God our Father and the Lord Jesus Christ.

Matthew 1:18-24
This is how the birth of Jesus Christ came about. When his mother Mary was betrothed to Joseph, but before they lived together, she was found with child through the Holy Spirit. Joseph her husband, since he was a righteous man, yet unwilling to expose her to shame, decided to divorce her quietly. Such was his intention when, behold, the angel of the Lord appeared to him in a dream and said, "Joseph, son of David, do not be afraid to take Mary your wife into your home. For it is through the Holy Spirit that this child has been conceived in her. She will bear a son and you are to name him Jesus, because he will save his people from their sins." All this took place to fulfill what the Lord had said through the prophet: Behold, the virgin shall conceive and bear a son, and they shall name him Emmanuel, which means "God is with us." When Joseph awoke, he did as the angel of the Lord had commanded him and took his wife into his home.


* A longtime national and international activist in the peace movement, Bishop Gumbleton is a founding member of Pax Christi USA and an outspoken critic of the sanctions against Iraq.
He has appeared on numerous radio and television programs, and has published numerous articles and reports.
* Scripture texts in this work are in modified form from the American Standard Version of the Bible and are available as part of the public domain.
For your convenience, the Scripture texts, as they appear in the Lectionary for Mass for Use in the Dioceses of the United States, second typical edition, Copyright © 1998, 1997, 1970 Confraternity of Christian Doctrine, Washington, D.C., may be found at the website of the United States Conference of Catholic Bishops (USCC).
http://www.usccb.org/nab/
** The Web link to Pax Christi is provided as a service to our readers.
If we listen very deeply and carefully to the lessons today, I think we'll discover that they prepare us very well for receiving the sacrament of reconciliation.

Dear Reader of The Peace Pulpit,

We need your help. We are pleased to make available -- at no charge -- The Peace Pulpit. But we cannot do all we need to do without your financial assistance.

Please take a moment to consider contributing to our annual appeal and join the ranks of readers who give to the Friends of NCR campaign. National Catholic Reporter is a nonprofit organization. Contributions are tax-deductible in the United States.


Contributions may be sent to:

National Catholic Reporter
115 E. Armour Blvd.
Kansas City, MO 64111
USA

Make checks out to: NCR

If you wish, you may print a form for submitting your donation.
You may also use this form for credit card donations.

OR



P.S. Everyone who donates will receive the fourth in a series of specially designed NCR Christmas ornaments connecting us in a special way to the gospel of peace on earth. Thank you.

The first lesson especially we must look at and listen to very deeply, but we have to put it into context. The very brief passage that we heard today, we have to put into the larger context of what was happening at the time Isaiah said those words to Ahaz the king. At that point in the history of the chosen people, they had split into two nations. There was the kingdom of the north, Israel, and the kingdom of the south, Judah. Isaiah was from the southern kingdom, Judah, and Ahaz was the king there. Now the northern kingdom, Israel, had allied with Syria and was engaged in a war against Assyria, another nation. Ahaz as the king of Judah was trying to figure out what to do.

He was afraid they were going to be attacked by the Assyrians also. So he wanted to make an alliance with the Assyrians in order to be on the side of the kingdom that would win, and he was sure that would be the Assyrians. But Isaiah was preaching to the people of Judah, urging them, "Don't enter into an alliance. Don't join with the Assyrians. Don't go to war. Be faithful to the covenant that you have made with God, that the chosen people have made with God. Be faithful to that covenant. Trust in God. Follow God's ways only."

Isaiah promised Ahaz that God would be with them if only they could trust in God. Trust in that covenant where God had said, "I will be your God. You will be my people." God had promised to watch over them always, to guide them, to lead them, to give them fullness and blessings if they would trust. Isaiah said God would give them a sign. We heard that sign proclaimed today in our first lesson: "The virgin is with child and bears a son. His name is Emmanuel, which means 'God with us.' " That's the sign that God would be with them.

But Ahaz was not willing to accept that sign and not willing to listen to Isaiah. He joined the alliance and went to war.

There is more to the sign than we heard in the lesson today. Isaiah went on to say, "He will live on curds and honey by the time he learns to refuse evil and choose good for therefore the child knows how to reject evil and cherish virtue. The land of the two kings that you abhor will be deserted. There will be a time much worse than any since [Abraham] broke from Judah."

Isaiah was telling Ahaz and the people that when they don't listen, when they don't trust in God, disaster comes. He told them that when this child who is called "God with us" reaches the age of discretion, which is 5, 6 or 7 years, disaster would strike. The kingdom will be ravaged. People will be driven into exile, violence, hatred, all the evils of war will break forth.

The challenge for us, as it was for Ahaz, is to trust in God. To trust in God in every aspect in our lives. When sickness, suffering or something difficult becomes part of our everyday life, we trust in God. As a nation, instead of going to war, we try to trust in God and follow God's ways. That is a very difficult challenge, of course. Ahaz failed the challenge, and sometimes we fail the challenge also. In our relationships with one another or in our actions in our nation, we choose other ways than God's way. It's on every level that we either trust in God and follow God's ways or we go a different direction.

This lesson also shows that it isn't so much that God punishes us when we fail to trust, but as Isaiah said to Ahaz, "Look, the disaster comes because of your sin."

Our sins bring evil and distress into our lives, destroys the humanness that God gives to us, that God wants to bring to fulfillment. When we fail to follow God's way then it isn't so much God punishes us but we diminish ourselves.

That happens in everyday life when we act out of jealousy, for example. We don't hurt the person of whom we're jealous. We don't hurt God. We diminish ourselves. When we act spitefully or retaliate or let our hearts be filled with hatred, we do something to ourselves. That is what Isaiah was telling to Ahaz: "If you don't follow God's ways then disaster comes into your life and the farther you fall from God's way, the greater will be the disaster, the less you will be the full person God wants you to be. "

We need to listen to this word of God proclaimed through Isaiah as we look into our lives to discover the ways that we fail to trust in God, trust in God enough that we will always follow God's ways. Follow the way that Jesus guides us in and models for us.

The Gospel lesson also is very helpful for us as we prepare to celebrate the sacrament of reconciliation. Matthew reminds us that the one who is to be born of Mary will be given a very special name. That name is Jesus. If we look into the etymology of the name "Jesus," we discover that it comes from "Yehoshua" which means "God saves." So Jesus is the one who comes into our lives to heal us and to save us. Jesus is also Emmanuel, "God with us." Jesus saves us, not just from enemies, not just from physical disasters but Jesus saves us from our sins - from our spiritual disasters. The promise is that we can become whole, if we turn to Jesus, place our trust in Jesus and follow Jesus.

When we do that, then we can proclaim as Paul does in our second lesson today: "The very promises God foretold through the prophets and the holy scriptures regarding God's son are now fulfilled, because Jesus is recognized as a descendant of David and also endowed with power upon rising from the dead to the Holy Spirit, and so is son of God in power. Through him and for the sake of his name we receive grace and everlasting life forever."

That's the promise God makes to us if we are willing to hear God's words, trust in that word especially as proclaimed by Jesus and follow it.

In the name of the Father and of the Son and of the Holy Spirit. Amen.