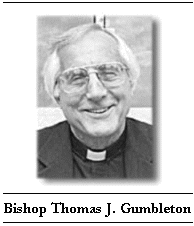 Auxiliary Bishop of the Archdiocese
of Detroit, Michigan *
Isaiah 52:7-10
How beautiful upon the mountains are the feet of him that brings good tidings, announcing peace, that brings good news, announcing salvation, and saying to Zion, "Your God reigneth!" The voice of your watchmen they lift up their voices, together do they sing; for they see before their eyes, the Lord restoring Zion. Break forth into joy, sing together, O ruins of Jerusalem! For the Lord has comforted his people, he has redeemed Jerusalem. The Lord has made bare his holy arm in the eyes of all the nations; and all the ends of the earth have seen the salvation of our God.

Hebrews 1:1-6
Brothers and sisters, in times past, God spoke in partial and various ways to our ancestors through the prophets; in these last days, he has spoken to us through the Son, whom he made heir of all things and through whom he created the universe,
who is the refulgence of his glory, the very image of his being, and who upholds all things by his mighty word. When he had accomplished purification from sins, he sat down at the right hand of the Majesty on high, as far superior to the angels as the name he has inherited is more excellent than theirs.
For to which of the angels did God ever say, "You are my son; this day I have begotten you?"
Or again, "I will be a father to him, and he shall be a son to me?" And again, when he leads the firstborn into the world, he says, "Let all the angels of God worship him."

John 1:1-18
In the beginning was the Word, and the Word was with God, and the Word was God. He was in the beginning with God. All things came to be through him, and without him nothing came to be. What came to be through him was life, and this life was the light of the human race; the light shines in the darkness, and the darkness has not overcome it.
A man named John was sent from God. He came for testimony, to testify to the light,
so that all might believe through him. He was not the light,
but came to testify to the light.
The true light, which enlightens everyone, was coming into the world. He was in the world,
and the world came to be through him, but the world did not know him. He came to what was his own, but his own people did not accept him.
But to those who did accept him
he gave power to become children of God, to those who believe in his name, who were born not by natural generation
nor by human choice nor by a man's decision but of God.
And the Word became flesh
and made his dwelling among us, and we saw his glory,
the glory as of the Father's only Son, full of grace and truth.
John testified to him and cried out, saying, "This was he of whom I said, ĎThe one who is coming after me ranks ahead of me because he existed before me.'" From his fullness we have all received, grace in place of grace, because while the law was given through Moses,
grace and truth came through Jesus Christ. No one has ever seen God. The only Son, God, who is at the Father's side,
has revealed him.



* A longtime national and international activist in the peace movement, Bishop Gumbleton is a founding member of Pax Christi USA and an outspoken critic of the sanctions against Iraq.
He has appeared on numerous radio and television programs, and has published numerous articles and reports.


** Scripture texts in this work are in modified form from the American Standard Version of the Bible and are available as part of the public domain.
For your convenience, the Scripture texts, as they appear in the Lectionary for Mass for Use in the Dioceses of the United States, second typical edition, Copyright © 1998, 1997, 1970 Confraternity of Christian Doctrine, Washington, D.C., may be found at the website of the United States Conference of Catholic Bishops (USCC).
http://www.nccbuscc.org/nab/index.htm
For the beginning of our reflection today, I thought Iíd refer to something from the book that many of you read each day during Advent. Back on December l0, which was the day that Thomas Merton died in l968, thereís a passage about him that describes how he was a Trappist monk living at Gethsemene Abbey located near Louisville, Kentucky.

He was a great spiritual writer who published many, many books over the years when he lived in that abbey. But it also tells us in this passage how, at one point, when he was the novice master for the monks in the monastery, he spoke to them and said, ďLife is very simple. We are living in a world that is absolutely transparent to God and God is shining through it all the time. This is not a fable or a nice story, it is true. God manifests God everywhere in everything; in people, and in things, and in nature, and in events. You cannot be without God. Itís impossible, simply impossible.Ē

Thatís the truth about God that I presume most of us have an awareness of. But it is probably not very close to the level of our consciousness. Yet, someplace deep down we have a sense, yes, God is there somewhere.

Thomas Merton is telling us that God is truly present in all of creation and has been from the very beginning: four billion, six hundred million years ago, as we measure, not as God measures, the creation of our universe began. God was there.

Itís only out of the creative love of Godís power that anything is. And itís only because God is always present to all that is, to everyone of us, that we are and that anything is.

As Thomas Merton said, ďGod is truly present. Itís impossible to be apart from God. God is everywhere, in everything. When we think of God and the senses, we become aware of Godís presence as when we see something that is extraordinarily beautiful. God is beauty and in beauty you find God. Or in justice. God is just and in justice you find God. In goodness and in love. Where there is love, there is God.Ē

God is present all around us in everything, in all of the universe, in everyone of us. And God is present to us because God is continually reaching out with that creative love helping us to grow, to make us more and more deeply and fully human, and inviting each one of us to come into that fullness of humanness that each one of us is called to have and to be. God is with us.

And so tonight, as we celebrate this feast of Christmas, I ask all of us to try to be more deeply aware of this truth that God is here, God is in our midst, God is in my spirit, God is in my heart. When I love, God is there. When someone loves me, God is there.

But now, as we become aware of that, you might ask, ďWhy Jesus? Why Jesus, if God is already present to everyone?Ē If God is already bringing everyone into fullness of life, preparing us for endless life with God forever, why do we need Jesus?

I think maybe itís important, first of all, to make very clear that Jesus did not come because God was demanding a price for sin, that God would send Jesus into the world and kill him in order to pay a price. No, itís nothing like that at all.

I think the best reason to explain ĎWhy Jesus?í is stated for us in the letter to the Hebrews at the very beginning of it. In the past, God had spoken to our ancestors through the prophets in many different ways, although never completely. In our time, God has spoken definitively to us through Jesus. Heís the one God appointed bearer of all things. He is the radiance of Godís glory, bears the stamp of Godís hidden deeds. What Paul is saying is that Jesus is a revelation of God. Even though God is so present to us and, as Thomas Merton says, ďItís impossible not to be in touch with God or not to have God in touch with us,Ē still, we get such a distorted notion of all that God is.

Many times weíre afraid of God. Weíve been taught to think of God as one who will judge us, condemn us. But that isnít God. We needed someone like Jesus, the Son of God, to come into our midst to show us who God really is.

So if we think about Jesus and his birth into the world, and as he grew and became our brother, one of us, what do we discover about God?

First of all, I think that God cares about every person and has a deep concern for the dignity of every person. And I say that because it is so clear that Jesus wanted to be identified with, to be one with, those who are so easily rejected in our world.

What was one of the first things that happened to Jesus? He became a refugee. He was driven in exile, he was homeless. Think of the tens of millions of refugees in our world right now. Perhaps up to five or seven million internal refugees in Afghanistan. Itís so easy for us to forget about them, but Jesus doesnít. He becomes one with them, he cares about them. He wants us to be aware of them.

But who would be the people least respected in our world? I suppose, people on death row. Jesus became one condemned to death and was executed like the worst of criminals. Even if a person is on death row, God sees the image of God, and Jesus identifies with them, again, trying to draw them into the fullness of life that God wants for every person.

Then if you go on to the Gospel, you discover that Jesus reveals to us a God who cannot not love us. Sometimes we think weíre not lovable, but thatís not true. Jesus makes that so clear. Think of those parables he tells about the son who leaves and wastes all the fatherís profits and his inheritance. Jesus shows God going out to welcome that son back.

Or think about how Jesus made sure that all people were treated with equal respect. Women in his society were put down, but not by Jesus. And he shows us how God raises up everyone, exalts every person, and dignifies every person. This is the God who is revealed to us in Jesus.

We can continue to go through the Gospel, but this is the reason why God came into the world and was born on this night two thousand some years ago: Because God wanted us to know who God really is. Not to have any wrong ideas about God, but to understand that God is a God who constantly loves us, is always raising us up, is identifying himself with those among us who are the least and invites us to do the same.

Itís a blessing for us that God has come into the world so that we can really begin to understand who God is. But then we need to do something with this truth. We live in a world where this message that Jesus reveals so clearly about God is so needed. We live in a world where people hate one another, where people put one another down, where people have contempt for others, where we neglect other people, and where we let people be hungry, poor, and homeless and refugees. We need a different kind of world.

We wonder, ďCan it really happen?Ē

And what Jesus is telling us by coming into the world is: Yes, it can happen, and it will happen, when each one of us gets the vision that God proclaims through Jesus of a world where there will be justice and fullness of life for every person, where there will be peace and joy and love.

Do not think thatís all a dream.

What Iíd like to share are words from the prophet Isaiah. He proclaimed these words at a time when his world was in shambles. The nation had been destroyed, overrun by enemies. Most of the people were killed, but the rest were carried off into exile. And itís at that very moment that Isaiah proclaims this vision. ďHow beautiful on the mountains are the feet of those who bring good news, who proclaim peace and happiness, who proclaim Godís saving love, break into shouts of joy. O ruins of Jerusalem, where Yahweh consoles the people and restores Jerusalem. Yahweh has bared his holy arm in the eyes of the nations, all the ends of the earth will witness Godís saving love.Ē

In the midst of suffering and turmoil and violence, Isaiah sets forth this vision. And thatís what you and I have to do. See the vision that Jesus has proclaimed of the reign of justice and peace and love. Proclaim that it has happened and that it is happening and then to begin to live according to that vision. Thatís what we fail to do so often.

We somehow expect that God is going to bring everything around in a different way. God is asking us to take a leap of faith and live according to the vision that Jesus has proclaimed as Isaiah did for his people so long ago. Think of that vision, the reign of God, peace and justice and love, where people are quick to forgive, where we raise up everyone in dignity and respect, where we cherish every person. Have that vision and live according to it and it will begin to happen.

I read a story very recently in a book of reflections about Christmas. A very simple story, but one that I think challenges us to live according to the vision of Jesus. This was an incident that happened in a country in the Far East with a lot of poor people. On a railroad track where the station was located there were many vendors selling various things. And there was one boy there with a cartload of fruit and produce that he was selling. It was very crowded and some people came rushing along to catch the train just before it left. But as they rushed by, they hit his cart and knocked it over and all of the vegetables and fruits rolled everywhere. The youngster was very distraught and began to bend over to pick things up, trying to put it together again. As he was doing it, one person who had rushed by came back to help the youngster. Then he noticed something about the little boy; he was blind, which made it even more tragic. But, finally, he helped him put everything together back in the cart. And as he was ready to leave, the youngster said to him, ďAre you Jesus? Are you Jesus?Ē

Think about that. If we all had that kind of consideration and love and care for one another so that when we interacted with each other people would say, ďAre you Jesus?Ē How quickly our world would change. We would be living with the vision of Jesus and it would happen.

In the name of the Father, and of the Son, and of the Holy Spirit. Amen.