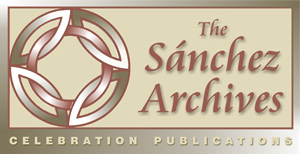 written by
Patricia Datchuck Sanchez
A complete set of commentaries for the three scriptural readings as assigned to each Sunday of the year by the Roman Lectionary.

First published in
Celebration: An Ecumenical Worship Resource, for the liturgical cycles A, B, and C, during 1996, 1997, and 1998.

This collection is being made available by special arrangement with the author and will be accessible at this internet address.

The Sanchez Archives is available free of charge to all Celebration subscribers by special arrangement.
For more information:
Sanchez Archives
Celebration Publications, 115 E. Armour Blvd.
Kansas City, MO 64111
1-816-968-2266
---
Copyright (c) The National Catholic Reporter Publishing Company
115 E. Armour Blvd., Kansas City, MO 64111.
www.ncronline.org
1-816-531-0538