An Iraq that Iraqis deserve and long for


Jeff Severns Guntzel, NCR staff writer

Dear Reader of Writer's Desk,
We need your help. We are pleased to make available -- at no charge -- Writers Desk. But we cannot do all we need to do without your financial assistance.
Please take a moment to consider contributing to the Friends of NCR campaign. National Catholic Reporter is a nonprofit organization. Contributions are tax-deductible in the United States.

Contributions may be sent to:
National Catholic Reporter
115 E. Armour Blvd.
Kansas City, MO 64111
USA
Make checks out to: NCR
If you wish, you may print a form for submitting your donation. You may also use this form for credit card donations.

OR
Three years ago this week I was making last minute preparations for my first real reporting job: two weeks in post-invasion Iraq.
I had been away from Iraq for almost two years. I arrived a couple of weeks after CNN showed bungling Marines pulling down a statue of a towering tyrant who had been reduced for a time to a sort of human pinball bouncing from place to place, sinking into and popping out of small holes.
My assignment in the "new" Iraq lasted just 14 days. On my first night, with gunfire coming from all corners of the capital and American tanks rumbling down the street in front of my hotel, I jotted down a few thoughts, which I later adapted for an article:
"My last visit to Iraq was August 2001, a month before the Sept. 11 attacks that would lead ultimately -- but not inevitably -- to the chaos and uncertainty unfolding there today. After eight trips to Iraq in four years, I promised myself that I would not return until Saddam Hussein was gone. In a police state with exceptional scope and a seemingly endless capacity for terror, I became increasingly concerned that my presence was bringing undue attention to those I connected with, including close friends.

"All my visits in those days were organized by Voices in the Wilderness, a campaign to end the economic sanctions levied against Iraq after Saddam Hussein's brutal invasion of Kuwait in 1990.

"Over the years I fell in love with Baghdad, with all of its history and its enormous stamina under unthinkable pressure. And I came to know, intimately, the reach of the economic sanctions I was there to oppose. So too did I come to know the infiltrations and betrayals of a regime that, like the sanctions purportedly intended to cripple that regime, affected and often destroyed the lives of ordinary, peace-loving people.

"Never in my most ambitious wonderings did I expect the absence of Saddam Hussein would be predicated on an American invasion and subsequent occupation. And so it was a rather jarring experience to pass through the Jordan-Iraq border for the first time in nearly two years with the wave of a middle-aged American soldier from Miami."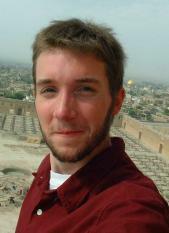 The writer halfway up the minaret at Samara during a visit to Iraq in 2000. The gold-domed Askariya Shrine, now destroyed, is in the distance.
These days I think often of that visit to Iraq -- my last. I think often of Iraq, period. My first child is due sometime this week or next and increasingly my thoughts are about the Iraq that child will know. There will no doubt be countless books by war correspondents, retired generals and veterans of the current war, but I want my child to know Iraq better and more authentically than any of them. Lately, I've been daydreaming about how that might happen and I've devised the first step -- that great, if often flawed, experiment: the family vacation. I figure it will happen around the time our child is the age where homework is a bunch of photographs pasted to poster board surrounded by place names with words misspelled in puff paint -- maybe 10 years from now -- and I hope a deep and desperate hope that Iraq will be ready by then to accept visitors.
I have gone so far as to buy a highway map of Iraq and a street map of Baghdad. And I have gone even further: a draft itinerary.
Here's a sample:
Our first evening in Baghdad, no doubt, will take us to the Palestine Hotel, best known today as a headquarters for what is left of the international media in Iraq.
The top floor of the Palestine is all windows and a bar that, when I used to visit, served soda, non-alcoholic beer, and cake. Floor-to-ceiling windows framed a panorama of Baghdad and the Tigris River that snaked through it, dividing the city into halves.
It used to be that young lovers who could afford it would steal away to the Palestine's remarkably private top-floor booths for cake and sunset. I caught every sunset I could there. It was a marvelous site. As the sun neared the horizon, the thick city smog would transform it into a giant, wet orange ball that seemed to melt into the square houses and date palms at the outer edges of endless Baghdad.
What a great place to start.
I'm tempted to say we'll stay with friends, but when I start to write that, a chill creeps in: Kamal, who used to work at the Palestine, died of a heart attack a few weeks ago. Adnan (not his real name) is desperate to leave the endless chaos of his beloved Baghdad, and no doubt he will. Sa'ad is missing after the shooting death of his brother and difficulties at home.
But we will try to stay with friends. And if we stay with Adnan, I will ask him to show my child pictures from his own childhood, when his father worked for the Iraqi railroad and took him every weekend to Iraqi cities north and south.
We'll visit my favorite restaurant on Saudoon Street and we'll eat Masguf (actually, my child and I will eat Masguf, a famous Iraqi dish featuring a fish that my wife Laurel, who has also been to Iraq, finds acutely unpleasant). It's a great restaurant and I'd recommend it to you but I can't say its name -- I'm superstitious. It has so far survived the car bombs that occasionally target popular cafes and restaurants.
I ate at this restaurant when I was there just after the invasion and I got terribly ill. It was the undercooked chicken. I'm usually careful with meat but I was distracted by the conversation of American soldiers two tables over (their Humvee took up three parking spaces out front).
Next I will try to enlist one of my friends -- if I can find them -- to accompany my family on a road trip. North of Baghdad we'll stop at Samara to climb the famous spiraling minaret and to look to the revered Askariya shrine. Last year insurgents damaged the top of the ancient minaret, which had been a sniper's nest for American soldiers. And the gold-domed Askariya shrine, of course, is rubble. But there are pledges from outside Iraq to rebuild the dome, and the minaret, even with the damage, can still be climbed, if not all the way to the top.
South of Iraq we'll visit the spectacular Shi'ite holy city of Najaf. I will explain to my child the subtle but intriguing differences in the mechanics of prayer for Shi'ite and Sunni Muslims.
Next we'll stop for a picnic at the confluence of the Tigris and Euphrates rivers in Qurna. Some believe Qurna was the location of the Garden of Eden. That's a long discussion, but I am more interested anyway to see if the long-abandoned "Adam's Ice Cream Stand" is still standing.
We'll visit the southern port city of Basra, of course, and we'll rent a small boat for a sunset cruise on the Shaat Al Arab waterway, where I hope the sunken ships of the Iran-Iraq War and the Gulf War after that will have finally been cleared.
On the floating dining platform attached to a popular dinner club, I will treat my family to french fries, hummus, and orange soda -- a tradition of mine.
There is much more, but I'll spare you the endless narrative too often associated with family vacations.
It all may seem a bit delusional, even cruel, to dream of something so presently unthinkable as a "vacation" to Iraq. Today sectarian fighting has displaced tens of thousands and is displacing families daily. The dead are turning up in groups, bearing torture marks and bullet holes to the head. Electricity and clean water are often scarce. Hospitals are overburdened and under-stocked. And something so simple as a trip to the corner store could mean kidnapping, or death, or both.
Delusional indeed. But cruel? No way. All I'm really doing is imagining an Iraq that Iraqis deserve: an Iraq safe for something as banal as the family vacation, theirs and mine -- and, more to the point, an Iraq where the only Americans are tourists.
---
Copyright © 2006 The National Catholic Reporter Publishing Company, 115 E. Armour Blvd., Kansas City, MO 64111 TEL: 1-816-531-0538 FAX: 1-816-968-2280