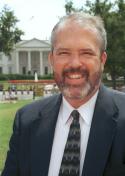 Pragmatism decides voucher questions
By Joe Feuerherd, NCR Washington correspondent
Washington, DC Mayor Anthony Williams stepped on the third rail of urban politics earlier this month. He was singed, but will survive, and may yet thrive.
Williams reversed a long-held position and came out in favor of federally funded education vouchers for D.C. children. His decision was as controversial as it was abrupt -- on the day he announced his change of heart, his own staff didn't know about the bombshell he would drop.
The mayor "got up one morning," he told the Washington Post, "and decided there are a lot of kids getting a crappy education and we could do better." (Some argue that the Bush Administration's promise of more funds for DC public schools in return for Williams support for vouchers -- an offer he couldn't refuse?-- played a part in the mayor's conversion.
Between 5,000 and 10,000 children would receive vouchers worth approximately $2,500 annually under the plan. Tuition at Holy Comforter-St. Cyprian's grade school in southeast Washington, for example, runs $3,255. Pretty close.
Few would argue Williams' point: Many (most?) of the 68,000 children who attend DC public schools get a "crappy education." In return for the $13,000 annual per pupil cost (nearly twice the national average), DC schools face a 40 percent dropout rate, abysmal test scores, and unsafe buildings. An educational disaster. Not surprisingly, it is difficult to attract quality teachers in such an environment.
But what to do about it?
Back in the 1980s, Republicans like Jack Kemp were the primary pushers of vouchers. They were pitched as a panacea for urban schools, a market-oriented solution that would force public schools to improve and provide parents an alternative. Catholics (and some Christian conservatives), meanwhile, were suspected of supporting vouchers as a backdoor means to fund their proselytizing and improve the bottom line of their inner city operations. Teachers unions (a key Democratic Party constituency) howled that public education would suffer if government funds were diverted to vouchers, and church-state activists said the whole notion was unconstitutional.
Times have changed. Few now contend that vouchers are the solution to urban education. Innovations (many of them a response to the voucher movement itself) such as charter schools, magnet schools, and greater alternatives within public school boundaries provide some parents with choices they didn't have a generation ago. The church-state dispute was largely settled by a Supreme Court decision that found a voucher plan in Cleveland, Ohio, constitutionally acceptable.
Meanwhile, some suburban school activists (read: white Republicans) worry that vouchers will undermine support for public education in their jurisdictions.
Seven years ago, then-Baltimore Mayor Kurt Schmoke provoked uproar in his city when he reversed his long-held opposition to education vouchers. "My support of school choice is founded in the common sense premise that no parent should be forced to send a child to a poorly performing school," he said at the time.
Schmoke's point -- that the coercive power of the state (compulsory education is, after all, compulsory) shouldn't be used to warehouse children in unsafe and unsatisfactory settings -- is hard to dispute.
Bottom line: How a school system achieves quality -- charter school or magnet school, traditional public education or education vouchers -- seems less important than it used to. Parents and taxpayers want results -- not ideology or politics. And that's what Anthony Williams is counting on.