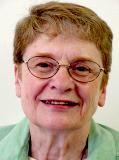 Your call is very important to us
by Patty McCarty
The call comes as I am finishing supper, a pleasant-sounding young woman who asks if I am Patricia. I ask who she is. She is Alicia and was I Patricia? I don't want to expose Patricia to this cheerful woman who probably wants to sell me something. I am about to ask if her employer knows I am on the Missouri Do Not Call list when she says she is calling for the Marquette-Gallup survey.
"Ah," I say. "You have said the magic word -- Marquette." It's been years since I was on the campus but I believe that Marquette made a huge contribution to my long and happy and what's more -- gainfully employed -- life.
Alicia says she will turn me over to an automated survey machine but first she will give me a five-digit number. I say I am not happy about talking to a machine. I find them unforgiving and hard-to-please. Alicia says she is sorry and gives me a number, which I hastily write down.
I am zapped to a woman's voice -- an officious, unforgiving voice if I ever heard one. The voice says my opinion as a Marquette alum is important to "us." And I should give the five-digit number on the card Marquette sent me.
I tell the machine I did not get a card from Marquette but I will give a five-digit number.
The machine snaps that that was not the five-digit number. And will I please give the five-digit number on the card Marquette sent me?
I know honesty is important in surveys and I should not begin this relationship under the guise that I got a card from Marquette.
I try to tell this to the machine.
The machine tells me I did not answer correctly. That I should find the card and call back the number on the card. It hangs up abruptly.
I hang up slowly, muttering, "These people must be crazy."
Looking back, I am sure neither Marquette nor the Gallup organization had anything to do with that call. How could they?
Patty McCarty is NCR copyeditor.