Sept. 5, 2004
---
Vol. 3, No. 19
---

Your voice is quite enough, to just say, 'That's wrong'

By Teresa Malcolm, NCR staff writer
As a Christian suffering under the oppressive Islamist regime in Sudan, Malang Mabior said, she often wondered why the world -- especially the West -- was ignoring her people's plight.
"It was a big question," she said. "Why? What did we do to them? We are Christians too. Aren't we brothers and sisters in Christ?"
She and her husband escaped Sudan in 1999, through Egypt and then ultimately settling, with the aid of Catholic Charities, in Kansas City, Mo., in 2001. It wasn't until they got out that she came to see that their fellow Christians in the United States were not indifferent to the civil war and human rights violations that consumed Sudan. "The reality was, they didn't know what was going on," she says without resentment, acknowledging that people are often caught up in the troubles of their own lives, their own country.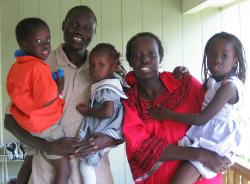 (NCR staff/Teresa Malcolm)

Thuc Juag and Malang Mabior, with their children, from left, Wal, Ayur and Nyandeng, at their home in Kansas City, Mo.

I met Mabior and her husband, Thuc Juag, in June, when they came to tell their story to the members of the Kansas City chapter of Amnesty International, with the hope that keeping the spotlight on Sudan will keep its tenuous peace process on track.

Mabior, 33, a native of Khartoum, described the prejudice against and restrictions on Christians who live in the city. It is difficult to get a good education and to find a job. Without a good income, medical care is hard to come by. "Most of the people who have money are Muslims, and so many Christian people are dying, especially children, of malnutrition and diseases."

The government shuts down churches, often on the pretext of failure to pay taxes, which the churches deny, but it is impossible to prove their case, she said. "We study the Bible in houses," says Mabior, an Episcopalian. She noted that the Catholic church has a center in Khartoum where children can study. However, religious educators, as well as foreign missionaries, "sometimes get arrested, get into trouble," she said.

"Another way the government tries to close the way between Christianity around the world and Sudan is by teaching everybody Arabic, and ignoring English. In my dad's generation, they used to teach English in school but they stopped that," because, she said, the government knew it was the primary language of Christian religious material.

But while life is difficult in the capital city, it's far worse in the rural south, she said. "The villages are more terrible because they know there are no cameras and nobody's going to see what they're doing," she said. "In the villages, it's just killing. They just shoot people, rape women, kill children and the elderly."

Juag, 35, was born in the south, and lost his father and five siblings to the civil war. During the temporary peace that held through most of the 1970s, his mother sent him to Khartoum to study. He has not seen her since he went north in 1977, separated first by the expense of travel and then by war. He did not know where she was from 1983, when the civil war resumed, to 2001, when the Red Cross helped her contact her son: She called him from Uganda, where she ended up after fleeing southern Sudan as a refugee, walking through three countries.

While a student in Khartoum, Juag was targeted by government security forces when he supported a Christian candidate for campus government. He was kidnapped, tortured and interrogated before being released. But he told the Amnesty meeting that his attendance was "not about my personal experience … but for me it is a symbol of everyone who faced these violations of human dignity. This war has taken the lives of about 1.5 million people in Sudan. Some thousands have been enslaved and others forced to Islam or killed by the government soldiers because they are not Muslims." Others have been displaced from their homes inside Sudan or, like he and his wife, have left the country as refugees.

Those Sudanese now living outside their homeland are in part responsible for improved knowledge of the troubles in Sudan, Mabior believes. Whereas when she first came to the United States, often Americans didn't even know where her country is, now when she introduces herself in her work as a hospital technician, "from my accent, they ask, 'Where are you from?' So when I say I'm from Sudan, some people say, 'It's good to be out of Sudan!' Now many people are aware of what's going on."

The couple is working toward U.S. citizenship, and once they have its protection, they hope to return to visit Sudan. They have two destinations, but because they cannot afford for all of them to go both places, they plan to travel separately. Mabior will take their two daughters -- Nyandeng, 4, and Ayur, 21 months -- to Khartoum, where her family is. She hopes to bring health and educational supplies for the community, and teach basic first aid.

Juag, who is studying at a local community college, plans to travel with their 3-year-old son, Wal, to Uganda to see his mother for the first time in 28 years. If he can afford it, he would like to travel to Sudan as well, to gather information about the current situation, which he would share with human rights groups, "people who can do something about what's going on there, if things are getting better or not."

He and Mabior hope that kind of awareness will help keep the new peace process on track, after a cease-fire agreement between the government and the Sudan People's Liberation Army was reached in January.

"If anything happens wrong in Sudan," Mabior said, people need to "raise their voices and say, 'This isn't right.' Your voice is quite enough, to just say, 'That's wrong' -- it would help a lot. Sometimes it seems like it's just me, I'm just a normal person, but it counts."

Teresa Malcolm is an NCR staff writer. Her e-mail address is tmalcolm@natcath.org