Posted April 5, 2005 at 10:27 a.m.


Endless crowds wait hours to view body of John Paul II


By Stacy Meichtry
Vatican City

What they wanted was to come within an eyelash of their pontiff for close inspection. What they got was a five-second shuffle at a distance of eight yards.

Tens of thousands waited their turn in line Monday and Tuesday to get an up-close look at the body of Pope John Paul II, a man that everyone in line had experienced on television, but only a relative few had seen in the flesh.

"He seemed like marble," Orietta Rossi, 52, said. In the rush to commemorate her first encounter with John Paul, Rossi had snapped a digital photo of him with her cell phone. Despite the poor resolution, she could still make out the pontiff's drained face, nestled within his bulky red and white vestments. "I've never seen him like this before. He was whiter and like something fake," she said.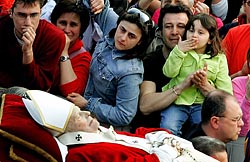 A young girl blows a kiss as the body of Pope John Paul II is carried through St. Peter's Square en route to St. Peter's Basilica at the Vatican April 4. The body of the pope will lie in the basilica for public viewing until the April 8 funeral for the pontiff. (CNS photo from Reuters)

For a pontiff whose knack for showmanship revolutionized the papacy by embracing mass communication to get out his message, this was his encore.

Sunday had been devoted to official viewings of the body as stone faced officials crowded into the Apostolic Palace to bid John Paul an intimate farewell, their eyes averted from the television cameras feeding a live worldwide broadcast -- the first ever.

Now it was the public's turn.

Severino Santorelli, a part-time theology student at the Lateran Pontifical University, stood entranced by the pixels of one of the dozens of jumbo screens lining the Via della Conciliazione. Minutes earlier, he had exited St. Peter's Basilica where the pope's body was on display.

"I'm linked to him. He makes you hunger for faith," he said.

Moments later his friend Saverio Foglia, a communications major at Rome's La Sapienza University, caught up to him. Both launched into grand appraisals of a pontiff they deemed worthy of sainthood. Their praise provoked the ire of a passing elderly man, who interrupted to offer his two cents.

"A great pope? John XXIII was a great pope. This is a pope of mass media. That's why they're here," he said pointing at the river of mourners filing by at 1:15 Tuesday morning.

After he had trailed off Santorelli rebutted: "They see him as a media pope, but what he was doing was adapting to the times. He spoke our language.

The older generation doesn't understand this," he concluded.

Saintly or not, John Paul's body drew the masses like no pope before him.

Lines had begun forming at 8:45 a.m. Monday. Volunteer crowd controllers clad in neon ponchos locked arms at street intersections, slowing the flow of bodies to guard against trampling.

"I can't breath," Ellena Medori, a 34-year-old accountant yelled when the masses forced her up against a railing. The tension increased as news circulated through the throng at 1:30 a.m. that the basilica would close for three hours at 2:00 a.m. Officials eventually reduced the break to one hour, between 3 a.m. and 4 a.m.

"They're pushing again from behind," Medori shouted.

Breathing down her neck was Mirco Sanzovini, 22, a biology student at La Sapienza, who had come prepared for his estimated 5-hour wait. He was 2 hours in and swigging espresso from a stainless steel thermos. He had been cut off from his mother 30 minutes ago when the crowd controllers locked him in.

Others in line came with tambourines, guitars and signs bearing the names of their parishes. The city of Rome, meanwhile, had over a hundred ambulances brought in from all over Italy in case of emergencies.

Sr. Giovanna Cocco stood outside one of them while medics treated her colleague, Sr. Aha, who had fainted amid the compression of bodies. They had been in the line since 9 p.m. It was now 12:50 a.m., they had lost their place, and they had not seen the pope.

Stacy Meichtry is a freelance journalist based in Rome. He is reporting and writing for NCR during this period of papal transition.