Posted April 8, 2005 at 11:11 a.m. CDT

Updated April 8, 2005 at 2:00 p.m. CDT


Millions say last farewells to John Paul II
Calls of 'santo subito,' 'saint immediately,' interrupt the funeral Mass

By Stacy Meichtry, Rome
Rome

World dignitaries, religious leaders and throngs of faithful gathered in St. Peter's Square Friday to say their final good byes to Pope John Paul II during a ceremony described as the largest funeral ever for a pope and an event that was watched by hundreds of millions around the globe.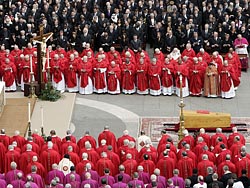 (CNS/Reuters)

Cardinals, bishops, monarchs, heads of state and other dignitaries flank the casket of Pope John Paul II during his funeral Mass in St. Peter's Square at the Vatican April 8. A wooden coffin marked with a simple cross and an "M" for Mary bore the body of the pontiff.

Enclosed in a simple wooden coffin, the body of John Paul II was carried on a bier by 12 papal gentlemen from within St. Peter's Basilica and placed at the head of the square, in front of an altar, as crowds of pilgrims, military generals and tourists looked on under overcast skies. Following in the tradition of Paul VI, an opened book of the Gospels was placed on the coffin lid -- its pages turned by the breeze as the funeral progressed.

Behind the casket, the College of Cardinals sat clad in crimson robes, which according to Roman Catholic tradition symbolizes the blood of Jesus Christ. Other church leaders sat to the right of John Paul II in white vestments. Opposite them sat an audience of equal proportion that included kings, queens, presidents and prime ministers from the secular world, most of whom dressed in black. The congregation, which included, for example, President George W. Bush, leading the U.S. delegation, Syrian President Bashar Assad and Israeli President Moshe Katzav, made strange bedfellows.

"Follow me," Cardinal Josef Ratzinger, dean of the College of Cardinals, said in a homily that in somber tones drew parallels between St. Peter's willingness to follow Jesus Christ and John Paul II's journey from the grip of tyrannical dictatorships in Poland to the seat of Roman Catholicism's highest office. He recalled well-known moments from the pontiff's youth, from his days working in a chemical plant under Nazi occupation and from his years as a clandestine seminarian in communist Poland.

"Rise, let us be on our way!" the homily continued, citing the title of John Paul II's 2004 autobiography. "With these words (John Paul II) roused us from a lethargic faith, from the sleep of the disciples of both yesterday and today."

Present at the funeral were many European leaders who had successfully opposed John Paul's hard-fought battle to have a reference to Europe's Christian roots inserted in the European Union's constitution. Presidents Jacques Chirac of France and Jose Luis Rodríguez Zapatero of Spain and Chancellor Gerhard Schroeder of Germany followed the ceremony with somber faces.

Under John Paul II, Ratzinger was the Vatican's top theological watchdog and remains on many papabili lists.

Andrezej Zielinski, 68, a member of a student group John Paul belonged to as a young man, attended the ceremony with his country's delegation.

"If they're here," Zielinki said, referring to the European heads of state, "it means they support the pope." He added: "You cannot divide a man from his message. If the (European Union) cuts our roots, we will be dead."

His daughter Agnieszka Zyczkowski disagreed: "I don't think the most important thing is a caption in the constitution. It's dangerous to only look at words and not behavior."

Throughout the Mass lay men and women gave readings in English, Italian, French, German, Swahili, Tagalog, Portuguese, Spanish and Polish -- the pontiff's native tongue.

"This was Roman rite at its best," Fr. Jeremy Driscoll, author of What Happens at Mass and a theology professor at the Univerity of Sant'Anselmo in Rome. "It drives slowly into you and you get into a different kind of space, a spiritual space."

Ratzinger closed his homily recalling last Easter Sunday when John Paul II made one of his final public appearances at the window of his papal apartment to give the urbi et orbi (to the city and the world) blessing.

"John Paul II is now at the window of the house of the lord, he sees us and he blesses us," Ratzinger said.

Following the Eucharistic prayers, representatives clad in folk dress from countries ranging from Kenya to Korea to Jordan approached Ratzinger to receive communion.

The presence of so many leaders put authorities on high alert. In a break from tradition, police helicopters hovered above the ceremony lending a background hum to the somber and, at times, silent ceremony.

As the funeral came to a close, applause erupted throughout the square and resounded through the throng that filled Via della Conciliazione, the main avenue leading to St. Peter's Square. It continued for seven minutes.

Policemen shook hands with Polish pilgrims who peppered the crowd with red and white Polish flags. Chants of "santo," or saint, interrupted the ceremony about a dozen times, echoing a number of banners that read: "santo subito," or "saint immediately".

Faithful who could not attend the Mass filled the fields of Tor Vergata, the site where John Paul II held one of the largest rallies of his papacy on World Youth Day in 2000. The funeral was simultaneously followed around the world in places as diverse as the northern Iraqi city of Kirkuk and Tokyo, Japan.

Holy water was sprinkled on the coffin, which was then lifted and rotated toward the crowd for a final farewell to the pontiff, intensifying the applause and chanting.

The coffin was then carried back through the basilica's curtained entrance for a private ceremony among church officials. Following that ceremony, the coffin was placed within a metal casket, which was enclosed in a third casket and carried down into the basilica crypt, the traditional papal burial site.

As stipulated in John Paul II's will, he was buried "in the earth" beneath a simple stone tablet in the tradition of Pope John XXIII, who was beatified by John Paul II.

Stacy Meichtry is a freelance journalist based in Rome. He is reporting and writing for NCR during this period of papal transition.