U.S. cardinals tout a kinder,
gentler Benedict XVI
Pope Benedict XVI struck a conciliatory tone in his first Mass Thursday, promising to reach out to other faiths and Christian denominations as his cardinals urged the public not to judge the new pope based on "caricatures" of the former Cardinal Joseph Ratzinger.
In a message delivered to cardinals in the Sistine Chapel, Benedict pledged to do "everything in (my) power to promote the fundamental cause of ecumenism."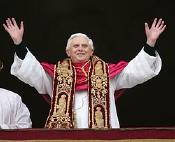 (CNS/Reuters)
Cardinal Joseph Ratzinger was elected pope April 19. He took the name Benedict XVI
Improving relations with other Christian churches requires "concrete acts that enter souls and move consciences" rather than "good intentions," he said. He also expressed hope for "sincere dialogue" with other religions.
The call for dialogue provided sharp contrast with the dogmatic thrust of his Pro Eligendo Mass, when he warned cardinals to resist modern society's "dictatorship of relativism." The tone of the appeal also seemed to distance Benedict from his role as the Vatican's theological watchdog.
Benedict invoked John Paul several times during the Mass, at one point echoing the late pontiff's call to younger generations to continue the work of the Second Vatican Council.
Benedict said that he too hoped to "affirm with decisive willingness to follow in the commitment of carrying out the Second Vatican Council, in the wake of my predecessors and in faithful continuity with the 2,000-year-old tradition of the church."
Shortly after the Mass, the U.S. cardinals who voted in the conclave held a joint news conference, during which they dismissed public impressions of the former Cardinal Ratzinger as a ruthless enforcer.
Cardinal Francis George of Chicago attributed these impressions to media "caricatures" that misrepresented Benedict's "humble genius."
New York Cardinal Edward Egan described Benedict as "extremely kind" and a "lovely gentleman."
"I firmly believe that Cardinal Ratzinger with all of his gifts and talents, and even some of his shortcomings, will somehow be able to reach others," said Cardinal Adam Maida of Detroit.
Cardinal Roger Mahony of Los Angeles told reporters "to be very careful about caricaturing the Holy Father and putting labels on him." He added: "I've already seen some headlines doing that."
Most of the headlines that caused a stir Thursday came out of Europe. A headline in Britain's Telegraph read: "God's Rottweiler," while Italy's communist daily Il Manifesto opted for a more subtle pun: "German Shepherd."
U.S. Cardinals also suggested that Benedict's election held strategic importance for the church in its fight to stem declining values in Western Europe.
"Twenty-six years ago, when Karol Wotjlya was chosen as the successor of Peter some of the most difficult challenges to the church's mission came from the East," Mahony said, referring to the key role John Paul II played in toppling Soviet Communism.
"Twenty-six years later," he added, "the most difficult challenges to church's mission come from the West. And there is a man now very well prepared."
Cardinal Justin Rigali of Philadelphia said Benedict's name carried symbolic value for the church's mission in Europe, which has undergone a steep decline in church attendance and a rise in secularity.
"The pope evoked the memory of the great St. Benedict," who was declared the patron saint of Europe for his role in establishing Europe's Christian roots, said Rigali. "He himself is conscious of the fact that he comes from Europe."
Moderate European Cardinals, who had clashed with the former Cardinal Ratzinger, were cautious in their estimates of what his papacy would bring in the future.
"I think he will be a pope of conciliation and peace," Cardinal Walter Kasper of Germany said Wednesday after Benedict's election.
At a press conference following the conclave, Godfried Danneels of Belgium indicated that the papacy could have a softening effect on Benedict.
"Ratzinger has now become the universal shepherd of the church," the Belgian daily De Standaard quoted him as saying. "He is no longer the head of the theological congregation. In the capacity of pope, he has to be the shepherd of all men. He can no longer specialize in (one) field or another."
"We will have to wait and see. The proof of the pudding is in the eating," he said.