Catholic lay leaders gather in South Korea


By Thomas C. Fox, Publisher of NCR

DAEJEON, SOUTH KOREA

Leaders of Catholic lay organizations throughout East Asia met here for four days last week before issuing a paper urging their bishops to stay faithful to the forward-looking pastoral path they have outlined since the early 1970s.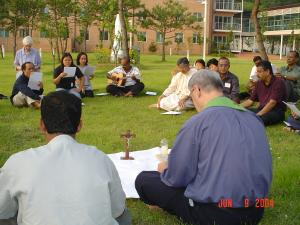 SVD Father John Prior from Indonesia leads a Eucharist on the grounds of the Catholic Education Center outside Daejeon.
The gathering here, at a Catholic education center about 70 miles south of Seoul, took place on grounds adjacent to a seminary where bishops from throughout Asia will meet in August to add to their considerable volumes of papers that have helped chart the Asian churches during recent decades.
The Asian bishops meet under the auspices of the Federation of Asian Bishops Conferences, a pan Asian episcopal umbrella group formed in 1972, that allows church leaders from this region of the world to share ideas, respond to common challenges and plod forward with a distinctly humble vision of church based on dialogues with poor, other religions and local cultures.
More on the FABC

The Federation of Asian Bishops Conferences (FABC) has met in plenary session only seven times. When it meets in eight weeks, bringing together some two hundred bishops, clergy religious and laity, it will take up the subject of the family.
The Asian bishops have long prized the idea of inculturating their churches, working to build authentic local churches with local theologies. They surprised many when, in the spring of 1998, at a synod on evangelization at the Vatican they unveiled their vision of church to the wider world. They called it, "a new way of being church."
Essentially, the Asian bishops said to Rome that the only way to spread the faith in Asia is to decentralize Catholicism and build models that fit into Asian culture and are compatible with Asian histories.
Meanwhile, the Asian bishops said that their churches must live in solidarity with the Asian poor because Asia is overwhelmingly poor. The means, they explained, to fighting poverty and other forms of oppression is to work with the other religions of Asia, which face the same plights.
The pride the Asian bishops brought to Rome six years ago was still reflected among the laity who gathered here last week. Missing, however, was some of the graceful confidence.
Reflecting on the Asian vision of church, the lay leaders who met here expressed disappointment and concerns that:
a gap continues in local churches between vision and reality.

pastoral visionaries who founded the FABC have passed from the scene and have been replaced with more institutionally minded bishops

the FABC leadership is in need of rejuvenation

commitments the Asian bishops made to justice and inclusiveness have not found their way into church structures.
Most who gathered here agreed that that Asian vision of church is solid but that its implementation has stalled. Some said this simply reflects larger currents in the universal church at the end of a pontificate. Others insisted that many of the younger bishops appointed in recent years have, if anything, an even greater commitment to inculturation.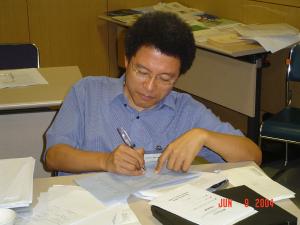 Anselmo Lee is one of the principle organizers of the conference.
All expressed hope that when their bishops consider issues of the family to develop pastoral guidelines that these guidelines fit Asian realities and are not simply repetitions of traditional moral principles.
Much of the work of the lay gathering centered on the drawing up of a 5,000 word paper they will share with their bishops before they come to Korea in eight weeks. These laity want the FABC document that comes out of the August meeting to reflect lay concerns and lay experiences.
Meanwhile, the FABC document draft lists a host of ills challenging Asian families. Some mentioned include the spread Western consumer values, widespread unemployment, the forces of globalization, migration and the trafficking of women and children.
The lay statement reflects these same concerns and adds a few to the list. Conference participants said they want their bishops to add to their considerations pressures for family planning, the growth of new family structures, the need for more positive church attitudes toward sex and pastoral guidance for gays and lesbians and their parents.
While those who gathered here represent a relatively small fraction of lay leaders in Asia, they are among the most vocal and have for years worked closely with their bishops and the FABC to implement the FABC vision.
Joseph Rajkumar, a strong human rights activist from Chennai, India echoed the feelings of many at the conference when he said that he is proud of the FABC vision and its strong human rights advocacy, but also frustrated that many bishops are not living up to the vision. "We need to hold them accountable," he said.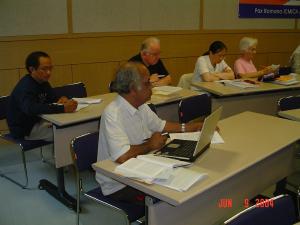 Millennia-old Asian patriarchal institutions have come under attack in recent years by reformers attempting to build democratic structures. These same critiques are now being heard within the Catholic church, especially by women who have become more educated and work for government and nonprofit organizations. These concerns were reflected repeatedly here last week.
Conference participants called for an end of all discrimination within the church. They criticized an exclusively male hierarchy and said the laity needs to have more say in decision-making.
The statement the group issued at the end of their gathering called for an end to the practice of viewing married life as inferior to the celibate state. "Marriage has been looked upon as spiritually inferior because of its connection with the sexual life of couples." It is not "a distraction" from the call to the Kingdom, it stated.
The statement said that human sexuality is a "gift from God" and that in sexual unity couples find "tenderness, solace, healing and, at times, forgiveness."
The statement called for an end to discrimination against children, who are not allowed to receive the Eucharist until "the so-called age of reason." The practice of withholding communion came out of Western Europe, the statement noted. "Children, by virtue of their baptism, are full members of the church and have a full right to Eucharist."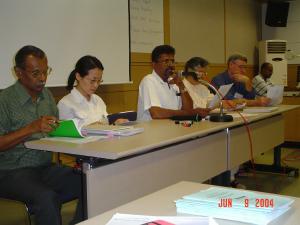 A panel made up of members of the conference's document drafting committee take suggestions from the floor.
On the subject of homosexuality, the statement called for "pastoral openness" and guidance to parents of gays and lesbians. "Everyone is created by God and loved by God just as they are."
Acceptance of gay and lesbians varies widely in Asian cultures. Discrimination is widespread. However, in Indonesia, they are considered to have special powers and are requested to offer blessings upon others. In the Philippines, there is also a greater acceptance than in other parts of Asia, especially Southern Asia.
Conference participants said they needed to work harder to share the FABC vision with other lay Catholics, including those who head other Asian lay movements. "We need to raise awareness," said Seonghoon Lee (Anselmo), secretary general of Pax Romana ICMICA, the International Catholic Movement for Intellectual and Cultural Affairs, a sponsor of the gathering. Other sponsors included the Korean Catholic Women's Community for the New World and Korea's Woori Theology Institute.
Bernard D'Sami, vice-president for ICMICA Asian/Pacific, India, said the FABC has systems for self-evaluation but the bishops have not adequately used them. "Self-evaluation is missing," he said flatly. "They are not holding themselves accountable." He and others said it is now the work of an active laity to hold the bishops responsible for their words.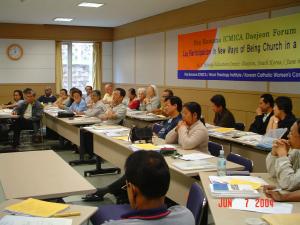 More than forty conference particpants gathered to discuss a statement they would make as laity to present to their bishops before they meet here again in August for the eighth plenary assembly of FABC.
A number of those gathered here traced their activism to the exhortations of their bishops. Now it's time for the laity, several noted, to keep the bishops committed and active.
"I was a very good daughter, but became a very bad daughter," said Lawrencia Kwark, a Korean who works in a church sponsored food program in France. "I studied hard and earned a four year scholarship to the (Catholic) university (in Seoul). My parents were pleased. Then I came into contact with the church's social teachings. That led me to protests against the dictatorship and arrests. So I became a bad daughter. Now I hope they see me as a good daughter again."
---
Fox is publisher of the National Catholic Reporter, author of "Pentecost in Asia," a book about the Asian Churches. He can be reached at tfox@ncronline.org.